Click Here for More Articles on TRAVESTIES
BWW Review: Tom Stoppard's TRAVESTIES or A Novelist, A Communist and A Dadaist Walk Into A Library
Czech-born British dramatist Tom Stoppard, whose densely intellectual plays may be the most potent argument known for America's need to step up its public education funding, was first noticed on these Atlantic shores in the 1960s for shining a spotlight on two minor Shakespearean characters in ROSENCRANTZ AND GUILDENSTERN ARE DEAD.
He pulled the same trick with Travesties, which nabbed the 1976 Tony Award for Best Play, centering the piece on a fellow named Henry Carr, who is depicted as a crass drunkard in his brief appearance in James Joyce's controversial modernist epic, "Ulysses." The twist, though, is that Carr was a real person; a British soldier during World War I who was wounded in No Man's Land and captured by the Germans.
After being released as part of a prisoner exchange, Carr became a staff member with the British consulate in Zurich. During his stay, Joyce was in town co-producing a small production of Oscar Wilde's THE IMPORTANCE OF BEING EARNEST and Carr was cast as one of the leading players, the dashing Algernon.
But when the run was completed, Carr and Joyce got into a scuffle regarding money matters. It went to court, and despite Joyce coming out ahead, he got his real revenge by naming the unsavory character after Carr.
This odd little historical footnote sets off Stoppard's two-act absurdist riff, set many decades later in the fading memory of Henry Carr, who, in director Patrick Marber's Broadway transfer of his Menier Chocolate Factory production, is played by the grand and endearing Tom Hollander, repeating his London success.
It seems that in 1917 Joyce (played by Peter McDonald as a disagreeable genius), Vladimir Lenin (serious-minded Dan Butler) and Dadaist pioneer Tristan Tzara (suitably flamboyant Seth Numrich), were all in Zurich and, least in the reality invented by Stoppard, they would all frequent the same library.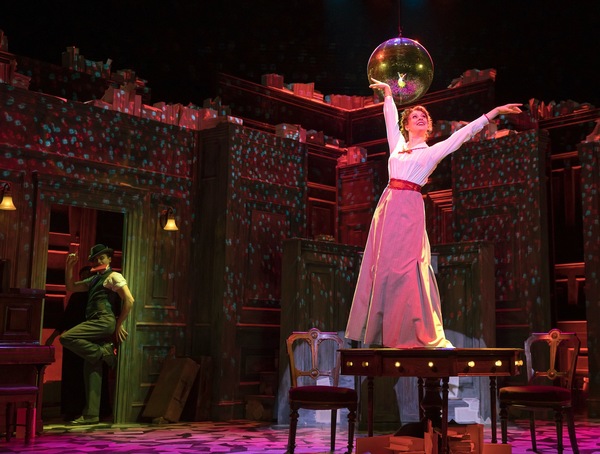 Don't expect anything resembling a linear plot in Travesties, which also features Carr's erudite butler (Patrick Kerr), Lenin's harried wife (Opal Alladin) and a giddy pair of ladies named for Wilde's characters Gwendolen and Cecily (Scarlett Strallen and Sara Topham), but a merrily disjointed mix of political, social and artistic commentary flavored with verbal dexterity and tuneful music hall exuberance.
If brevity is the soul of wit, then 75 minutes without an intermission might be the soul of absurdist theatre, so at two and a half hours the madness of Travesties can get a little maddening. But stay alert and the charming company will guide you through an evening that can tickle your intellect as well as your funny bone.