To Kill A Mockingbird - Broadway
Harper Lee's Pulitzer Prize-winning American classic To Kill a Mockingbird comes to Broadway for the first time in a new adaptation by Aaron Sorkin and directed by Bartlett Sher.
This new interpretation of the beloved, iconic American story retells the story of one of literature's towering symbols of integrity and righteousness, Atticus Finch, in a way made even more poignant for today. Told by Atticus' daughter Scout, based on herself, we see a world of pain and inequity through the eyes youthful innocence.
Video preview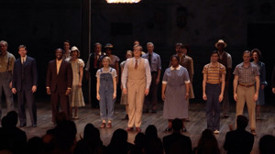 Photo preview
Schedule
Running Time: Two hours and 35 minutes, with one intermission
Tuesdays at 7:00pm
Wednesdays at 1:00pm & 7:00pm
Thursdays at 7:00pm
Fridays at 8:00pm
Saturdays at 2:00pm & 8:00pm
Sundays at 2:00pm
(New York, NY)
225 West 44th St.
Seating Chart
Featured Reviews For To Kill A Mockingbird
'To Kill a Mockingbird' review: More legal thriller than coming-of-age story - Newsday
What's missing from Aaron Sorkin's new adaptation is the novel's vividly described community, or the sense that the story is just as much about Scout's coming of age as it is about the crusade by Atticus, her father. Sorkin (the writer behind "The West Wing" and "The Social Network," among others) has made his play a John Grisham-esque legal thriller revolving around a charismatic man. Atticus may now show hints of trouble and doubt, but he's still the moral lighthouse guiding Maycomb, Alabama.
'To Kill a Mockingbird' Broadway Review: Aaron Sorkin Revisits Harper Lee's Classic - The Wrap
Where Sorkin succeeds is in getting us to rethink an American classic without any fussiness or archness. Director Bartlett Sher, who's best known for his Tony-winning work on big musicals like "South Pacific" and "My Fair Lady," strikes the right balance between the epic and the intimate. And he smartly mimics the breakneck pace of Sorkin's film and TV projects, cramming Lee's large and sprawling story in a production that runs just over two and a half hours but seem to just fly by. Despite its infelicities, this "To Kill a Mockingbird" is crackerjack entertainment.
To Kill A Mockingbird Broadway Cast