To Kill A Mockingbird - Broadway
Harper Lee's Pulitzer Prize-winning American classic To Kill a Mockingbird comes to Broadway for the first time in a new adaptation by Aaron Sorkin and directed by Bartlett Sher.
This new interpretation of the beloved, iconic American story retells the story of one of literature's towering symbols of integrity and righteousness, Atticus Finch, in a way made even more poignant for today. Told by Atticus' daughter Scout, based on herself, we see a world of pain and inequity through the eyes youthful innocence.
Video preview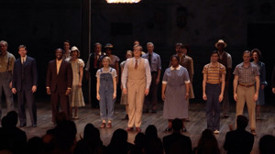 Photo preview
Schedule
Running Time: Two hours and 35 minutes, with one intermission
Tuesdays at 7:00pm
Wednesdays at 7:00pm
Thursdays at 7:00pm
Fridays at 8:00pm
Saturdays at 1:00pm & 7:00pm
Sundays at 1:00pm
(New York, NY)
225 West 44th St.
Seating Chart
Featured Reviews For To Kill A Mockingbird
Review: In 'To Kill a Mockingbird' on Broadway, the words of Harper Lee but the voice of Aaron Sorkin - LA Times
Harper Lee's "To Kill a Mockingbird" will gratefully always be with us. This is Sorkin's version and, for all the distortions and limitations, it finds ways through Atticus' character to speak directly to our troubled times about the inseparability of race and justice in America. I look forward to future productions from female and African American perspectives that can match this level of theatrical excellence, but they too will be incomplete.
'To Kill a Mockingbird': Theater Review - Hollywood Reporter
Perhaps the most notable achievement of this thoughtful adaptation, and Bartlett Sher's meticulously calibrated Broadway production, is that it takes Harper Lee's 1960 novel - a modern American classic that pretty much all of us know either from studying it in high school or watching the outstanding 1962 film version - and makes us hang on every word as if experiencing the story for the first time.
To Kill A Mockingbird Broadway Cast