To Kill A Mockingbird - Broadway
Harper Lee's Pulitzer Prize-winning American classic To Kill a Mockingbird comes to Broadway for the first time in a new adaptation by Aaron Sorkin and directed by Bartlett Sher.
This new interpretation of the beloved, iconic American story retells the story of one of literature's towering symbols of integrity and righteousness, Atticus Finch, in a way made even more poignant for today. Told by Atticus' daughter Scout, based on herself, we see a world of pain and inequity through the eyes youthful innocence.
Video preview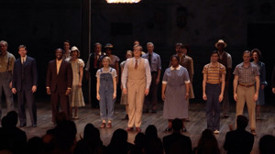 Photo preview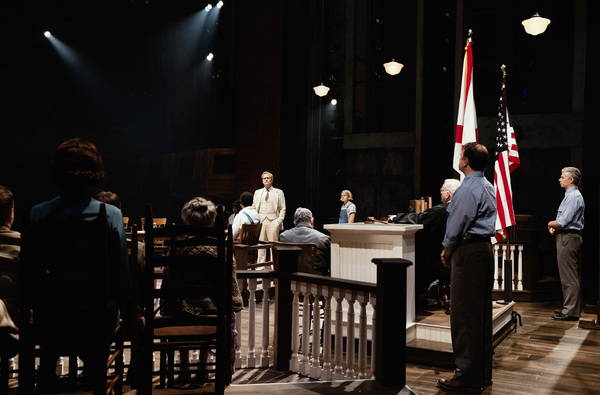 Schedule
Running Time: Two hours and 35 minutes, with one intermission
Tuesdays at 7:00pm
Wednesdays at 1:00pm & 7:00pm
Thursdays at 7:00pm
Fridays at 8:00pm
Saturdays at 2:00pm & 8:00pm
Sundays at 2:00pm
(New York, NY)
225 West 44th St.
Seating Chart
Featured Reviews For To Kill A Mockingbird
'Harper Lee's To Kill a Mockingbird, a New Play by Aaron Sorkin' and 'A Child's Christmas in Wales' Reviews: Perils and Perks of Reworking Classics - Wall Street Journal
Christopher Sergel's workmanlike 1991 stage adaptation of "Mockingbird," a regional-theater staple that I saw done three years ago by Florida's Orlando Shakespeare Theatre, is both truer to the book and far more dramatically effective. Moreover, that company's small-scale staging, sensitively directed by Thomas Ouellette, was superior in every way to Bartlett Sher's overblown, over-designed Broadway version, which is devoid of credible local color (hardly anybody on stage acts or sounds as if they've ever traveled much farther south than Cleveland). Mr. Daniels, a fine actor whom I suspect has been disserved by his director, paints Atticus with the coarsest of brushes, though the sad truth is that save for Adam Guettel's homespun incidental music and a handful of strong performances, most notably by Mr. Akinnagbe and Dakin Matthews, who plays the judge, nothing about this "Mockingbird" is any good at all. Shame on Harper Lee's estate for letting it happen.
Broadway Review: 'To Kill a Mockingbird' - Variety
Against all odds, writer Aaron Sorkin and director Bartlett Sher have succeeded in crafting a stage-worthy adaptation of Harper Lee's classic American novel "To Kill a Mockingbird." The ever-likable Daniels, whose casting was genius, gives a strong and searching performance as Atticus Finch, the small-town Southern lawyer who epitomizes the ideal human qualities of goodness, tolerance and decency. Celia Keenan-Bolger, best remembered for "The 25th Annual Putnam County Spelling Bee" but grown up now, is smart, funny, and entirely convincing as Scout, Atticus's precocious 6-year-old daughter and the narrator of the story. The rest of the large and very fine cast perform their parts with all their hearts, under Sher's impeccably fine-tuned direction.
To Kill A Mockingbird Broadway Cast