The Band's Visit - 2017 - Broadway
2018 TONY AWARD WINNER FOR BEST MUSICAL!
THE BAND'S VISIT is the winner of 10 Tony Awards, making it one of the most Tony-winning musicals in history. It is also a 2019 Grammy Awards winner for Best Musical Theater Album. In this delightfully offbeat story, set in a town that's way off the beaten path, a band of musicians arrive lost, out of the blue. Under the spell of the desert sky, and with beautiful music perfuming the air, the band brings the town to life in unexpected and tantalizing ways. Even the briefest visit can stay with you forever.
With a score that seduces your soul and sweeps you off your feet, and featuring Tony-winning performances and thrillingly talented onstage musicians, THE BAND'S VISIT rejoices in the way music makes us laugh, makes us cry, and ultimately, brings us together.
"The music transports you to a place both exotic and touchingly familiar." - The New York Times
David Cromer directs, with music & lyrics by David Yazbek and book by Itamar Moses.
FINAL BROADWAY PERFORMANCE APRIL 7.
Video preview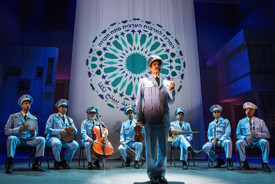 Photo preview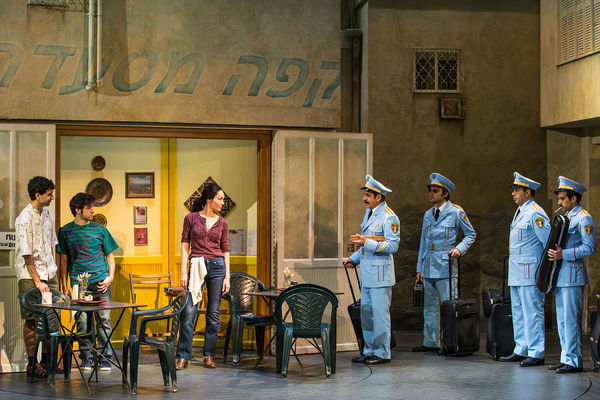 Schedule
Running Time: One hour and 30 minutes, with no intermission
Featured Reviews For The Band's Visit
'The Band's Visit' review: New musical based on Israeli film is a must-see on Broadway - amNY
While there is little plot or character development, one by one the players open up in song and dialogue, revealing that they are suffering from emotional paralysis and the monotony of everyday life. The integration of David Cromer's intimate and sensitive direction; David Yazbek's Middle-Eastern flavored score, much of which is performed onstage by cast members; and Itamar Moses' book, which hews closely to the original screenplay, is so seamless that it is virtually impossible to pick apart. They have turned a slight, short, quiet tale into an urgent, realistic and relatable portrait of vulnerable individuals from different cultures who are able to make an unexpected human connection, often just through a shared appreciation for music.
Review: Last Season's Best Musical 'The Band's Visit' Re-Opens On Broadway; 'Office Hour' At The Public - Deadline
Feed your soul: Go see The Band's Visit. Now that this exquisite musical has moved uptown to Broadway - it opened tonight at the Ethel Barrymore Theatre - I can make that recommendation with only one caveat, which is to spring for center orchestra seats, but more about that later. The rare film-to-musical adaptation that enhances the source material, The Band's Visit has stayed with me in the year since it opened off-Broadway at the Atlantic Theater Company, like a dream from which I never wanted to awaken.
The Band's Visit Broadway Cast