Burn This - 2019 - Broadway Tickets, News, Info & More
Academy Award nominee Adam Driver (BlacKkKlansman, Star Wars, "Girls") and Golden Globe winner Keri Russell ("The Americans," Waitress, "Felicity") star in the acclaimed drama by Pulitzer Prize winner Lanford Wilson.
When a mysterious death brings together two unlikely strangers, their explosive connection sparks a chemistry too fiery to ignore. Directed by Tony winner Michael Mayer (Spring Awakening, Hedwig and the Angry Inch), and co-starring Tony nominees David Furr and Brandon Uranowitz, BURN THIS is a smoldering story of love and raw attraction by one of the most vital playwrights of the modern era.
Video preview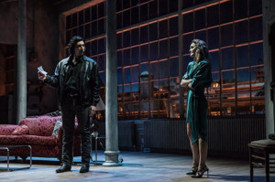 Photo preview
Schedule
Running Time: Two hours and 30 minutes, with one intermission
Featured Reviews For Burn This
'Burn This': Theater Review - Hollywood Reporter
It's a credit then to the luminous Russell and the two fine supporting actors in director Michael Mayer's slick revival that nobody gets swallowed up in Pale's vortex of bubbling testosterone. Lanford Wilson's 1987 pas de quatre, to borrow a term from the play, remains a compelling account of love as a headlong plunge into the unknown, a risky jeté out of the ashes of sorrow and the stupor of safety into pulse-quickening passion. But in choosing to dial up the humor, Mayer has undercut the anguish that is the drama's foundation, exposing Burn This as just a circuitous journey to an inevitable romantic conclusion.
Broadway Review: Adam Driver, Keri Russell in 'Burn This' - Variety
Driver, a mesmerizing presence in TV's "Girls" and the latest "Star Wars" trilogy, lives up to expectations of the showcase role originally played by John Malkovich. Driver is riveting here, and audiences will identify with Anna's dilemma of both wanting him to leave and needing him to stay. In many ways, "Burn This" is Anna's play, but any actress would find it hard to compete against the monologues-as-arias that Wilson gives Pale. There are no such showcase moments for Anna, though Russell can be a spellbinder, too, as she tells the story of being in a room filled with pinned butterflies. The metaphor suits Anna all too well. Russell, whose stage credits are slim but who's proven her chops onscreen in "The Americans," creates a vivid, if less flashy, performance. Still, she's a force in her own right as she summons a quiet strength beneath her fragility, a sense of groundedness under her shifting emotions and a shaky will to move on despite the hole in her heart.