Burn This - 2019 - Broadway
Academy Award nominee Adam Driver (BlacKkKlansman, Star Wars, "Girls") and Golden Globe winner Keri Russell ("The Americans," Waitress, "Felicity") star in the acclaimed drama by Pulitzer Prize winner Lanford Wilson.
When a mysterious death brings together two unlikely strangers, their explosive connection sparks a chemistry too fiery to ignore. Directed by Tony winner Michael Mayer (Spring Awakening, Hedwig and the Angry Inch), and co-starring Tony nominees David Furr and Brandon Uranowitz, BURN THIS is a smoldering story of love and raw attraction by one of the most vital playwrights of the modern era.
Video preview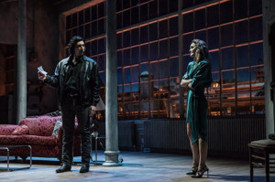 Photo preview
Schedule
Running Time: Two hours and 30 minutes, with one intermission
Featured Reviews For Burn This
'Burn This' Review: Adam Driver, Keri Russell Simmer In Broadway's Spar Wars - Deadline
So what's needed? I'd say passion, or at least chemistry. But Russell's Anna just hasn't the emotional weight to provide the heft needed for an equal and opposite reaction to Driver's Pale. She seems no more inescapably drawn to Pale than she was to Burton. Better she had stayed with that rich, handsome, doting stiff. They'd have had a nice little life.
Theater Review: Men Behaving Bigly, in Burn This and Socrates - Vulture
But Driver keeps the show aloft. Turns out Kylo Ren is immensely compelling onstage - a genuine weirdo in the hulking, strangely graceful body of a former Marine, unafraid of huge, ugly displays of emotion, blazing through Pale's aggrieved, hilarious, F-word-peppered rants with the dexterity of a dancer like Robbie. At one point, he gently puts his hand on Russell's breastbone, and it's genuinely unsettling how much of her tiny torso his big human paw covers. He's an unstoppable force and an immovable object. And he's funny as heck. Whether he's steaming over the injustices of the world - "Half my fuckin' adult life, I swear to Christ, has been spent looking for a place to park!" - or padding around the room wearing one of Anna's little happi coats, struggling to get his enormous limbs through the weird double armholes, Driver's got a keen sense for comedy of multiple sizes, from the subtle background lazzo to the over-the-top tirade. It's fun to watch him interact with Uranowitz's wonderfully wry Larry - who can't help smiling, as if from behind his hand, at such a splattery, honest display of personality - and with Furr's Burton, who's sympathetic despite his many blind spots, and who really doesn't mean to bust out his aikido training on Pale. Pale just has a way of ... bringing things out in people.