UW Musical Theater Program Presents ANYTHING GOES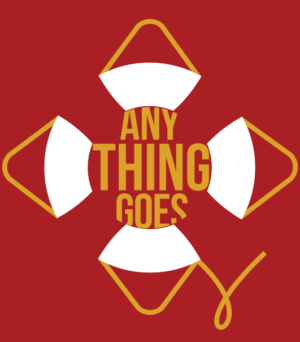 Theater Program presents its fourth annual production, Anything Goes, directed by 5th Avenue Theatre Casting Director Kelsey Thorgalsen. The show runs March 9th though 18th, with previews March 7th and 8th, at the Floyd and Delores Jones Playhouse at 4045 University Way NE.
Featuring 29 actors and 74 costumes, Anything Goes ranks among the largest productions in UW's history. A colorful cast of characters, including a stowaway, a debutante, a night club singer, and a second-rate gangster, come together to unravel mismatched love affairs and misunderstandings. Antics arise as the stockbroker stowaway, Billy, chases his beloved, Hope, an heiress who is engaged to a British aristocrat. This witty musical comedy features some of Cole Porter's finest songs including "De-Lovely," "I Get a Kick Out of You," and, of course, "Anything Goes."
The UW Musical Theater program, part of the University of Washington College of Arts and Sciences, is a cross-departmental partnership of the School of Drama, the School of Music and the Department of Dance. Previous productions include Sweet Charity, Pippin and The 25th Annual Putnam County Spelling Bee.
"If you look at the world of Anything Goes," says director Thorgalsen, "it's the middle of the Great Depression. These people are getting on this ship to escape for a little bit; they are escaping all of the financial woes, all of the political woes. I feel like right now in this time, everyone could use a bit of escape. And in the words of Albert Evans, this show is a 'frolic.' It's a chance for people to go to the theater and have a good time and escape from everything going on in your world, just like the people in the show are doing."
Thorgalsen adds that she is eager for the opportunity to get to know the students before they graduate and enter the professional world, calling the show "an opportunity for the 5th and UW to deepen their relationship."
Anything Goes
Presented by the University of Washington Musical Theater Program
In collaboration with the Department of Dance, the School of Drama, and the School of Music
March 9 - 18, 2018
Previews March 7 & 8
Floyd and Delores Jones Playhouse
4045 University Way, NE, Seattle, WA 98105
Performance Dates
Previews: Wednesday 3/7 and Thursday 3/8 at 7:30 PM
Opening Night: Friday 3/9 at 7:30 PM
Regular Performances:
Saturday 3/10 at 7:30 PM
Sunday 3/11 at 2:00 PM
Wednesday 3/14 at 7:30 PM
Thursday 3/15 at 7:30 PM
Friday 3/16 at 7:30 PM
Saturday 3/17 at 7:30 PM
Sunday 3/18 at 2:00 PM
Ticket Prices:
Regular: $25
UW/Student/Senior: $20
TeenTix: $5 at the door, day-of-show, with TeenTix pass (www.TeenTix.org)
Tickets are available via ArtsUW at artsuw.org or 206.543.4880
HISTORY OF ANYTHING GOES
Anything Goes has been re-written several times since the first version was written by Guy Bolton and P.G. Wodehouse for the 1934 production. With tragic news of the sinking of the S.S. Moro Castle just before the original production's opening, the plot of the show was revised by Howard Lindsey and Russell Crouse. Anything Goes was then revised yet again by Russell's son Timothy Crouse and collaborator John Weidman who were tasked with modernizing the show while at the same time keeping the original 1930s charm. Today, there are four versions of the Anything Goes libretto: the original libretto from 1934, the 1962 and 1987 revival librettos, and the 2011 revival libretto. Songs have been removed and reallocated, but the same principal characters exist in every version. The UW Musical Theater Program will be using the 1987 Beaumont Theatre Version.
MORE ABOUT KELSEY THORGALSEN
Kelsey Thorgalsen is a local producer, casting director, and director. She is the Casting Director and Artistic Associate at the 5th Avenue Theatre where she also produces the 5th's annual New Works Festival, NextFest, and is working with Producing Artistic Director Bill Berry on the latest new works program, First Draft: Raise Your Voice, which focuses solely on women writers. Her latest directing credits include readings of The Long Game written by Andrew Russell and Rich Gray, Beautiful Poison (Assistant Director) directed by Chris Ashley, A Chorus Line (Assistant Director) on The 5th Avenue stage directed by David Bennett and American Idiot (Assistant Director) at ArtsWest directed by Eric Ankrim.
MORE ABOUT Steven Sofia
Steven Sofia is a Broadway performer, dance captain, choreographer, and dance and Pilates teacher. His Broadway and National tours credits include: Chita Rivera: The Dancer's Life, Chicago, Kiss Me Kate, Beauty and The Beast, Guys and Dolls ('92 revival) and Jerome Robbins' West Side Story. Some other credits include: A Chorus Line at Olney Theatre [Helen Hayes Award winner for the Best Musical in 2013], An evening with Betty Buckley at Carnegie Hall, Applause at City Center's Encores, Susan Stroman's Contact with Sarasota Ballet at Asolo Repertory Theatre, and several Tony Awards and Macy's Thanksgiving Day parade presentations. He also danced with The American Dance Machine, where he worked with such choreographers as Ron Field, Agnes DeMille, Buzz Miller, and Gwen Verdon, to name a few. He has been an assistant to Broadway choreographers Tony Stevens and Chris Chadman. Steven choreographed the National Tour of Chicago for Troika, a number for the Macy's Thanksgiving Day Parade with Andy Williams, and productions for the Wings Theater. He also directed and choreographed Pippin for NYU's Cap21. Steven has been on the dance faculty at NYU, Cap21, SUNY Purchase, Marymount College, Broadway Dance Center and Steps on Broadway. Steven is also a certified classical Pilates instructor.
MORE ABOUT JORDYN MEEKER
Jordyn Meeker is the owner and vocal teacher at EDGE Performing Arts & Dance. She also directs and musically directs around the greater Seattle area, and teaches in the University of Washington Musical Theatre Program. She holds a Bachelors of Music from Washington State University with a minor in Business Administration. She has performed in such venues as Carnegie Hall and Avery Fischer hall in New York City, and held lead rolls in shows such as Avenue Q, You're a Good Man, Charlie Brown, Baby, the Musical, and Jane Eyre. Currently, Jordyn is a continuing voice student of Dr. Kari Ragan in Issaquah, Washington and sings with Restless Vocal Band and in local theatre shows. Jordyn is a three-time first place winner in the NATS Musical Theatre Competition and was a finalist in Washington-Idaho Young Artists Competition.
MORE ABOUT Cole Porter
Cole Porter, treasured composer and lyricist, created a sophisticated and rich body of work that appeared on both Broadway and the Big Screen. Charming melodies and clever lyrics set Porter aside from other composers. Notable songs include, "Let's Do It (Let's Fall In Love)" for Paris, "Night and Day" for Gay Divorce, "Wunderbar" for Kiss Me, Kate, "All Through the Night," "I Get A Kick Out Of You," "Blow Gabriel Blow," and the title song for Anything Goes. Porter won his first Tony for his Kiss Me, Kate score. He also wrote many famous songs that appeared in films including, "I've Got You under My Skin," "In the Still of the Night," and "Easy to Love."
ABOUT THE UNIVERSITY OF WASHINGTON MUSICAL THEATER PROGRAM
In collaboration with the School of Music, the School of Drama, and the Department of Dance, the Musical Theater Program provides 22 majors with well-rounded training in acting, singing and dancing through dynamic coursework and practical application. This pilot program was launched in 2013, designed to graduate individuals with a Bachelor of Arts in Individualized Studies and prepare them to transition into the musical theatre profession and approach their careers from an entrepreneurial perspective. Currently its fourth year of programming, the University of Washington Musical Theater Program produced Sweet Charity in 2015, the 25th Annual Putnam County Spelling Bee in 2016, and Pippin in 2017. Although the pilot phase for the program will come to a close in 2020 and no new majors will be admitted, the Musical Theater Program will continue at full force until all current majors have completed their course of study.