Seattle's Khambatta Dance Company and Mexico City's Ciudad Interior Push Down the Border Wall Through Dance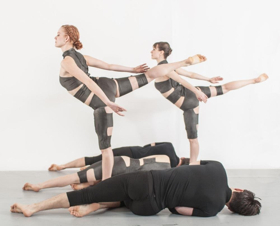 For three unique dance performances, Khambatta Dance Company (KDC) together with Mexico City's Ciudad Interior (CI) will push down the emotionally and politically-charged "border wall" at the first annual Seattle International Dance Festival Winter Mini-Fest. These two highly respected contemporary dance troupes will take over Capitol Hill's Broadway Performance Hall for two weekends to examine the societal, economic, cultural and emotional boundaries that touch both US and Mexican borders.
KDC's artistic director Cyrus Khambatta has spent much of the past year reaching out to communities battered by war, environmental destruction and harsh political imperatives. He has connected with countless artists, many of whom feel carelessly tossed aside amidst the shifting political landscapes and vagaries of funding. CI's visiting dancers and KDC are members of society's most fragile and tenuous groups; yet thrive when embracing unfamiliar cultures and artistic boundaries.
When CI's choreographer Alejandro Chavez and KDC's Cyrus Khambatta talked late in 2017 about working together, neither could ignore that Mexico City has seen repeated earthquakes and Mexico itself has suffered greatly from the negative repercussions of fractured US relations with its shifting political landscape. From those conversations, the first annual SIDF Mini Winter-Fest was born and together, the two choreographers plan to push their own artistic boundaries to swap companies and create two new works in one week.
The concept of producing new pieces in a short time frame is one of the signature components of SIDF and both choreographers have commented that the added political component of the SIDF Winter Mini-Fest swap is a thrilling artistic challenge. Advance tickets are $23. Student and senior tickets are $18. Festival Passes are available for $30. Visit Khambattadance.org
SIDF Winter Mini Fest
Feb 3, Feb 4 - Program A KDC presents Harmony 2X3 and the Seattle premiere of Endangered Species; CI premieres Mercurio Rojo (Red Mercury).
Feb 10 - Program B KDC presents Light/Dark; CI premieres Proyecto Expediente (Project Files /excerpts). In addition, KDC's Cyrus Khambatta and Ciudad Interior's Alejandro Chavez present two brand new works choreographed in one week after swapping companies.
ENDANGERED SPECIES is inspired by KDC Artistic Director, Cyrus Khambatta's recent international travels. The inertia of the work is drawn from interviews and personal accounts of lives in transition as the world's cultures, societies and the environment itself transforms - revealing human identities and relationships altered in the tow of a changing world. This presentation features costumes designed by Belgrade-based clothing designer, Jasmina Panic Samsara. The recent addition of Serbia's Samsara Moda clothing adds a new layer to the piece; especially when considering the war torn Balkan region's suffering was punctuated again this past November by the conviction of Ratko Mladi?.
HARMONY 2X3, takes a recent KDC creation (2017) originally set to live orchestral music of Edvard Grieg's Symphonic Dances third movement (performed by LUCO Orchestra) and sets it alongside a contemporary reworking to produce a classical/contemporary counter-reflection. The side by side works contrast in quality and character, but retain the choreographic vocabulary (movement) offering audiences the challenge of spotting the repurposed and recycled movement gestures.
MERCURIO ROJO (Red Mercury), exemplifies the wizardry and technical prowess for which this company is known. The 26 minute long piece is full of surprises and presents the body as an emotionally deconstructed piece of architecture. It is an exploration of skin that paints a picture of Mexico as a robust society (contrary to recent US political presidential commentary).
LIGHT/DARK, is the first part of the classical/contemporary juxtaposition of a work originally choreographed to Grieg's first two movements of Symphonic Dances. Its traditional/modern look on the relationship of three people offers interesting perspectives on the nature of changing relationships in the 21st century. Like HARMONY 2X3, it uses the same movement vocabulary to different effect.
PROYECTO EXPEDIENTE (Project Files - excerpts) examines how human nature is affected by conscious and unconscious experiences. The piece was created in a laboratory setting using research, improvisations and body examinations to measure how these same elements were affected by the violence and politically charged audio and video relayed through Mexico's daily news casts.
SIDF WINTER MINI-FEST SWAPS, two new pieces (to be given full titles the day prior) will be created over the course of one week when artistic directors swap companies to produce new pieces in seven days.

AboutKhambatta Dance Company has called Seattle, WA its home since relocating from New York City in 2001. KDC is consistently presented throughout the west coast and abroad and has created over 35 works ranging from site-specific pieces to staged, full-length productions. The Company conducts international residencies and exchanges, sponsors a summer dance program at Wild Meadows Farm in Pennsylvania, and, in 2006, founded the Seattle International Dance Festival -Beyond the Threshold. They are dedicated to producing and presenting emotionally resonant and topically relevant work with a keen eye toward expanding the audience's world view in an inclusive manner. KDC encourages constructive self-reflection through meaningful high quality artistic work that acknowledges the role dance can play in shaping emotionally relevant lives and a strong social fabric.
Ciudad Interior Danza Contemporanea (Queretaro near Mexico City) returns to Seattle to work with KDC after performing at SIDF in 2011 and at the Moore in 2015. This astounding company has won numerous national awards such as Mexico's National Miguel Covarrubias INBA - UAM Award and the VII International Burgos - New York Contest of Choreography.
Photo: KDC dancers Ellen Cooper (standing front) and Meredith Sallee (standing back) and Ethan Rome, CarliAnn Forthun, and Sean Tomerlin (front to back.) Photo by Colleen Cooke.
Related Articles View More Seattle

Stories

Shows
More Hot Stories For You