STG Presents 20th Annual DANCE THIS!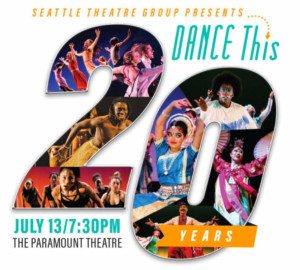 STG's signature dance program, DANCE This celebrates the incredible milestone of 20 years with a program that brings together guest artists from New York and Mexico to share the stage with Seattle's diverse talent of dancers and choreographers. The celebration features scores of performers and invites them to share their culture through the art of dance with a public performance on Friday, July 13 at 7:30 p.m. at The Paramount Theatre.
"We are thrilled to celebrate the 20th year of this landmark program with such a wide range of dance styles reflecting the cultures and creativity of our region," said Vicky Lee, Director of Education and Performance Programs for STG. "Over the past two decades, DANCE This has encouraged countless dancers to come together to collaborate and pursue their dreams to dance. And how fitting to perform at The Paramount Theatre, now in its 90th year, where we can honor the theatre's rich history of presenting world-class dance artists while bringing forward the next generation."
Featured dances include Bhangra from Apna Bhangra Crew, Filipino folk dance from Kalahi Dance Company, Croatian folk dance from Vela Luka Croatian Dance Ensemble and Bonaca Orchestra, and Mexican Indigenous dance from Bailadores de Bronce, as well as Oaxacan Mixtec dance from Danza Folclórica de Chalcatongo from Oaxaca, Mexico. Both Creative Outlet of Dance Theatre of Brooklyn, choreographed by Jamel Gaines, and Spectrum Dance Theater, choreographed by Donald Byrd, will offer contemporary modern dances; while artists Amy O'Neal and Michael O'Neal, Jr. will perform a street and contemporary fusion dance. Multi-year DANCE This performers Northwest Tap Connection will also take the stage, along with some of its alumni including dancer Pamela Yasutake whose credits include the Broadway production of Shuffle Along, choreographed by Savion Glover.
This year's performance also features works from a lineup of accomplished choreographers such as nationally acclaimed New York-based tap artists Derick Grant and Dormeshia Sumbry-Edwards, who will be performing with young tappers from the region; Mark Haim, who will choreograph an opening number performed by all dancers; Artistic Director of "The Groovement" Shakiah Danielson, who will choreograph a hip hop piece; and celebrated Seattle-based choreographer Kirsten Barron Kinney will choreograph the program's finale featuring all dancers.
Past guest artists for DANCE This have included Broadway professionals, award-winning dancers from New York and Los Angeles, famed companies such as Joffrey Ballet and ground-breaking artists like Napoleon and Tabitha from So You Think You Can Dance and Savion Glover, to name a few. Tickets to the 20th DANCE This performance are $18 and are on sale now! Student and group tickets are also available.
For more info on DANCE This visit stgpresents.org/education/dance-this. Check out this short feature documentary which showcases the magic of STG dance programs through the eyes of one young artist whose experiences have kept her engaged over the years.

ABOUT SEATTLE THEATRE GROUP (STG) SEATTLE THEATRE GROUP's (STG) mission is to make diverse performing arts and education an integral part of the region's cultural identity while keeping three historic venues, The Paramount, Moore and Neptune, alive and vibrant. STG presents a range of performances from Broadway, off-Broadway, dance and jazz, to comedy, concerts of all genres, speakers and family shows - at these three iconic theatres in Seattle and venues throughout the Puget Sound region and in Portland, Oregon. For more information visit stgpresents.org.
STG Education and Community Programs extend beyond the Paramount, Moore and Neptune Theatre stages and into the lives of the greater Seattle community. Each season, STG offers over 200 education programs impacting over 55,000 students and community members from diverse ages and backgrounds. These programs deepen significance to performances through opportunities to engage with artists, inspire youth and local artists through training and performance opportunities, and provide exposure to the arts through access initiatives. For more information visit stgpresents.org/education.