Romance Blossoms On Nature's Stage With BPA's ROMEO AND JULIET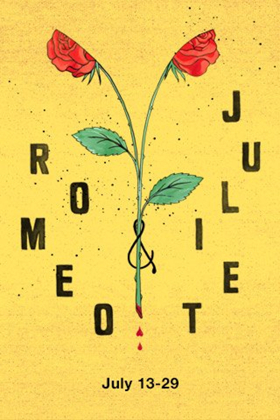 Make plans today for William Shakespeare's ROMEO & JULIET, Bainbridge Performing Arts' 6th Annual Summertime Shakespeare performance, appearing July 13 - 29 at The Bloedel Reserve. One of the Bard's most popular romantic tragedies, ROMEO & JULIET centers on a long feud between the Montague and Capulet families that disrupts the city of Verona and causes tragic results for Romeo and Juliet. Revenge, love, and a secret marriage force the young star-crossed lovers to grow up quickly - and fate causes them to take their own lives in despair.
Esteemed local director Kate Carruthers leads an ensemble of newcomers and BPA favorites, including Gavin Michaels (ROMEO), Keara Dooley (JULIET), Michala Hansen (LADY CAPULET), Connor Kinzer (TYBALT), Dylan Zucati (MERCUTIO), David Breyman (BENVOLIO), Kristi Ann Jacobson (NURSE), Gary Fetterplace (FRIAR), Victoria Brown (MONTAGUE / APOTHECARY), Jean Sleight (PARIS / SAMSON / CHORUS ), Citori Luecht (ROSALIND / BALTHAZAR / CHORUS), Kristopher Jones (GREGORY / PETER / CHORUS), Fred Saas (CAPULET), and Robert Craighead (PRINCE).
Kate Carruther's BPA directing credits include August: Osage County, Amadeus, Snow Falling on Cedars, The Kentucky Cycle, Distracted, Private Eyes, Arcadia, The Grapes of Wrath, Picasso at the Lapin Agile (2006), More Fun Than Bowling, Anton in Show Business, Art, and The Philadelphia Story. She directed Much Ado About Nothing, BPA's 4th annual summertime Shakespeare performance, at The Bloedel Reserve in July 2016, and she is looking forward to directing ROMEO & JULIET this summer.
The Bloedel Reserve on Bainbridge Island is an internationally renowned public garden and forest preserve whose mission is to "enrich people's lives through a premier public garden of natural and designed Pacific Northwest landscapes." The BPA Shakespeare Society's summertime performance aligns seamlessly with the founder's vision "to provide refreshment and tranquility in the presence of natural beauty."
ROMEO & JULIET appears at The Bloedel Reserve, 7571 NE Dolphin Drive, Bainbridge Island, with shows on July 13, 14, 15, 19, 20, 21, 22, 26, 27, 28 and 29, plus a special Pay-What-You-Can Preview on July 12. All performances are at 7:00 p.m. Audience members should be prepared for a breathtakingly-beautiful 5-minute walk between the parking area and meadow. Gates open at 6:00 p.m. Patrons may enter the grounds earlier by paying a reduced same-day-only rate of $5.00 valid after 4:30 p.m.
Picnics and set up for picnics will be allowed in the meadow after 6:00 p.m. Beer and wine will neither be sold nor permitted at this year's event per regulations under the Washington State Liquor & Cannabis Board. These regulations will be enforced to ensure that all patrons are in compliance.
Just over two hours, the production has one intermission. Patrons are advised to bring their own seats, low lawn chairs, or blankets on which to sit. Staff members will assist patrons upon their arrival in the meadow. Seating on blankets will be in front; seating in elevated chairs will be in rear. Space is limited, and seating is first come first served. As there is no ADA parking close to the stage, patrons requiring handicap access can make use of a Shuttle drop off at the stage area. Patrons shall please note that the audience area is a grassy region and that there is no paved access to the meadow.
Join us for The Bard at Bloedel and a dramatic summer evening suitable for all ages. BPA's 2013 - 2017 productions were met with rave reviews and sold out quickly; patrons are strongly encouraged to purchase their tickets in advance.Tickets, $29 for adults, and $24 for seniors, students, youth, military, and teachers, may be purchased online at www.bainbridgeperformingarts.org, by phone at 206.842.8569 or in person at BPA, 200 Madison Avenue North, Bainbridge Island. BPA Box Office hours are 1:00 to 4:00 p.m. Wednesday through Friday, and one hour prior to each performance.
Performances will continue as scheduled in very light rain. In the event of more inclement weather, performances will be canceled at the discretion of the production crew to ensure the safety and comfort of our performers and patrons. While we are unable to provide refunds for weather-related cancellations, ticket holders for any canceled performances will be welcome to join us on another date of their choice.
BPA is excited to welcome Title Sponsor Merrill Lynch Wealth Management and Media Sponsor KCTS 9 - Public Television for this production. BPA is supported, in part, by Bainbridge Community Foundation, the City of Bainbridge Island, and One Call for All. Bainbridge Performing Arts is pleased to offer an "Open Doors" program. Free and reduced-cost tickets to most events are available to community members in need through our partner Helpline House thanks to grants from BCF, the Mabee Family Foundation, and the Alder Fund at the Bainbridge Community Foundation. Please contact the BPA Box Office at 206.842.8569 or Helpline House to reserve tickets today.
Find out more about BPA at www.bainbridgeperformingarts.org.

Related Articles View More Seattle

Stories

Shows
More Hot Stories For You