Initial Casting Announced For 5th Ave's WEST SIDE STORY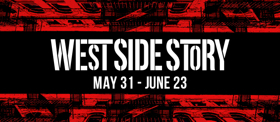 The 5th Avenue Theatre has announced initial casting for West Side Story, the sweeping tale of young lovers caught between prejudice and warring street gangs in what is one of the most important and powerful musicals of all time. The 5th is excited to introduce Rebbekah Vega-Romero, who makes her 5th Avenue Theatre debut to star as Maria, and welcome back CJ Eldred (The 5th: The Pirates of Penzance, Aladdin) to star opposite her as Tony. The multi-talented cast also features Danielle Gonzalez (National Tour: Saturday Night Fever, Flashdance) as Anita, Seattle local Sophie Franco (Intiman: Native Gardens) as Rosalia, Karma Jenkins (MUNY: The Wiz) as Consuela, Iliana Garcia (Orlando Shakespeare Theater: In the Heights) as Fransisca, and Dan Lusardi (Flat Rock Playhouse: Gypsy) as Riff, all making their 5th Avenue Theatre debuts. Returning to The 5th is Alexander Gil Cruz, (The 5th: Irving Berlin's Holiday Inn, Associate Choreographer) making his stage debut as Bernardo, Seán G. Griffin (The Secret Garden, Aladdin) as Doc, and Richard Gray (Murder for Two, Spamalot, The Music Man) as Officer Krupke. Additional casting, which includes members of Spectrum Dance Theater, will be announced at a later date.
The 5th Avenue Theatre's Producing Artistic Director Bill Berry, who helmed The 5th's most recent production of the musical in 2007, will direct this beloved tale once again. The iconic choreography by Jerome Robbins will be taught to the cast by returning choreographer Bob Richard (Mamma Mia!, The Pajama Game, How to Succeed in Business Without Really Trying).
Playing May 31 - June 23, 2019 (press opening Friday, June 7), single tickets for West Side Story are on sale now at www.5thavenue.org, by phone at 206.625.1900, or in person at the Box Office at 1308 5th Avenue in Downtown Seattle.
The 5th Avenue Theatre is calling on the full breadth and depth of its artistic resources to stage an unforgettable production of West Side Story. This is musical theater as only The 5th can do it: with a cast of 45 of the finest performers ever to grace its stage, a 25-piece orchestra and the highest levels of talent and artistic dedication bar none. The dancing will bring you to the edge of your seat; the music will resonate deep in your soul; the story will lift you to the heights of passion.
Please visit www.5thavenue.org or call the Box Office at 206.625.1900 for tickets (starting at $29).
More Hot Stories For You