BWW Review: Theatre22's Elaborate THE PRIDE Pulsates and Plods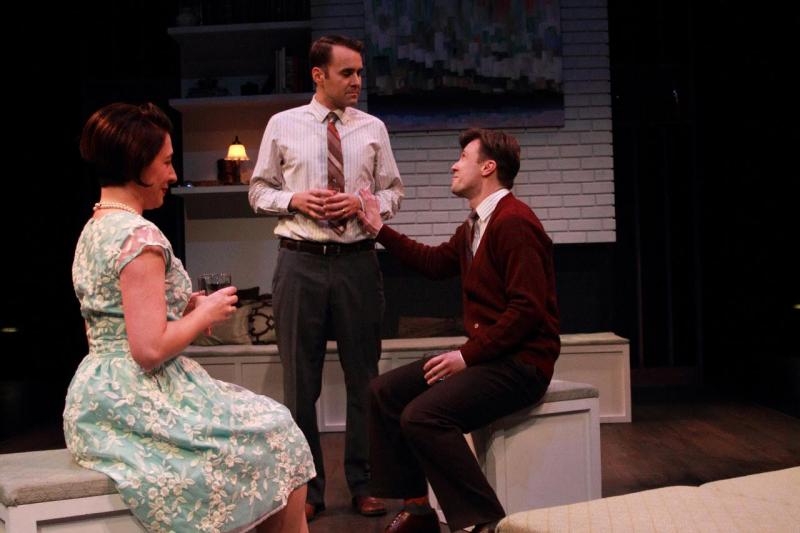 In the opening scene of "The Pride," we immediately understand two things about the men on stage: they are British, and they are uncomfortable. It's 1958. Oliver says hello to Philip. The conversation is taught, small, and as light-hearted as two people "with nothing in common" can muster. In this middle-class London home, it is not what these polite people say to one another, but what they don't say--or, perhaps, can't say--that drives Alexi Kaye Campbell's sentimental split-period piece. When Philip's wife says she feels something in the room, the light bulb in your head goes off, and the tension makes sense.
"The Pride" alternates between this storyline and another. Like the first, the second storyline focuses on three characters, also named Oliver, Philip, and Sylvia, but their story takes place not in 1958, but 2008. In the 2008 saga, Oliver's addiction to anonymous park sex jeopardizes his relationship with Philip. Also in 2008, Sylvia is now Oliver's spunky, faithful friend. Back in the first story in 19858, Philip and Sylvia are married, and Oliver writes children's books that Sylvia illustrates. Two juxtaposed love stories, sixty years apart, and everyone is in pain.
Directed by Corey McDaniel, this production's fluid play with time was simultaneously its greatest strength, and its greatest weakness. On one hand, the graceful flow between moments revealed the common denominators between the separate timelines. On the other hand, on a technical level, that very fluidity made differentiating between the two timelines tricky. When you show how little things have changed in the past sixty years with costumes, physical place, and tone (not to mention the main characters sharing the same three names in both timelines), the chronology--as well as the relationships--get scrambled. Truly, it wasn't until the introduction of 2008 Sylvia, with her unmistakably modern vernacular and iPhone that the two stories were, in fact, completely separate. Unfortunately for the costume and props team, mid-century aesthetics have been streamlined and are not blatant anachronisms.
The production eventually finds its footing after two or three switches from past to present, but just when the relationships and timelines become clear, the rife, emotional charge plateaus. From here, the lovers in both timelines quarrel a lot, reaching a point where the moments stop feeling touching and start feeling stale. The juicy moments were those between Oliver and Philip's cyclical arguments of Oliver trying to be with Philip, and Philip disparaging what Oliver stands for. And there are quite a few. One especially powerful moment took place in Act II, where Philip was not fighting at all, but being interviewed by a doctor in a very nefarious environment. Complimented by Ahren Buhmann's eerie lighting, the moment felt like a scene in A Clockwork Orange-macabre and frigid. In the earlier scenes, 1950's Philip gives wry, haughty one-liners, and 2008 Oliver finds himself in an hysterical sexual correspondence. "The Pride" has sporadic, narrative dynamism: I just wish there were more tonal variety.
Andre Nelson had the difficult task of playing a quite thankless role-though his foppish severity has funny moments, what turns out to be most notable about Philip (both 1958 and 2008) is his disapproval of Oliver. 2008 Oliver is a lustful nymph in a kimono, and Trevor Young Marston's spry, anxious portrayal contrasted well with his meek, romantic portrayal of 1958 Oliver. The three different secondary characters portrayed vivaciously by Doug Fahl (The Man, Peter, and The Doctor) add zest to the scenes. The standout performance for me was Angela DiMarco's Sylvia: one, a polished, wide-eyed china doll wife; the other, a fun, loyal companion who fancies herself progressive. Like Marston's 2008 Oliver, DiMarco charges her characters infectious, anxious energy. Whether she's keeping up appearances or texting her Italian love interest, Sylvia's very easy to love and sympathize with.
After all of that kvetching about pacing issues and tonal monotony, this show gets a lot of points for taking a strong, political perspective, and having a lot of cultural relevance. At times maudlin, and at times sobering, I give Theatre22's "The Pride" 4/5 stars.
Theatre22's "The Pride" performs at 12th Avenue Arts through November 19, 2016. For tickets and information, visit them online at www.theatre22.org.
Amelia Reynolds has been writing for BroadwayWorld Seattle since 2015. Born and raised in Wilmington, Delaware (of all places!), Amelia Reynolds has lived and breathed (read more...)