BWW Review: Stark and Informative WEDDING BAND from Intiman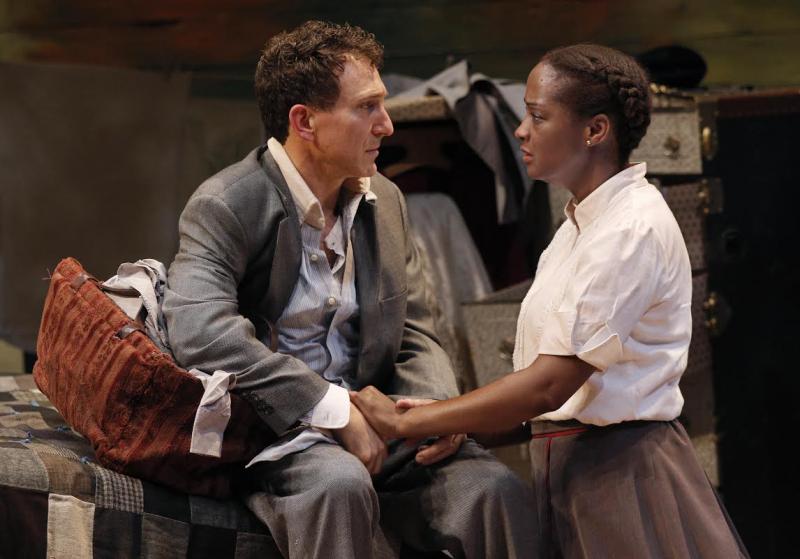 Alice Childress' "Wedding Band" is an important show-but can feel a bit academic. It isn't overwritten with clever gags or attention-grabbing circumstances, and while this can make the play feel slow, the creative skill of the cast and crew elevates the production.
"Wedding Band" closes the 2016 Intiman Theatre Festival committed to producing American plays by black women. Directed by Valerie-Curtis-Newton, "Wedding Band" challenges star-crossed lovers Julia, a black seamstress, and Herman, a white baker, after ten years of commitment.
These star-crossed lovers have a lot rooting against them. Firstly, their relationship is tremendously looked-down upon. They want to get married, but in 1918 South Carolina, it's illegal for an interracial couple to get married. Secondly, Herman is sick with influenza, which, in turn of the century America was a death sentence. If Julia does not get a doctor, he surely will die. If she does get a doctor, their secret will be revealed and Julia's landlord Fanny will suffer serious consequences. It was hard enough acquiring land as a black woman in 1918, so she has to remain as socially obedient as possible.
Julia is steadfast, beautiful, and quietly severe. Herman is a true Southern gentleman: sweet, gallant, and loving. Together, their love is supportive and patient. The chemistry between these two does not knock you off your feet, which, at times can feel disappointing. Ultimately, the bond between two people who have loved one another for ten years probably will not have the palpable sparkle of newlyweds. Yes, the two have sacrificed everything for their love, but that does not mean that their relationship has to be perfect.
That said, I do wish that Julia (Dedra D Woods) and Herman (Chris Ensweiler) had some chemistry. They were sweet to one another, but it felt forced. Individually, Woods and Ensweiler are great performers (though I did find it funny when Ensweiler buckled over and exclaimed "PAIN!" to show that he was in pain). Woods' moments of severity were so stellar where she did not need to be loud in order to be intense. Ensweiler's portrayal of Herman was very charming and likable. One standout performance for me was Aishé Keita as the proud Mattie, evoking a strong woman who, though always a little angry, has so much love to give. Another was Shaunyce Omar as maternal Lula who knows what it means to truly sacrifice for your children. Janson Sandford was fun to watch as the puffed-up Nelson. Tracy Michelle Hughes' Fanny was serious about keeping up appearances, but could be a hilarious gossip. Martyn G. Krouse made your skin crawl (in a good way...I think?) as the lecherous Bell Man. Amanda Hilson and Anne Allgood where wonderful as Herman's racist sister and mother that, surprisingly, had glimmers of redemptive moments.
Mattie's, Lula's, Nelson's, and Fanny's stories are all historically important, because these stories are rarely told. For example, how the state handles Mattie's relationship with her husband, October, is fascinating. In truth, all of the black characters had equally challenging decisions to make about their loved ones. But "Wedding Band" is about Julia and Herman's relationship, so the branch-off narratives read as brittle.
The entire creative team that manifested the physical world of "Wedding Band" deserves a standing ovation. Jennifer Zeyl's meticulous set design could have been a museum piece, full of artifacts, antiques, crunching leaves and working water wells. The costumes (Mark Mitchell) were perfectly tailored to the time period while also subtly alluding to the grey uniforms of the confederacy. From Julia's bejeweled, fuchsia kitten heels to Lula's flouncy, yellow frock, everything worn in this production was gorgeous and embodied the characters that wore them.
The production is full of historical tidbits that get you thinking about what your history classes got wrong. Even if it was not the most fun, it was the most informative production I've seen this season, and for that I give Intiman's "Wedding Band" a feeling-schooled 4/5. This is a show that comes with homework you'll enjoy doing.
(Last thing: everyone needs to go to the bathroom before taking seats. It clocks in at almost two hours without an intermission.)
Intiman's "Wedding Band: A Love/Hate Story in Black and White" performs at the Jones' Theater at the University of Washington through October 2nd, 2016. For tickets and information, visit them online at http://www.intiman.org/wedding-band.
Update: The actresses' name has been corrected from DEBRA D Woods to DEDRA D Woods.