BWW Review: SPT's HAND TO GOD is a Devilish Good Time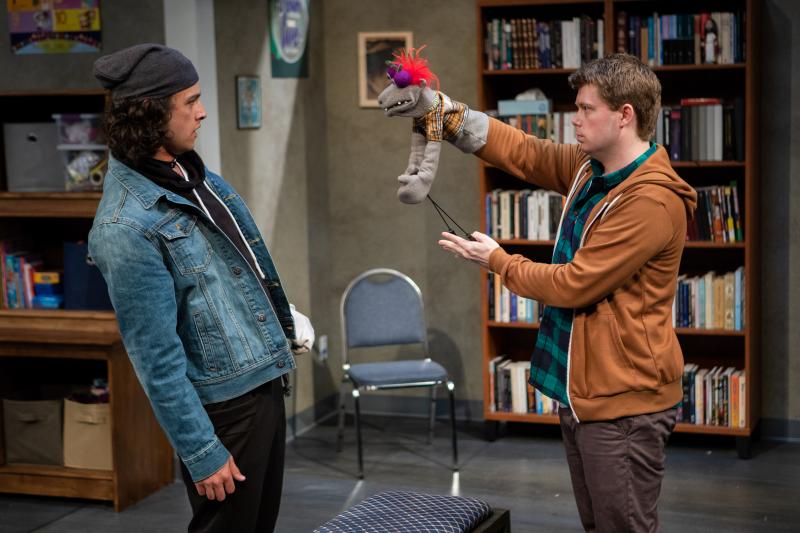 Dear Readers, a few years back on one of my trips to the Mothership, I managed to catch Robert Askins' hilarious play "Hand to God" on Broadway and as soon as I finished wetting myself from laughter I thought, "Someone in Seattle needs to do this so my Dear Readers can wet themselves as well." Well last night I watched the entire house at Seattle Public Theater collectively wetting themselves over this hysterical show and so my wish has come true. My wish for all of you.
In this small Texas town Jason (Ben Burris) has recently lost his father. And so, to keep both of them busy his mother Margery (Sunam Ellis) convinces Pastor Greg (Martyn G. Krouse) to let her create a Christian Puppet Ministry in the basement for some of the wayward teens. So, each night Margery and Jason meet there with Jessica (Hannah Mootz), a young girl with an affinity for puppets, and Timmy (Arjun Pande), a young man with a desire to get out of his house and not much else except trouble, and work on their puppets. But while Jason's puppet Tyrone starts off as a cute little extension of his hand, singing Jesus songs and doing classic comedy routines, he soon becomes the foulest mouthed and dark extension of Jason's soul. But is it Jason or is it maybe SATAN?!
The puppets in "Avenue Q" would blush and run away screaming at the things that come out of Tyrone's mouth. He is a no holds barred, tell it all breath of foul fresh air and the demon you hate that you love. But beyond Tyrone the show blissfully shows the demons in everyone and director Kelly Kitchens has not shied away from that. As each of the others, even the most devout, shows their true colors, Kitchens has given them the latitude to take their own demons out and dance with them but never went too far so as to lose focus of the scene. Each moment is finely crafted and paced and the show just zips by. With that I must give equal kudos to Harry Todd Jamieson who's listed as Assistant Director and Fight Choreographer. For the fights alone, he deserves praise as they looked absolutely deadly but I'm certain those actors don't have a scratch on them. Plus, the set from Christopher Mumaw is fantastic. I was curious how they were going to handle such a grand transformation in such a small space and they did it beautifully.
The ensemble cast is completely in lock step with each other at every moment making for a tight, cohesive storytelling unit. Ellis goes from Sunday school teacher to dominatrix and back with the flip of a switch and it's comedy gold. Krouse's awkward Pastor on the make is a delight. Mootz has enough sass and attitude for 20 teens and her final moments killed. And Pande as the seething bad boy who's met his match could not be funnier. But it all boils down to who's behind that puppet and Burris nailed it. As the puppet devolves Burris beautifully creates a divide between his characters, Jason and Tyrone, so you can see they are two different entities with their own wills. His mastery of the puppet to the point of Tyrone being able to convincingly beat him up is a work of art. And his arc within the piece is stunning with a climax that will leave you breathless. Well, a second climax. Oh, and he not only operated Tyrone like a pro but he made him as well. Burris is responsible for all the increasingly awesome incarnations of Tyrone so his talent apparently knows no bounds.
The show is already comedy gold and Kitchens and the folks at SPT have made sure that gold is polished up to a brilliant shine. And so, with my three-letter rating system, I give Seattle Public Theater's production of "Hand to God" a devilish YAY. This show is not for the faint of heart or anyone easily offended. But for the rest, I urge you to catch one of the funniest plays in years. Don't let my wish go to waste.
"Hand to God" performs at Seattle Public Theater through June 3rd. For tickets or information visit them online at www.seattlepublictheater.org.
Related Articles View More Seattle

Stories

Shows
Born and raised in Seattle, WA, Jay has been a theater geek for years. He attends as many shows as he can around the country (read more...)