BWW Review: BAD APPLES at ACT Shocks, Disturbs, Potentially Offends, and Kills It!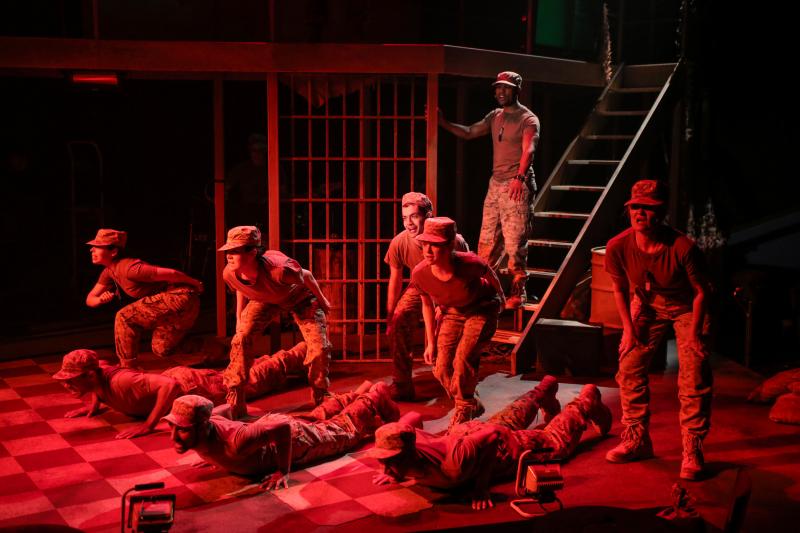 Are there any taboo subjects for musicals anymore? I mean we've had shows about serial killers and assassins, drug addicts and prisoners, demons and super powered psychotic teens, and even oversexed puppets. So I don't know why anyone should be surprised by the new musical at ACT in conjunction with ArtsWest and Circle X Theatre Co., "Bad Apples" which takes a look at one of our countries most disgraceful moments, the Abu Ghraib prison scandal. This in your face rock musical will definitely not be everyone's cup of tea and especially not for the kids. But if you can get past all the language, sex, and horrific images then what you're left with is a killer show that looks at how easily people in power can justify appalling acts.
Now I should point out that the show with book by Jim Leonard and music and lyrics by Beth Thornley and Rob Cairns is not actual history. They've based their story on the people and scandal at Abu Ghraib but the names have been changed and details embellished for the sake of the show. But it certainly does resemble the actual facts quite a lot as we focus on three people at the heart of the incident; Pvt. Lindsay Skinner (Kate Morgan Chadwick), an MP, Sgt. Chuck Shepard (Carlton Byrd), the guard in charge of that section of the prison, and Lt. Margaret Scott (Keiko Green), their supervising officer. The three of them enter into a power play of a relationship with each other that ultimately leads to the disturbingly photographed torturous and sexual acts committed on the Iraqi prisoners as well as both women becoming pregnant by Sgt. Shepard.
The show itself is brash, confrontational, and leaves you with a quite uneasy feeling regarding our military. In other words, it perfectly sets the tone needed to convey this story which many Americans may have conveniently forgot even happened. The authors as well as director John Langs pull no punches as they delve into this national embarrassment. We should feel uneasy about what happened and we must remember. But lest you think this is an almost three hour accusation and finger wag, rest assured that it's all wrapped up in a stunningly crafted and performed musical that may be tough to watch but is also immensely entertaining. Langs takes us on a journey through this seedy world that thrills at the same time as it conveys some harsh truths. And I have to mention some gorgeous choreography from Crystal Dawn Munkers which beautifully blends eroticism, hip hop moves and military precision.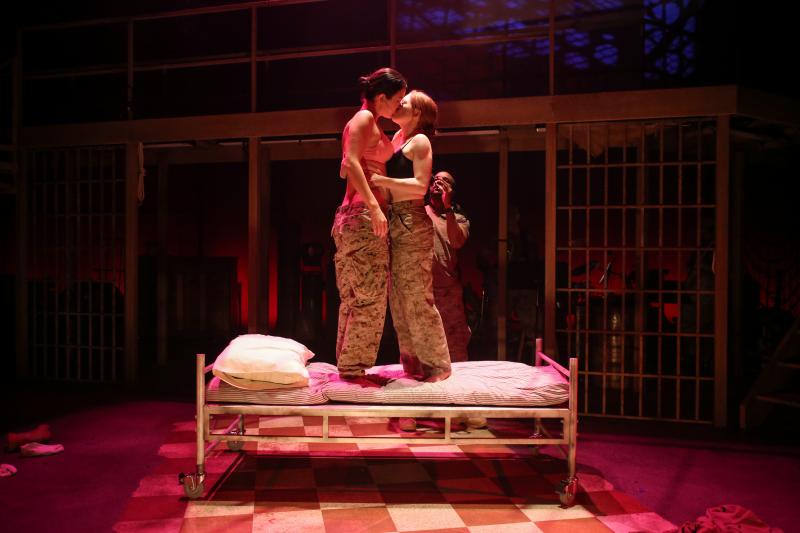 The entire ensemble cast of Andi Alhadeff, Carlton Byrd, Kate Morgan Chadwick, Alan E. Garcia, Keiko Green, Frederick Hagreen, John Patrick Lowrie, Mari Nelson, Jesse Smith and Jordan Iosua Taylor are nothing short of outstanding each with their moments to shine. I could go on about each and every one at length but we'll just hit some highlights. Byrd brings in some insane intensity and sexual energy to Chuck which is magnificently complimented by the strength and power of Green as the two play a mesmerizing cat and mouse game. But it's Chadwick as the pair's plaything who truly wows as an uneducated woman who's manipulated by these two authority figures. Or is she doing the manipulating? Hagreen practically steals the show each time he opens his mouth to let out that soul piercing voice as the naïve Cunny and manages some truly heartbreaking moments that practically had me in tears. And I have to mention Garcia, Smith, and Taylor who pull double duty as fellow soldiers as well as Iraqi prisoners with some incredibly touching and harrowing moments. I especially want to commend Taylor whom I've seen in several supporting roles over the past few years but never got to see shine as he did here with his stunner of a smooth and rich voice.
I'll admit the show is not perfect. There are a few moments that felt a little gratuitous and superfluous but with a bit of editing this could be a big hit even as much of a tough sell as it may be especially in our current political climate. But you really aren't going to want to let this one pass you by which it may easily do with its short three week run. And so with my three letter rating system I give "Bad Apples" a slightly disturbed yet enlightened and thrilled YAY+. As I said, it won't be everyone's bag but for those with an affinity for the edgier and more thoughtful side of musical theater, you should definitely enlist. And you may want to try and get some of those table seats in the front row. They come with free beer. Just sayin'.
"Bad Apples" from ACT, ArtsWest and Circle X Theatre Co. perform at ACT through September 25th. For tickets or information contact the ACT box office at 206-292-7676 or visit them online at www.acttheatre.org.