BWW Interview: A Chat with Tipsy Rose Lee from the Upcoming Genderqueer Cast LITTLE SHOP from Reboot Theatre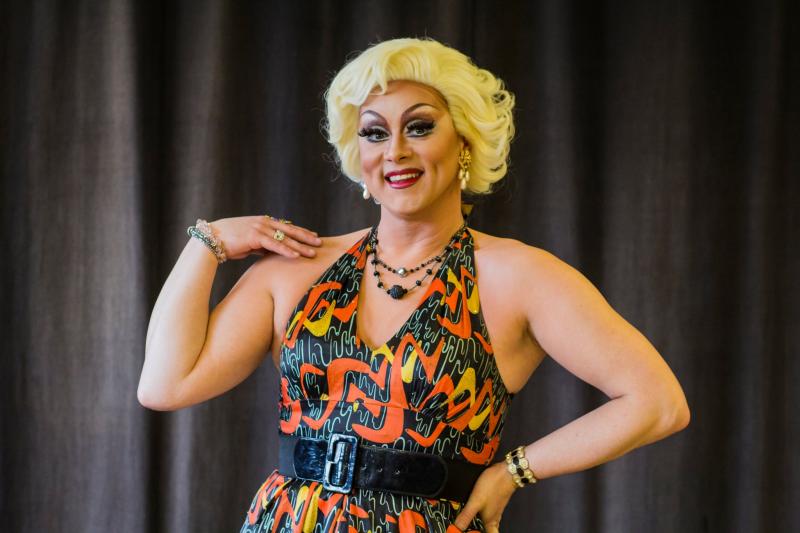 Alan Menken and Howard Ashman's "Little Shop of Horrors" is one of those enduring classics of American Musical Theatre thanks, in no small part, to its quirky, twisted take on the worldview. Well it's about to get a whole new view as Reboot Theatre Company is taking this Sci-Fi thriller of a musical about a man-eating plant and shaking it up even further by giving it a genderqueer cast (something their company loves to do). I recently sat down with their Audrey, Seattle renowned drag queen Tipsy Rose Lee, to talk about her career and her upcoming dalliance with that carnivorous plant.
When did you start getting into doing drag and performing?
I actually started doing drag... I'm gonna say the first time I did it was 17 years ago. Ooooh! That makes me seem old! But really, I have only been doing it - pursuing it - more steadily since I've lived in Seattle which has been about 11 years.
And when was Tipsy born? I assume in your first outings it was not Tipsy, it was maybe somebody else?
Correct. And we're not going to talk about what that someone else was, because that was problematic!
But Tipsy was born about 6 years ago, and I actually had a party with my friends to figure out what my name was going to be! We looked at all of my performances and what I do, and we got very drunk and we decided that Tipsy Rose Lee was the correct name.
Did that come from being drunk?
Well, I'm not going to say it came from that, but it certainly didn't hurt.
Do you only perform in drag these days? Or are there other performances that you do as well?
I generally do not perform as "Ross." I retired from performing as "Ross" about five or six years ago, about the time that Tipsy was coming about. But I do occasionally. I did perform in the parody of "Avenue Q" that I produced, which was called "Avenue LGBTQ", and I played Princeton in that. So, it does happen occasionally
What's been one of your favorite roles or shows to date?
Absolutely, without a doubt, was when I played Circe in "The Odyssey" at Seattle Rep. That was an amazing experience, not only just to do the show and perform on the huge stage at The Rep but also the mission behind that show and meeting all of the community members and being a part of something bigger - it was really amazing.
Why it was so special?
Well, one big reason is that, kind of my goal with my drag, is to bring theatre and musical theatre back into the eyes of what people see that drag queens can do. Because I think lately we've really gotten away from that and it's more just "Oh I'm gonna lip-sync a Top 40 song in a nightclub", but back when I was coming up, all the Queens did musical theatre and they all sang live and they were all part of the theatre scene. So, it was really special for me to get to do that on such a large stage and get so many theatre people to see that a drag queen could be something more legitimate and could actually sing and act and be part of a musical.
So, were you familiar with "Little Shop" prior to when you auditioned for Reboot's production?
Oh, come on! Who's not familiar with it?! I think it's one of those cult classic shows that maybe not a lot of people know the actual stage version, but lots of people know and love the movie. I mean, you can't go anywhere without people knowing the song "Suddenly Seymour." Everybody knows that! So of course, it was definitely one of those shows, and especially the movie, were one of the things that actually made me want to do musical theatre when I was a kid. So yeah, very familiar.
So, it's a favorite?
Oh yeah! Ohhh yeah. The funny thing is, I've never been in the show before. And I always thought that when I did get in the show that I would play Seymour. But ha ha ha, was I ever wrong!
What drew you to Audrey?
Well, in Mimosa's Cabaret we do our "Mini-Musicals" and that was one of our most popular ones, when we did "Little Shop", and I played Audrey (of course I played Audrey!). It's just one of those roles that you would die to play if you're a drag queen because, I mean, she basically is a drag queen anyway. But it was so fun to do that at Mimosa's Cabaret. The thing that was missing, the thing that was lacking for me, was that I had to lip-sync everything, and I didn't get to actually say the lines and I didn't get to actually sing the songs, so I'm really excited to get to do that in this production.
Okay. So, now that you get to say the lines, you get to sing the songs yourself, how do you see her? How do you see portraying her?
Well I'm definitely taking a different take on Audrey. And that's what I think is really great about this production in particular. There's so many different types of people in the show and we're not shying away from that. So, I am literally playing Audrey as if she is a drag queen. So that's going to bring a whole new element to the role and I'm really excited for people to see how that turns out.
Now, a lot happens to Audrey throughout the show. Do you see her as a victim?
I don't see her as a victim, I see her as someone who feels trapped and doesn't know how to get out of her situation. And that's what's kind of great about several characters in the show. Seymour, I think, is kind of in the same boat in a different situation, but to find that way out through someone else is something that I think we all experience or we hope to experience if we feel trapped and alone. So, the unfortunate situation is that doesn't really end up working out for her very well.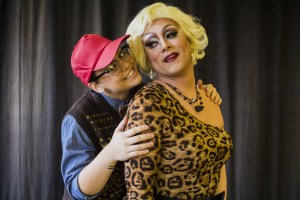 No, it doesn't. It really doesn't. What do you feel that the genderqueer casting that Reboot is doing is adding to the story?
I was just thinking about this this morning, actually! What I think is really cool about what we're doing, again, like I said, we're not shying away from that, we're actually embracing it and using it, and I think it will be an interesting thing for people that are familiar with the show, are familiar with the movie, the songs, to see that it's not the actors, it's not the things that you already know about the show that make the story. It's the community of characters in that show and how they interact with each other and it can be totally different than what you're expecting, but also show you that these people are actually real people, not just what you think you know because you saw the movie, or you know the songs. So, I think it's gonna be a very interesting take and people will see a new side to these characters and a new side to actors that don't normally get to show themselves this much on stage.
Do you feel Audrey would be different if she were portrayed today? If she weren't in the 60's, if it were today, do you think she'd be different?
Well, I don't know necessarily that she would be portrayed differently, but I think the way that people interact with her and treat her would be very different. I don't think in today's society that we allow people to be openly abused as much as she is in the show. You can't really set this in modern times because the situations are not acceptable now. So, that also is something that people will think about when they see this. How far we actually have come in terms of that and it does bring a new aspect to it, too - when you're talking about drag queens and trans people and non-binary people... it brings a whole new aspect to all of that.
What's the most challenging part about playing Audrey?
Definitely the keys that the songs are in. Because clearly, it's written for a traditionally female voice, which I do not have. So, it's very interesting. It's actually been fun to kind of figure that out as we go along. And we're not really changing the keys of any of the songs. Our Music Director and our Director are very adamant that the keys of the songs are in the key that they're in for a specific theatrical purpose so, we're really trying to stick to that. But the great news is my Seymour - Dani Hobbs - has a much higher voice than me. So, a lot of times we're just switching our parts so that we make it work. It's gonna be very interesting.
And finally, this is something that I ask everybody that I interview - has nothing to do with the show. But, everybody has something that they geek out about, something that is their thing. So, what is it that you geek out about? What's your geekdom?
Oh. What a question! Any time something traditionally known in musical theatre is messed with. So, things like Broadway Backwards and anytime there's a parody of something. I just saw on the internet the other day a video where they cast Sweeney Todd with all of the Muppets, and showed all of the Muppet characters and who they would play in the show and they sang some of the songs... That stuff gets me every time. I think it's hysterical.
Excellent! Thank you very much!
Thank you!
"Little Shop of Horrors" from Reboot Theatre Company will be performing at the Slate Theatre, May 4ththrough May 19th. For tickets or information visit them online at www.reboottheatre.org.