Semi-Finalists Selected In National One-Act Playwriting Competition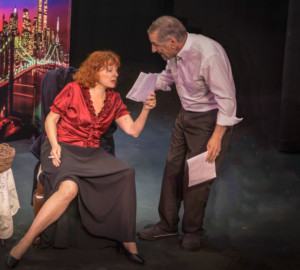 Theatre Odyssey is pleased to announce the semi-finalist winners in its inaugural One-Act Play Festival. The selected semi-finalist one-acts were chosen from 100 plays submitted from over eighty playwrights in twenty-six states and the District of Columbia. The semi-finalists will be presented to the public in a series of readings held September 10-13, 2018 in Sarasota and Bradenton, where they will be adjudicated by a distinguished panel of judges, followed by a full production of each of the finalists to take place in Sarasota November 1-4, 2018.
Founded in 2006, Theatre Odyssey has produced an annual Ten-Minute Play Festival for the past thirteen years, and seven years ago launched a Student Ten-Minute Playwriting Festival. With over 150 plays successfully produced, bringing light to local professional, amateur, and student playwrights, Theatre Odyssey saw an opportunity to widen the scope and promote playwrights and new works on a national scale.
"Our goal is to encourage playwrights and the creation of new works," said Theatre Odyssey President Leona Collesano. "We know it can be difficult to get new plays mounted and this one-act festival provides selected playwrights a chance to ultimately have their work produced on a stage with professional actors and in front of a supportive audience."
The call for entries for Theatre Odyssey's first annual One-Act Play Festival was launched May 1st and was limited to the first 100 plays submitted. After the competition was shared largely through social media, the call was met by July 14, over two weeks prior to the anticipated deadline.
Anonymous readers selected by Theatre Odyssey read and scored the plays. The readers were given scripts which did not contain the name of the playwright, nor were they made aware of who the other readers were. The company uses the same process for each of its festivals, and constantly asks new readers, who are local academicians, theater professionals, and other qualified and knowledgeable persons to read and score the scripts.
The twelve semi-finalist plays are listed below in order of presentation and include the playwright and their home state:
Monday, September 10, 7:30pm, hosted by the Manatee Performing Arts Center, Bradenton Kiwanis Studio Theatre:
Motherless Child, Peggy Aultman, Louisiana
Love in the Time of Cartoons, Dylan Jones, Florida
Tagged, Jim Moss, Florida
Tuesday, September 11, 7:30pm, Starlite Room
The Stain, Neil McGowan, California
Sounds from the Merry-go-round, Stephen Stewart, Texas
Danny, Paul Bowman, Indiana
Wednesday, September 12, 7:30pm, Starlite Room
Nefarious, Lynn-Steven Johanson, Illinois
Raw Fish, Emma Mercier, California
You Again ... Again ... Again ..., Lily Rusek, New York
Thursday, September 13, 7:30pm, Starlite Room
Magpie, Laura Thoma, Connecticut
All Rise, Brian Stine, Utah
Reflection, Keith Whalen, Florida

The twelve selected semi-finalist plays will receive unstaged readings over a four-night period by local actors engaged to read multiple characters, narrate plays, and contribute to limited direction of each of the plays read. The three distinguished judges will include noted director and former artistic director of the Banyan Theatre, Carole Kleinberg, and noted director and dramaturg, Dr. Louise Stinespring. The judges will read each of the twelve scripts and listen to the readings.
The Finalist plays will be presented November 1-4 at The Glenridge Performing Arts Center in Sarasota. Up to five finalist plays will be given full performances and a Best Play and Runner-up Play will be selected by a second team of judges, who will be announced at a later time. The author of the Best Play will receive $1,000. The Runner-up playwright receives $500.
The Manatee Performing Arts Center is located at 502 3rd Ave W, Bradenton, FL 34205. The Starlite Room is located at 1001 Cocoanut Ave, Sarasota, FL 34236. More information and tickets for Theatre Odyssey's One-Act Play Festival is available at www.theatreodyssey.org. General admission seats for the semi-finalist readings are free and must be reserved on the website. Donations will be welcome. Tickets for the finalists in November will go on sale at a later time.
The 2018-2019 Season Presenter for Theatre Odyssey is CAN Community Health-Sarasota. Executive Producer for the One-Act Play Festival is the Bradenton Area Convention and Visitors Bureau.
Photography by Cliff Roles from Theatre Odyssey's 2017 Ten-Minute Play Festival.
Related Articles View More Sarasota

Stories

Shows
More Hot Stories For You