BWW Review: TASTE OF DOWNTOWN at Sarasota Opera House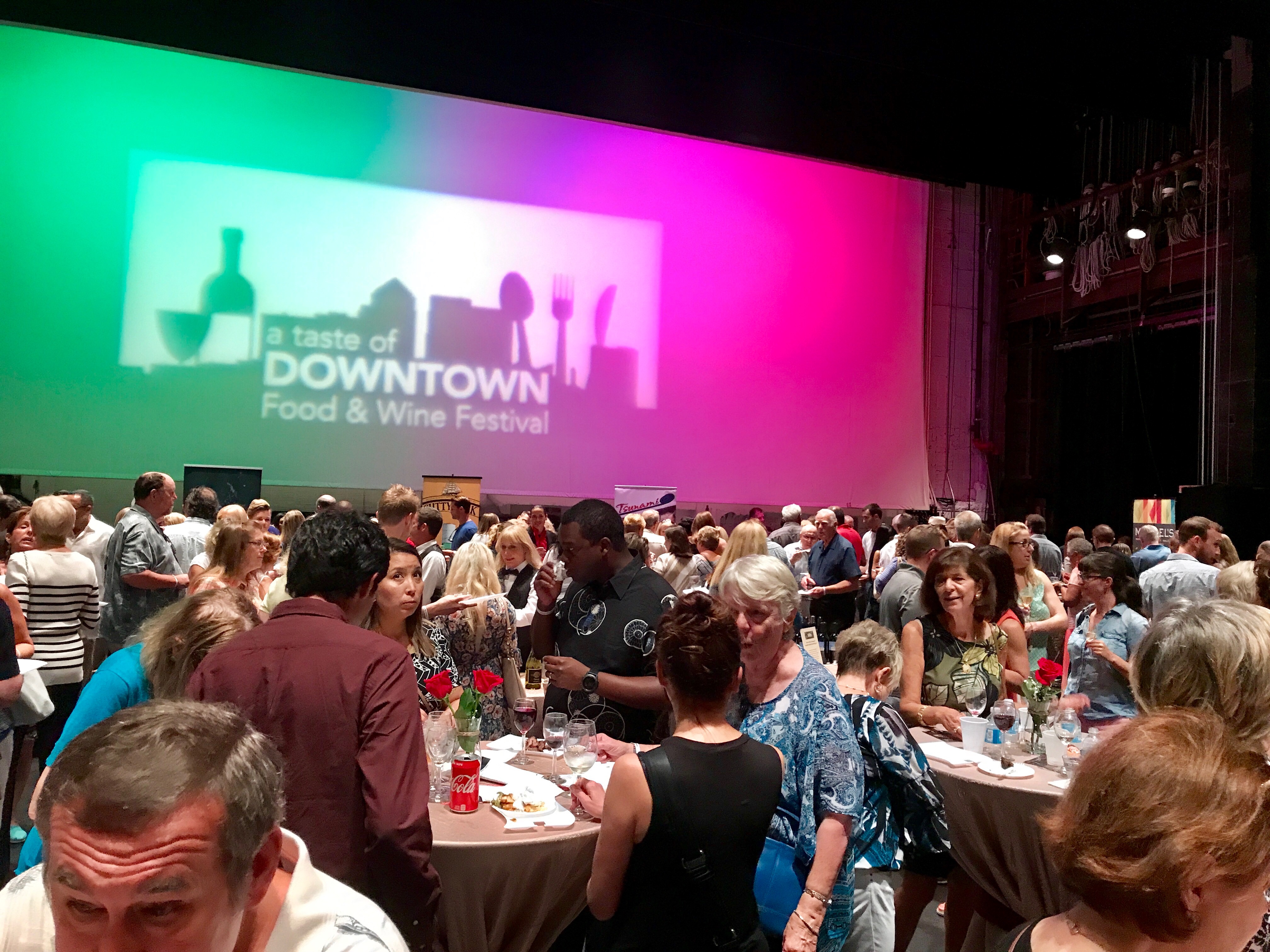 Sarasota Opera's 4Th Annual Taste of Downtown fundraiser supporting their Youth Opera was a delightful way to spend the afternoon meeting new people, tasting generous samplings of local fare, and sipping libations of fine wines and craft beers.
Upon arrival, parched attendees were gifted with Sarasota Opera etched wine glasses topped with chilled Carmenet Sparkling Chardonnay to commence their epicurean journey throughout 2 floors of the magnificent opera house. The crisp bubbly texture with a prominence of apples and pears cleared the palate and prepared the senses for what was to come.
Many guests started on the 2nd floor where there was a wine bar, 4 vendors and plenty of seating. After savoring the upscale menus upstairs, patrons headed downstairs, onstage where about 15 more vendors and libation stations awaited them. Some of the delectable offerings included, Selva Grill - Maya Shrimp Ceviche, The Rosemary - Noisette of Lamb, Roasted breast of Canadian Mallard, Smoked Shiitake Mushroom and Feta Risotto, Blackberry and Cognac Gastrique, Red Classico Sarasota - Beef Bourguignon with Mashed Potatoes, Nancy's Bar-B-Q - Pulled Pork & Beef Brisket, Michael's On East - Mushroom Ravioli with Brown Butter & Sage, with a side of Italian Sausage and Figs, Jack Dusty - The Ritz-Carlton Sarasota - Salmon Tartare, Fennel, Rum Cured Ikura, Nori Chip, Duval's Fresh Local Seafood - Blackened Shrimp with Watermelon Ceviche, Brick's Smoked Meats - Smoked Brisket, Corn, Apple Kale Salad, Bijou Café - Smoked Duck Breast on Crostini, Olive Tapenade, Black Truffle Aioli, Baby Pea Tendrils, Currents, Hyatt Regency Sarasota - Cilantro Chili Marinated Mahi Mahi with Mango Salsa, Cabbage Slae, Ginger Lime Sauce, Served in a White Corn Tortilla, Louies Modern - Shrimp & Octopus Cocktail with Avocado, Serrano, Texas Tequila Lime Dip, Sift Bakehouse - Assorted Sweets & Doughnuts, Café L'Europe - Crepe Suzette.
Cocktails, beers and wines were served by Bronco Wines and Republic National Distributing Company, Johnson Brothers Liquor Company, Michael's On East Wine Cellar, Gold Coast Eagle Distributing and Cocktails By Spence. Notable mentions are Bronco's full-bodied Crane Lake Red Blend from California, Carmenet Sparkling, Johnson Brother's Allegrini 2013 Pallazzo della Torre IGT, Michael's on East Wine Cellar's MOE Sauvignon Blanc, South Africa, Gold Coast's Naughty Monk Blonde Ale, Cocktails By Spence The Ben Franklin Way/17th Century Milk Punch.
The event lasted from 1pm - 4pm and towards the end of the program, everyone was treated to a sampling of vocals from the Youth Opera. The Sarasota Youth Opera was formed in 1984 and accepts everyone 8-18 years of age who applies, regardless of ability to pay or level of skill. This program has given young people the opportunity to participate in choruses, main stage operas and the Youth Opera's own productions. The educational series is considered one of the most comprehensive youth opera programs in the US.
This fall, the Sarasota Youth Opera will present the world premiere of Rachel J. Peter's Rootabaga Country, adapted from Carl Sandburg's book Rootabaga Stories. The Youth Opera is cultivated under the distinguished direction of Brazilian Maestro Jesse Martins, Director of Education Ben Jewell-Plocher and Music and Administrative Assistant George Hemcher. For more information about the Sarasota Youth Opera visit www.sarasotaopera.org.

Related Articles View More Sarasota

Stories

Shows