Artist Series Concerts Present Emerging Stars Of Sarasota
The concert is Thursday, February 24 – 11:00 am.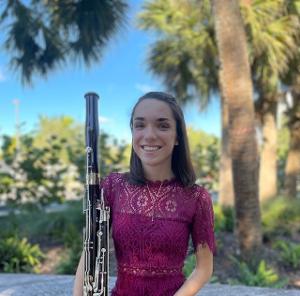 Artist Series Concerts will present the latest installment in their Lunch and Listen series, Emerging Stars of Sarasota, featuring performances by extraordinary high school students from the Sarasota Orchestra Youth programs who are already making their mark on the classical music world.
Tickets are $54 including lunch, and are available online at www.ArtistSeriesConcerts.org or by calling 941-306-1202, Monday - Friday, 10 a.m. - 4 p.m.
Sixteen-year-old violinist Olivia Leichter is a student of Alejandro Mendoza. She has spent two summers at the famed Interlochen Arts Camp and was a finalist and recipient of an honorable mention at the 2021 Edward and Ida Wilkof Young Artists Concerto Competition. She will perform the Finale from Bruch's Violin Concerto No. 1 in G Minor.
Pianist Kristian Mendoza was the winner of the 2021 Edward and Ida Wilkof Young Artists Concerto Competition. The Riverview High School senior is a student of Aza Torshkoeva and has already performed at Weill Recital Hall and Steinway Hall in New York City. He will perform Chopin's Ballade No. 1 in G Minor, Op. 23.
Venice High School Senior Haley Sprague is a student of Sarasota Orchestra Principal Bassist John Miller. She was the winner of the 2021 Tampa Metropolitan Youth Orchestra Concerto Competition and has spent summers at Eastern Music Festival. In addition to serving as Principal Bass of the Sarasota Orchestra Youth Philharmonic, she is also Principal Bass of the North Port Symphony. She will perform the Allegro from Serge Koussevitzky's Double Bass Concerto in F-sharp Minor, Op. 3.
Bassoonist Sophia Tarlton has studied bassoon for seven years with Sarasota Orchestra Principal Bassoonist Fernando Traba. During the summer of 2021 she was one of only 12 bassoonists selected to attend the Interlochen Center for the Arts Advanced Bassoon Institute. She will perform the Allegro from Mozart's Bassoon Concerto in B-flat Major.
Fifteen-year-old violinist Margaret Toth is a sophomore at Pine View School and a student of Sarasota Orchestra violinist Léna Cambis. She won second place in the Venice Musicale's 2021 Scholarship competition and was a finalist in the 2021 Edward and Ida Wilkof Young Artists Concerto Competition. She has participated in summer programs at Florida State University, University of Tampa and Florida Southern College. She will perform Praeludium and Allegro by Fritz Kreisler.
"Sarasota Orchestra's Youth Program has served our region for over 60 years, and has provided the early musical training for thousands of students. We are delighted to spotlight some of the current stars of this vital arts program in our community."
Daniel Jordan, Director of Artist Programs for Artist Series Concerts.
Do not miss the opportunity to hear this inspiring group of young musicians who have already distinguished themselves through their extraordinary talent, hard work and dedication to classical music.
COVID-19 update: Artist Series Concerts' top priority remains the health and safety of its patrons, performers and staff. The organization is a partner in SafeArts Sarasota and will be following the policies and protocols set forth by this initiative. Protocols will continue to be revisited and revised and Artist Series Concerts will also continue to comply fully with the current requirements of each of its eight venues. Updates and the most recent COVID-19 statement can be seen at www.ArtistSeriesConcerts.org