Well-Strung to Return to Feinstein's at the Nikko for S.F. Fleet Week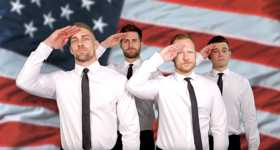 Following two previous sold-out engagements, Well-Strung-the all-male string quartet-returns to Feinstein's at the Nikko to celebrate San Francisco Fleet Week October 5-7, 2017!
Hailed as "the hottest thing with a bow since Jennifer Lawrence in 'The Hunger Games'" by the New York Daily News, the classically trained foursome will perform pop/classical mashups featuring hits by Stevie Nicks, Rihanna, The Outfield, Queen, The Beatles, Lady Gaga, Jules Massenet, Henry Mancini, Pasek & Paul, as well as a few patriotic songs.
All performances take place at 8 p.m. Tickets for Well-Strung range in price from $31.50-$65 and are available now by calling 866.663.1063 or visiting www.ticketfly.com.
Well-Strung is composed of Edmund Bagnell (1st violin), Chris Marchant (2nd violin), Daniel Shevlin (cello) and Trevor Wadleigh (viola). Conceived by Mark Cortale and Christopher Marchant, the foursome formed in 2012 and has since gained international attention. The group plays universally recognized classical pieces while singing pop music hits from the likes of Taylor Swift, Rihanna, Kelly Clarkson, and other pop stars for a uniquely engaging experience. The New York Times called Well-Strung "A talented quartet of men who sing and play instruments brilliantly fuses pop and classical music from Madonna to Beethoven."
Well-Strung has been invited to perform at the Vatican in Rome and at a gala for President Obama. Hillary Clinton, 2016 presidential candidate, requested a special performance by Well-Strung after the release of their viral music video "Chelsea's Mom." They have also performed on the The Today Show, and live onstage with artists such as Kristin Chenoweth, Neil Patrick Harris, Audra McDonald, Deborah Voigt, and were the opening act for Joe Jonas and his band DNCE at Pride Toronto. They have appeared twice with the San Francisco Gay Men's Chorus and co-starred in two Christmas concerts at Town Hall in Manhattan with the New York City Gay Men's Chorus in 2016. The group has received critical acclaim at New York's prestigious Feinstein's/54 Below and well beyond, from the House of Blues in New Orleans to the Leicester Square Theatre in London.
Well-Strung's recent second studio album titled POPssical is a celebratory blend of pop hits sung by the group accompanied by respected classical music. The album debuted at #8 on Billboard's Classical Crossover Chart, and features ten tracks including renditions of "Blank Space (Feat. Bach)" and "Royals (Feat. Palladio)" as well as the infamous ode to Hillary Clinton, "Chelsea's Mom" as a bonus track. To celebrate the release of POPssical, the group surprised their fans with a bonus music video for the track "The Devil Went Down To Georgia (Feat. J.S. Bach)". In the new video, the group takes Bach's Double Violin Concerto and adds the southern charm of Charlie Daniels Band to create a unique sound all on its own. Well-Strung's new POPssical album is available now at iTunes or on CD at CDBaby.
Their first music video entitled Mozart Meets Kelly Clarkson initially caught the eye of the national press. BBC Radio host Jo Good called Well-Strung "absolutely amazing" after their on-air performance and interview for her show. In the States, they were featured in their first magazine cover spread for Metrosource.
For additional information on Well Strung, visit www.well-strung.com.
Located within Hotel Nikko (222 Mason Street, San Francisco), Feinstein's at the Nikko presents a wide range of entertainers from stage and screen all within an intimate 140-seat cabaret setting. There is a $20 food and beverage minimum per person inside the showroom, which guests can use towards cocktails as well as a variety of small plates crafted exclusively for Feinstein's at the Nikko through Restaurant Anzu. Cheese and dessert platters will also be available in the showroom.
All seating at Feinstein's at the Nikko is cabaret style and available on a first-come, first-served basis within the section purchased. Guests who purchase the prix-fixe dinner at Restaurant Anzu will receive a complimentary section upgrade (subject to availability) and get to choose their exact seat locations within the upgraded section.
Guests of Feinstein's at the Nikko can enjoy a variety of food and beverage options before performances. Kanpai Lounge, located in Hotel Nikko's lobby, offers light cuisine, a full bar and specialty cocktails. Restaurant Anzu, Hotel Nikko's intimate restaurant located on the second floor, serves sustainable California cuisine enhanced with Asian flavors. Restaurant Anzu will also offer Feinstein's at the Nikko guests a special three-course prix-fixe dinner ($45 per person) prior to all performances. Reservations can be made by calling (415) 394-1100. For additional information on Feinstein's at the Nikko, visit www.feinsteinsatthenikko.com.