Bay Area Cabaret Announces Christine Andreas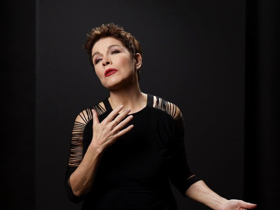 Bay Area Cabaret welcomes renowned singer, actress and recording artist Christine Andreas, Sunday, December 2 at 5:00 p.m. with the West Coast debut of her acclaimed show, PIAF-No Regrets, following two successful runs in New York and one in London. Christine brings to life the triumphs and heartbreaks of the famed French chanteuse, in her own words and those of her friends-and of course-her music.
"Edith Piaf once said, 'My life is my song,'" explained Ms. Andreas. "She was born in abject poverty, abandoned by her mother at birth, raised in a brothel run by her grandmother, blinded at the age of three (but eventually cured by a 'miracle'), ultimately singing on every street corner of Paris for survival till she was 'discovered' at 20...and this was just the beginning! She grew to become the 'rock star' of her time, a consummate artist delivering powerhouse performances that emanated from her raw, visceral need to connect through her music to the era she was sharing with her audience."

Ms. Andreas' vivid portrait in song, performed in French and English, and with carefully selected video clips, includes such Edith Piaf classics as "La Vie en Rose," "Hymne à l'Amour," "L'Accordeoniste," "Milord," "Non, Je Ne Regrette Rien," and many more.
Christine Andreas first captured New York City theatregoer's hearts in the 20th anniversary production of My Fair Lady as Eliza Doolittle (Theatre World Award); followed by the revival of Oklahoma!, as Laurey, working with Billy Hammerstein & Agnes deMillle (Tony Nomination); and On Your Toes, as Frankie Frayne, directed by the legendary director George Abbott, (Tony Nomination). She last appeared on Broadway as Jacqueline in the Tony/Olivier Award-winning production of La Cage aux Folles with Kelsey Grammer and Douglas Hodge, after starring as Margaret Johnson in San Francisco and around the country in the acclaimed tour of The Light in the Piazza.

She created the role of Marguerite St. Just on Broadway in the original production of The Scarlet Pimpernel opposite Douglas Sills and Terrence Mann. Other Broadway credits include Words and Music with Sammy Cahn, Nancy in Angel Street with Dina Merrill, Rebecca in Rags, Alice in the short-lived Legs Diamond with the late, great Peter Allen, and the Broadway-bound and derailed Erte production of Stardust. She received rapturous notices and a Barrymore Award for her portrayal of Vera Simpson in the Prince Music Theater's production of Rogers and Hart's Pal Joey. She played Judy Garland in the world premiere of Heartbreaker, a new play with music, by John Meyer chronicling his two-month affair with her five months before she died.

Collaboration with composer Martin Silvestri and writer Joel Higgins led to Ms. Andreas' West End debut starring in their musical The Fields of Ambrosia at the Aldwych Theatre in London followed by concerts with Martin in London, Paris, Rome, Australia and The White House. She has sung in concert in Carnegie Hall, Avery Fisher Hall, Town Hall, The Kennedy Center Jazz Festival and the Caramoor Festival to name a few. Symphonic work includes the Boston Philharmonic with Ben Zander, the Tulsa Symphony with Peter Nero, the Detroit Symphony, the Richmond Symphony with Charles Strouse, and The Silicon Valley Symphony.

Tickets to Christine Andreas in PIAF-No Regrets are $65/$55 for subscribers with no food or drink minimum required. Information and tickets are available at www.bayareacabaret.org or by phone at (415) 392-4400.