BWW Review: The Historic Prizefight Between Frost and Nixon Comes to Life in FROST/NIXON at TheatreWorks Silicon Valley
TheatreWorks Silicon Valley puts its high-quality thumbprint on Frost/Nixon, Peter Morgan's critically acclaimed recounting of the debates that catapulted one man to new levels of fame and fortune, and the other to exile in San Clemente. Part historical documentary, part cat-and-mouse intrigue, Frost/Nixon once again validates the TheatreWorks reputation for brilliant casting, topical material choices, and dazzling technical expertise.
Set in 1977, amidst the divisiveness brought upon by Watergate and Vietnam, lightweight TV show host David Frost (Jeremy Webb) has lost his lucrative New York metro market job and is desperate for that one special gig that will return him to prominence. A disgraced Richard Nixon (Allen McCullough), wrestling with the world's lasting impression of his failed presidency, is using his super-agent Swifty Lazar to secure lucrative lecture engagements.
The two share one trait: unbridled ambition. Nixon rose from humble beginnings to become the most powerful man in the free world. Frost rose through the ranks of television writing to a platform as an internationally syndicated talk show host. Both are now looking to use each other for redemption as they square off in a series of televised interviews.
It is often difficult to portray public figures, and McCullough and Webb shy away from direct impersonation, using just enough of what we know about these well-documented men to create very distinct images. Webb-as-Frost is a playboy celebrity, enamored with his jet-setting lifestyle, seemingly out of his league in this highly charged environment. His crack team of advisers - James Reston Jr. (Kenny Toll), John Birt (Adam Shonkwiler) and Bob Zelnick (Stephen Muterspaugh) - is alarmed by Frost's naivete and lack of preparation, preferring to go tough on Nixon to break him.
McCullough's Nixon is a damaged man. Distraught over his resignation, he doggedly clings to his claims of innocence. With the vocal inflection of Nixon and the seemingly random thought processes of a crackpot, he's almost sympathetic in his delusion. He's blindly supported by loyal aide Jack Brennan (stridently portrayed by Craig Marker) and the smarmy Lazar (Patrick Russell).
The actual interviews make up a large part of the play, and director Leslie Martinson and her crew shine here. The television studio feel is accurately recreated with techs, cameramen, and a highly realistic set with multimedia wizardry created by David Lee Cuthbert. Costumes by Cathleen Edwards are spot on, and sound and lighting designs by Gregory Robinson and Steven B. Mannshardt maintain the high bar set by Martinson's vision.
Frost/Nixon documents Nixon's televised admission of wrongdoing, which helped the country heal just enough to move forward from this dark period in US history. It's a skillfully-drawn picture of two men on similar trajectories with decidedly opposing outcomes. It's an important piece of theatre at a time when we may see an identical scenario played out in real life in the near future.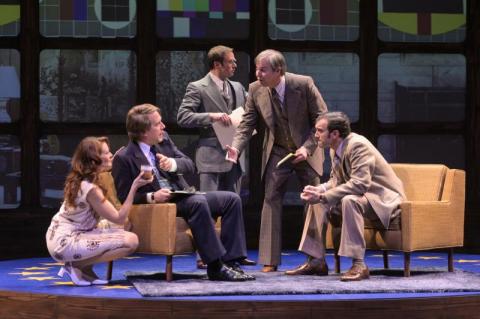 ---
Frost/Nixon runs through February 10, 2019
Mountain View Center for the Performing Arts, 500 Castro Street, Mountain View
Tickets: theatreworks.org or 650.463.1960
Photos: Kevin Berne