Click Here for More Articles on LOVE NEVER DIES
BWW Review: LOVE NEVER DIES at Broadway San Jose but Lloyd Webber lays it to rest in PHANTOM sequel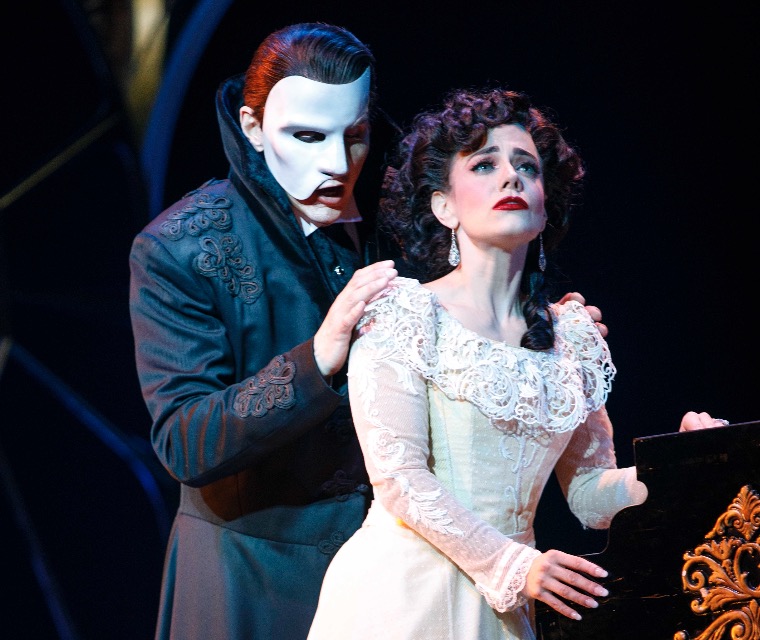 Sequels are a staple of the film industry and depending on what you read film musical followers are alternately "eagerly anticipating" or girding their loins for this summer's aptly titled Mamma Mia! Here We Go Again.
Those who study musical theatre will tell you that musical sequels are usually as successful as musicals about vampires. Not very. Just ask Charles Strouse. People love his (Bye Bye) Birdie, oh yes, they do, but Bring Back Birdie just came to rue. It was also a hard knock life for his Annie sequel, whether he called it Annie 2: Miss Hannigan's Revenge or Annie Warbucks.
Given the evidence, what do you do when you have written one of the most financially successful musicals of the last century, winning Tony and Olivier Awards , becoming the longest-running production in Broadway history, and being performed in a dozen languages to millions worldwide?
If you're Andrew Lloyd Webber, you write Love Never Dies, which had a respectable if critically mixed run in London starting in 2010 and was announced for Broadway but instead got reworked in Australia and then went to Copenhagen, Tokyo, and Hamburg before, some might say cannily, making its North American premiere via a direct-to-the-people tour now at the San Jose Center for the Performing Arts.
A polarizing figure in the world of musicals, Lloyd Webber has fairly equal measures of detractors and adherents. The latter, frequently female, were evident in the lobby, lining up for souvenir shirts and programs, and expressing breathless disbelief that they are finally going to experience Love Never Dies live. (The 2011 Australian production was filmed for commercial release.)
The appeal to young women who enjoy lush romanticism made perfect sense in The Phantom of the Opera, with its tragically crossed triangle of leads, and Love Never Dies delivers more of the same though the emotions feel significantly less epic.
The troika of Raoul, Christine and the Phantom are back, as are Madame Giry and her daughter Meg, but time has changed the lovers who barely escaped the Paris Opera with their lives a decade earlier.
As embodied by Meghan Picerno, Christine had been hardened by the Paris experience and her life since. The idealistic girl-artist is gone and Picerno plays a woman who is wary, weary, and as accommodating as possible to keep peace with Raoul, who has been reinvented as an abusive cad. She brightens only in response to her son Gustave, radiating a mother's unconditional love. There should be sparks when she is reunited with her Angel of Music, but as written by Lloyd Webber, Ben Elton, and Glenn Slater, the encounter plays more like bickering between two participants in a memorable one-night stand from years ago. Basically, she's pissed because he never called and his nerdy appeals to rekindle the flame of their art don't resonate. It could all have ended there with a whimper but for an accidental revelation. There's always an accidental revelation.
The setting has moved to a Coney Island freak show where the Phantom has set up shop with Madame Giry running the operation and Meg finally getting the spotlight that always found Christine in Paris. Sadly, the corps de ballet has given way to a cheesy Hot Box Revue, which will never earn Meg the approval of her ersatz father figure, which she desperately wants. (Just how desperately drives the finale.)
If Karen Mason had a moustache, she'd be twirling it while her Madame Giry machinates behind the scenes, somewhere between Miss Hannigan and Mrs. Danvers. Mary Michael Patterson is a sweetly naïve Meg, putting on a brave face in spite of betrayals that finally become too much to bear.
As is too often the case, these women live their lives in orbit of a pair of men who - particularly as written and performed here - do not deserve the effort. You can't blame Sean Thompson that Raoul has been reinvented as a total bastard - think Billy Zane on screen in Titanic - but he does need to do something with the role he has accepted. Despite being handsome and singing well, his performance is one empty note with zero nuance. This responsibility is shared with director Simon Philips who could not conceive or could not achieve a way to create a more engaging character. During what should be the most devastating moment in the story for him Raoul just stands there blankly and then wanders off.
The characterization of the Phantom and its delivery by Gardar Thor Cortes is equally vapid. He too has one note and it becomes tiresome until that accidental revelation gives him a second note, which is a welcome though ultimately insufficient change. Also, he spits when he sings. Frequently.
The one man in the production who achieves an interesting character arc and is played with grace is the boy, Gustave. The role alternates between Jake Heston Miller and Casey Lyons. Miller is a wide-eyed delight, absorbing the world around him with a child's excited fascination and later processing a non-sexual coming out to an awareness of confusing parts of his nature and inner life.
Initially notable for the fact that you seldom see little people in musical theatre, Katrina Kemp - part of a creepily-symbiotic Pennywise-ish trio of majordomos also featuring Richard Koons and Stephen Petrovich - scampers and bounces around the proceedings with Cruella de Vil hair and a disturbing edge demonstrating why, as noted in her playbill biography, she was perfect casting for the Chucky doll at Universal Studios.
As with Phantom, sets and costumes here come from the same talented design mind. Gabriela Tylesova has built a lush landscape, fascinating and inventive. Excepting the sunburst scrim which outstays its opening scene welcome, the physical production dazzles the eye, constantly moving and revealing itself. The costumes for Meg's chorines provide an engaging series of variations of a color and theme for their numbers, and the Coney carneys are suitably bizarre. Of particular note in the set are the twirling towers displayed during "The Beauty Underneath." Initially dazzling, they become brilliant and claustrophobic and ironic revelations of the song's message.
The songs themselves? Nothing really interesting happens musically until the quartet of "Dear Old Friend" and later "The Beauty Underneath" near the end of Act I. Before that is a lot of romantic posturing and acrimony that starts to feel like The Phantom of the Operetta, which could be a very different kind of musical. Instead, the weight and flourishes of the new score are just reminiscent enough of Phantom to feel familiar, and there are actual snippets from the original score interspersed to tickle the memory. Unfortunately, only the title song in Act II - originally introduced in 1998 on British television as "The Heart is Slow to Learn" by Dame Kiri Te Kanawa - comes close to the earwormy quality of a number of songs from Phantom.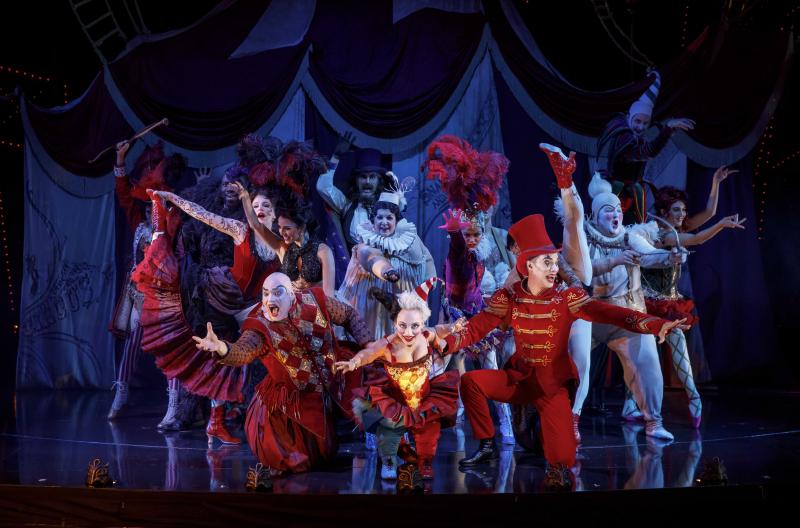 Love Never Dies runs through March 18 at Broadway San Jose.
Images: Joan Marcus