Robert Sokol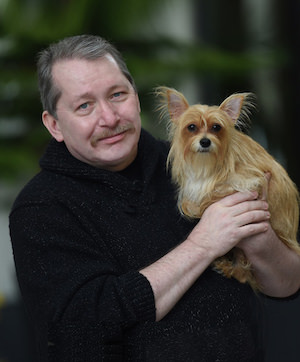 Robert Sokol is the editor-publisher of BAYSTAGES, the creative director at VIA MEDIA, serves on the executive committee of the American Theatre Critics Association (ATCA), is senior editor for BWW-San Francisco, and sometimes moonlights as a diva wrangler, cinefiler, and occasional saloon singer. He has been touching showbiz all his life. (So far no restraining orders have been issued!) His byline also appears in the San Francisco Examiner and other publications and websites.
MOST POPULAR ARTICLES
LAST 30 DAYS
LAST 365 DAYS
BWW Review: SEASCAPE at American Conservatory Theater is a lighter, more optimistic side of Edward Albee

February 11, 2019

If your sum impression of the Edward Albee canon is his magnificent WHO'S AFRAID OF VIRGINIA WOOLF? then SEASCAPE, Pam MacKinnon's refreshing resident directing debut at American Conservatory Theater, will surprise you.
---
BWW Review: PARADISE SQUARE at Berkeley Repertory Theatre is almost that.

January 21, 2019

PARADISE SQUARE is a glorious if frustrating addition to the musical theatre canon, blessed with an exceptional cast, a stirring score, and the unbelievably exquisite choreography of Bill T. Jones. Yet, despite these riches, the opulent production trips self-consciously on its own ambition, with the whole adding up to something less satisfying than the sum of its exceptional parts.
---
BWW Review: A Pleasing TUCK EVERLASTING Charms at TheatreWorks Silicon Valley

December 20, 2018

In a production where the whole is certainly equal to the sum of its parts, Tuck Everlasting could emerge as a pleasing and long-lasting alternative to splashier or too familiar seasonal holiday fare.
---
BWW Review: THE SANTALAND DIARIES Lose Something in Translation at TheatreWorks Silicon Valley

December 12, 2018

The humor in many Sedaris pieces comes from the obvious anguish of social misfits forced to contort themselves into a publicly presentable form, or, conversely, the observer's schadenfreude in having the misfit revealed for their true, damaged self. Neither of those elements is really present in Santaland, where the stage David-Crumpet presents as a fairly well-adjusted fellow forced to take on a seemingly demeaning survival job.
---
BWW Review: A BRONX TALE Is a Trip To A Very Familiar 'Hood at the SHN Golden Gate

December 11, 2018

A Bronx Tale has been a "family" affair for decades. This musical adaptation is its next evolutionary step following the 1993 non-musical film, which was drawn from an earlier autobiographical one-man Off-Broadway and later Broadway play written by and starring by Chazz Palminteri.
---
BWW Review: It takes Nilaja Sun to Build a Breathtaking Village on PIKE ST. at Berkeley Repertory Theatre

December 6, 2018

In Pike St., now at Berkeley Repertory Theatre, playwright and actor Nilaja Sun single-handedly presents a stage full of dynamic, three-dimensional characters engaging with each other in rapid-fire conversation and scenes of vigorous interaction.
---
BWW Interview: Christiane Noll in DEAR EVAN HANSEN at the Curran on finding the right voice

December 5, 2018

'If you allow your ego to kind of let go of the expectation of what you think your performance is supposed to be, you can open yourself up to finding so many richer and deeper colors and dimensions that will take you in places you never thought you could go.'
---
BWW Interview: Christine Andreas channels PIAF: NO REGRETS at Venetian Room for Bay Area Cabaret

December 2, 2018

For well over a year the Tony-nominee Christine Andreas has been very focused on the Edith Piaf canon, performing an assortment of set pieces built around the renowned Frenchwoman's work, culminating - so far - in a new CD and the solo production PIAF: NO REGRETS.
---
BWW Review: Cirque Du Soleil's VOLTA is Athletic But Not Particularly Moving

November 30, 2018

Volta, the latest Cirque du Soleil tour never stints on athleticism but leaves your breath mostly untaken and your heartstrings unplucked.
---
BWW Review: THE OBLIGATION is a reminder to never forget at Potrero Stage

October 27, 2018

Roger Grunwald has brought THE OBLIGATION, his solo performance on the Holocaust, directed by acclaimed Bay Area theatremaker Nancy Carlin back to Potrero Stage in a welcome and powerful revival.
---
BWW Review: FUN HOME at TheatreWorks Silicon Valley puts the home and the heart in dysfunction

October 25, 2018

It would be easy to make FUN HOME a dour polemic about LGBT oppression from within and without, but the gifts of Kron, Tesori, Bechdel - which director Robert Kelley artfully deploys - are the moments of lightness and pure joy that make the losses all the more tragic.
---
BWW Review: FAIRVIEW Tears It Down For Good At Berkeley Repertory Theatre

October 17, 2018

The Berkeley Repertory Theatre production of fairview is disturbing. That's good. If you are white and liberal and experiencing mild to major discomfort by the end of the performance, that's even better.
---
BWW Interview: Six Degrees of Gavin Creel on the road to the Venetian Room in San Francisco.

October 13, 2018

BroadwayWorld-San Francisco Senior Editor Robert Sokol takes Creel on a trip down memory lane to revisit his Main Stem alter egos in advance of his debut at Venetian Room at the Fairmont Hotel as part of producer Marilyn Levinson's fifteenth anniversary season of Bay Area Cabaret in San Francisco.
---
BWW Review: SWEAT tests loyalty and identity at the Geary Theater

October 12, 2018

SWEAT neither romanticizes nor demonizes the factory worker or their situations. You know most of these people voted for Trump, but they are at worst, desperate, not deplorable. They face hard choices with honesty and determination, understanding the limited cards they have been dealt.
---
BWW Review: SCHOOL OF ROCK is an easy roll at the Orpheum Theatre

July 8, 2018

SCHOOL OF ROCK is a fleetingly affable evening composed by Lloyd Webber for lyrics by Glenn Slater (Sister Act) and a book by Julian Fellowes (Downton Abbey). The kids are more than alright, saving the night and earning an 'A' for natural talent and a refreshingly unaffected stage presence.
---
BWW Interview: Francis Jue becomes David Henry Hwang (sort of) in SOFT POWER, the fabulous fantasy at the Curran

July 7, 2018

San Francisco native Francis Jue (M. Butterfly and Pacific Overtures on Broadway) reflects on becoming an actor, being an Asian-American actor, and the intersection of THE KING AND I and SOFT POWER, the new 'play in a musical' by David Henry Hwang and Jeanine Tesori.
---
BWW Review: A.C.T. Takes a Nice WALK ON THE MOON at Geary Theater

June 25, 2018

The new musical A WALK ON THE MOON, based on the 1999 film written by Pamela Gary, does a fine job of telling its story, and patrons will have a good time at this nice musical. In the era of making things great again are fine, good, and nice enuf?
---
BWW Interview: Andrew Lippa premieres UNBREAKABLE with the San Francisco Gay Men's Chorus at Nourse Theater

June 21, 2018

This weekend marks the world premiere of UNBREAKABLE, an original work by composer and lyricist Andrew Lippa, co-commissioned by a nationwide consortium of ten gay choruses and featuring Lisa Vroman, Britney Coleman, and Marcus J. Paige.
---
BWW Interview: Carmen Cusack shares A TWIST OF LIMELIGHT for Bay Area Musicals this weekend

May 18, 2018

Tony-nominee Carmen Cusack is returning to San Francisco to perform May 19 at the annual 'A Twist of Limelight' gala for Bay Area Musicals followed by rehearsals for this fall's VICTOR/VICTORIA in Los Angeles, part of the Reprise 2.0 relaunch season.
---
BWW Review: VIETGONE deconstructs Vietnam immigrant tropes with laughter at American Conservatory Theater's Strand Theater

April 12, 2018

Vietgone by Qui Nguyen is a refreshingly upending night of theatre. It's also an extremely funny, sexy, tender, and truthful night of theatre.
---
1