African-American Shakespeare Company Presents FOR COLORED GIRLS WHO HAVE CONSIDERED SUICIDE WHEN THE RAINBOW IS ENUF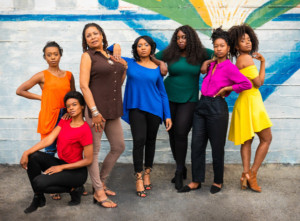 For the first time in over 20 years the Bay Area will have the chance to experience Ntozake Shange's For colored girls who have considered suicide/when the rainbow is enuf. This transformative and riveting evening of provocative dance, music and poetry tells the stories of 7 individual women dealing with the at times brutal, tender and dramatic arcs of their lives.

"Bay Area favorite actress, teacher and director Elizabeth Carter will helm this opening production of our 2018/19 season" says AASC Artistic Director L. Peter Callender. "Though written in 1976, this lyrical and groundbreaking Obie Award-Winning choreo-poem will speak loudly, passionately and proudly of what it means to be a woman of color in the 21st Century."

Noting that the company's traditional focus has been on classical works, AASC Executive Director Sherri Young says, "Ntozake Shange's play fits within this definition as the issues, themes, and stories remain relevant today. Abortion, post-traumatic disorder, female empowerment and black lives matter are modern issues that are still prevalent today. For Colored Girls has not been professionally produced in San Francisco in over 20 plus years. We are very pleased to be the ones to bring the production back!"

Cast of For colored girls who have considered suicide/when the rainbow is enuf:

Lady in Brown: Jan Hunter
Lady in Purple: Bobbi Kindred
Lady in Blue: Natasha LaGrone
Lady in Red: Paige Mayes
Lady in Orange: Regina Monique
Lady in Green: Brittany Nicole Sims
Lady in Yellow: Tiffany Tenille

What: African-American Shakespeare Company Presents for colored girls who have considered suicide/when the rainbow is enuf
Directed by: Elizabeth Carter
Dates: September 15th - 29th
Location: Taube Atrium Theater
Tickets: $35.00 at www.african-americanshakes.org

High Res images can be found HERE

About the African-American Shakespeare Company
The award-winning African-American Shakespeare Company (AASC) was established in 1994 by professional theater artists from The American Conservatory Theatre as an alternative answer to the "Color Blind Casting" initiative that began in the early 90s. While this initiative temporarily changed the diversity on stage, African-American Shakespeare Company noticed color blind casting discounted these artists' rich cultural heritage, and not making the most of the dynamic cultural vibrancy that actors of color could bring to classical works-a vibrancy that African-American Shakespeare Company aspired to highlight. Moreover, "traditional" classical theaters seem to lack the ability to truly attract diverse audiences.

African-American Shakespeare Company's work has received honorary acknowledgement from San Francisco City and County's former Mayor Gavin Newsom; was awarded The Paine Knickerbocker Award in 2014 for Outstanding Achievement for a Theater Company by the San Francisco Bay Area Theatre Critics Circle; and a Community Partner Award from University of San Francisco's Leo T. McCarthy Center for outstanding collaboration in providing quality Service-Learning program.

The African-American Shakespeare Company is funded in part by Shakespeare for a New Generation, a national program of the National Endowment for the Arts in cooperation with Arts Midwest, San Francisco Arts Commission, Grants for the Arts, California Arts Council, The San Francisco Foundation, Columbia Foundation, Fleishhacker Foundation, Zellerbach Family Foundation, Macy's, The Wallace Alexander Gerbode Foundation, The Hewlett Foundation, University of San Francisco Engage Program, and Silicon Valley Foundation.

About Director Elizabeth Carter
Elizabeth has performed with numerous Bay Area theaters including California Shakespeare Theater, San Francisco Shakespeare Festival, Magic Theatre, Word for Word, Lorraine Hansberry Theatre, San Jose Stage and TheatreWorks and the Aurora Theatre Company. Her favorite roles include Rose in Fences, the Bawd in Pericles, Effie in Dreamgirls, Mistress Ford in Merry Wives of Windsor, and Agnes in Agnes of God. She was last seen in the Aurora Theatre Company production of Trouble in Mind, which won 6 Bay Area Theatre Critics Circle Awards. Elizabeth has been featured in Theatre Bay Area Magazine as someone to "Keep an Eye On".

As an artist, Elizabeth has been a part of the SOTA Theatre Dept since 2005. Her teaching career has led her to work with students from of all ages from Kindergarten to adult actors and she has trained teachers in alternative ways to access literature through theater. Elizabeth has spent the last 17 years teaching acting, voice and Shakespeare performance across the Bay Area for companies such as California Shakespeare Theatre, Berkeley Rep and Brava!

About Sherri Young, Founder & Executive Director
An M.F.A. graduate from The American Conservatory Theatre; and former Commissioner for the San Francisco Art Commission proudly serving for Mayor Gavin Newsom, Young founded the African-American Shakespeare Company in 1993 and has been its Executive Director since. She has directed over 20 productions, produced and executed five programs for the organization and speaks at various colleges, universities, and conferences across the nation. Young manages the approximately 60 company members and volunteers for the organization's programs. Some career highlights include the creation of the company's signature holiday performance Cinderella, effectively building and stabilizing the organization over the past five years; increasing audience attendance by 30%; and increasing new funding support by foundations and individual donors within the past two years.

About L Peter Callender, Artistic Director
In addition to being Artistic Director of AASC, L. Peter Callender has been a Visiting Professor of Theatre Arts and Performance Studies at Stanford University, teaching Acting Shakespeare and Fundamentals of Directing. He was also a teaching artist at Waterfront Conservatory Theater in Berkeley, and, for over 20 years, has been an Associate Artist at California Shakespeare Theater. He is an award-winning director, both in the Bay Area, where he has directed for AASC and the Aurora, and at American Stage Theater in St Petersburg, FL where he just opened A Raisin in the Sun. He is also an award-winning actor, performing in over 25 Shakespeare plays throughout his career, and voted "Mentor of the Year" and "Most Valuable Player in the Bay Area Theater Scene" by Robert Hurwitt (formerly) of the SF Chronicle! Callender has performed On and Off-Broadway, and in over 15 regional theaters across the country, including NY Shakespeare Festival, Cincinnati Playhouse in the Park, Syracuse Stage, Milwaukee Rep, Pennsylvania Stage Company, American Conservatory Theater, Berkeley Rep, Marin Theater Company and Aurora Theater Company. Some favorite roles: Simon in The Whipping Man, Richard in Richard III, Sam in Master Harold ... and the Boys, Leontes in The Winter's Tale, Antony in Anthony and Cleopatra, Mr. M in My Children! My Africa! Walter in Swimmers, Robert Mugabe in Breakfast With Mugabe, Sterling North in Permanent Collection, Dr Treves in The Elephant Man, Tom/Jamaican Waiter in Prelude to a Kiss (Broadway), Caliban in The Tempest (directed by Julie Taymor) and several others. More information on his work and career can be seen on his website: www.lpetercallender.com.

Related Articles View More San Francisco

Stories

Shows
More Hot Stories For You