BWW Review: The San Diego Symphony's BOLERO BY THE BAY at the San Diego Embarcadero
San Diego's waterfront on a cool summer night seems the perfect spot for exciting Latin-flavored music by Alberto Ginastera, Astor Piazzolla and Maurice Ravel. Conductor Sameer Patel opened with Four Dances from Estancia by Ginastera. After an overly careful treatment of the first dance. The slow second was gorgeous, and more of Ginastera's risk-taking energy exploded as the lively third led to a satisfying near-frenzy in Malambo, the final dance.
Piazzolla's Libertango, one of his most popular pieces, is usually played on the bandoneon, his own instrument when performing or recording. Program notes predicted the orchestra would accompany a bandoneon soloist in the work. For reasons never explained, there was no soloist. Without the bandoneon Libertango was softer and less exotic than the composer seemed to prefer, but still intense and wonderfully romantic.
The final piece before intermission was Piazzolla's bandoneon concerto, a classically-structured work in the usual three movements. Argentinian bandoneonist Juan Pablo Jofre studied with Julio Pane, a former member of one of the composer's sextets. Many musicians, especially if classically trained, dilute the impact of Piazzolla's music by smoothing its ferocious edges. Jofre instead played with close-eyed passion, capturing Piazzolla's own performing style as well as anyone I've heard, a style of mixed beauty and ruggedness.
He responded to enthusiastic appreciation with an encore, preceded by a brief description of his instrument. Although now thought of as Argentinian, the bandoneon originated in Germany as a variation on the concertina. It has buttons on both sides, and each of them produces one tone when the bellows are collapsing and a different tone when they are expanding! Jofre said that means you must learn to play four different keyboards, and then speculated that was why the Germans were happy to make it Argentina's problem.
His encore was Leopoldo Federico's Capricho Otonal, a rather sentimental piece with many virtuosic flourishes and moments that invite tender rubato.
Most of Maurice Ravel's music is immediately identifiable as French, but he was born close to the Spanish border, and there is no mistaking the Spanish influence on Rapsodie espagnol and Bolero, the well-known compositions that comprised the concert's second half. The dreamier sections of the rhapsody were beautiful and solo passages flawless. Livelier moments were note-perfect, but didn't always make the most of the work's swirling excitement and final climactic moments.
Bolero enchanted those, including me, who never tire of its sinuously sensual repetition. San Diego Symphony's soloists again proved their excellence, and although the key change in triumphant brass a moment before the end wasn't as hair-raising as it can be, Patel did a fine job of building gradually from Bolero's quiet beginning to its ultimate booming climax.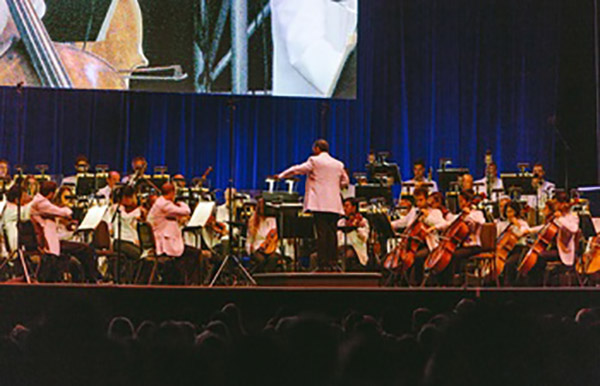 San Diego Symphony's Bayside Summer Nights series continues through September 3rd. For a calendar and ticket information visit SD SYMPHONY.