BWW Interview: Candy Buckley in KILL LOCAL at La Jolla PLayhouse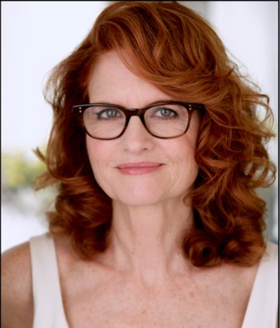 You may recognize CAndy Buckley from her last turn on the San Diego stage at The Old Globe, or she may seem familiar from her television work with HBO. Now you can see her in KILL LOCAL, the new play at the La Jolla Playhouse about small family business that just happens to be for contract killing.
Candy plays the matriarch of this business, working with her two daughters on their most recent job, which is where the play begins. Buckley talks about her character, what it's like working on a world premiere, and being back in San Diego.

What can you tell us about your character in the play?
She's FIERCE! She's FUNNY! She's PHYSICALLY STRONG! She's Mother Courage with a fast pulse and a sense of humor and a thin skin and a very quirky ethical code. An absolutely deliciously ECCENTRIC role Mat Smart has written for a WOMAN. For a WOMAN! Hallelujah!
When looking at characters to explore onstage, what interested you in this play and this character?
Female characters are so often subservient and cliche and MOPEY. It's a real problem - one I think about all the time. Last year I did the all-female Shakespeare in the Park and my daughter Erin Buckley's play OLDER LADY. My obsession is vital female stories. To read a play like KILL LOCAL filled with great women's parts - my friends and I were battling it out auditioning in New York to play Gloria.
What is it like working on a world premiere play?
I'm not talking out of school to say I got scared. I arrived off-book (memorized) because I knew there were lots of physical stunts and I wanted to be able to execute them and not worry about my lines or about wearing reading glasses. But for two solid weeks the script changed, and kept changing, and for the better. So the process was really about rolling with those improvements. And who can argue with improvements?
My performance muscle is different than my rehearsing/learning muscle, so I was challenged. You know, that's a good thing. I think Mat is an inspired writer and Jackson (Jackson Gay) is an intuitive director. They are real artists. I am thrilled to have worked with them. And, omg, our cast loves each other. That's not always true!!!!!
Having worked both in live theatre and on TV, what do you look for in a role? What did you find to be a surprise between working live in theatre and on camera work?
I very, very much know when a role is mine. For years I was a company member in repertory theaters where we had to play everything. But in New York, there's too much competition for that. You have to find your pocket. I used to laughingly say my niche was: comic villainess who fancies herself sexy! (Notice I said "fancies" herself sexy - that doesn't mean she is!) That holds true for Masha (from The Globe's production of Vanya and Sonia and Masha and Spike) and it's true for Gloria. And it's true for me on TV especially as Netflix and Amazon and Hulu offer more and more of a really wild range of stories and settings.
Do you have a favorite place to go or something to do that you feel is uniquely San Diego, when you are performing here?
Well, riding my bike past the zoo everyday en route to The Globe was unforgettable. Both times in San Diego, I brought my kitty (she needs an NYC break too!) and having a terrace here at The Playhouse has been paradise for us. There's a hummingbird feeder and hanging lights; I study out there every morning. The finches, and the flowers, and the temperature! My architect husband, Davidson Norris (who designed the noon mark at The Griffith Observatory), is visiting in a couple of weeks and he wants to see the Salk Institute and has booked with a fishing guide as I will be otherwise engaged on the weekend! Make no mistake - I love love love me some California.
Catch Candy, and the rest of this killer cast on her darkly funny show KILL LOCAL at the La Jolla Playhouse through August 27th. For ticket and show time information go to www.la jollaplayhouse.org
Photo Credit; La Jolla Playhouse

Related Articles View More San Diego

Stories

Shows