Hale Centre Theatre Announces Young Living Essential Oils Centre Stage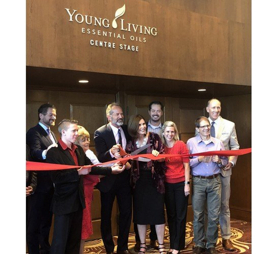 Hale Centre Theatre (HCT) revealed that the new name of its one-of-a-kind, technologically advanced Centre Stage is the Young Living Essential Oils Centre Stage. The announcement took place in conjunction with opening night of HCT's latest production, Newsies, on Monday, June 25, in the Mountain America Performing Arts Centre in Sandy, Utah. As part of its commitment to giving back to humanity and the community, Young Living Essential Oils will donate funds and products over the next 10 years to the theater. Mary Young, CEO of Young Living Essential Oils, will also now serve on HCT's board of directors.
Newsies marked the first performance on the newly dubbed Young Living Centre Stage. Cast members from Newsies ran through the aisles, calling "extra, extra" and distributing newspapers to the audience that announced the Centre Stage's new name. A ribbon cutting to honor the new Young Living Essential Oils Centre Stage took place prior to the performance, with comments by Mark and Sally Dietlein, co-founders of the Hale Centre Theatre, and Mary Young, co-founder and CEO of Young Living Essential Oils.
The world-class stage houses state-of-the-art stage automation solutions created by TAIT Towers, an international live event entertainment technology company. TAIT provided 47 axes of motion using more than 130 motors for hoisting, lifting, sliding, and rotating the Young Living Centre Stage. The technologically advanced stage features a center column lift, four quad lifts, two large crescent lifts, and two slip stages, each independently controlled. Overhead, the technology continues with two crane trolleys, which can lift or lower up to 16 independent performance pieces, traveling the span of the theater.
The theater also features six giant LED screens that wrap the perimeter of the theater to enhance the immersive experience during showtime. All stage technology within the theater increases HCT's ability to magically bring stories to life and further advance the narrative in innovative ways. In addition, the theater houses 901 comfortable seats and a remarkable assistive listening system for those with hearing loss.
"We're grateful for the support Young Living Essential Oils has shown for our theater community and especially for our world-class Centre Stage," said Sally Dietlein, HCT vice president and executive producer. "We've been waiting for the right partner to come along and have been delighted to find that partnership with Young Living. They share a similar goal with us in being a force for good, whether through theater or essential oils, and we couldn't be happier to welcome them into the Hale family."
Young Living is a purpose-driven company that has pioneered the essential oils movement and has been dedicated to inspiring whole-life wellness for nearly 25 years. The local company provides essential oils that are pure, concentrated plant extracts obtained by careful steam distillation, cold pressing or resin tapping, with farms located all over the world.
"We're thrilled to enter into this partnership with Hale Centre Theatre, an organization whose values so closely align with our own. Young Living and HCT have both been pillars of our local community for decades," said Jared Turner, president and COO, Young Living Essential Oils. "Our organizations are family-run and family-first. Our CEO, Mary Young, has a long history in theater and the performance arts. Finally, Young Living and HCT are both fully committed to honoring and furthering our visionary founders' legacies. We know Ruth and Nathan Hale, and D. Gary Young, would be immensely proud of this new partnership."
The Mountain America Performing Arts Centre houses two advanced stages: The Young Living Centre Stage and the Sorenson Legacy Jewel Box Stage, which was previously announced during the grand opening of the Jewel Box stage and opening night of Hale Centre Theatre's production of Forever Plaid.
Hale Centre Theatre, a 501 (c)(3) non-profit organization, is dedicated to providing "innovative, professional family theater and theater education that involves and elevates our community." The 32-year old organization recently moved to the spacious new Mountain America Performing Arts Centre at 9900 Monroe Street in Sandy, Utah. HCT employs a full-time staff of 55, with benefits, and a part-time staff of 150. The theater pays more than 300 actors each year for their performances, all who live and work in Utah. Since 2005, the theater has won 28 Best-of-State awards in Theater Group/Director, Arts in Education, and Professional Theater. HCT gives back to the community by donating theater tickets and providing free student matinees and tours for hundreds of school children and non-profit organizations throughout the year. For more information about the 2018 theater season and educational programs visit www.hct.org.
Young Living Essential Oils, LC, is the world leader in essential oils, with a strict Seed to Seal process that produces pure essential oil products for every individual, family, and lifestyle. This process ensures that all products are genuine, free of synthetic chemicals, and pure. This commitment stems from the company's almost 25 years of stewardship toward the earth and its people. For more information, visit YoungLiving.com.
Related Articles View More Salt Lake City

Stories

Shows
More Hot Stories For You