Peter Yarrow & Noel Paul Stookey Of Peter, Paul And Mary Come to the Harris Center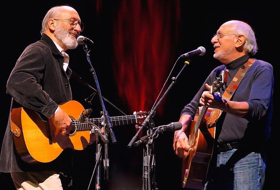 The iconic folk trio Peter, Paul and Mary made music together for nearly 50 years. In this intimate evening of song and reflection, Peter and Paul perform their enduring anthems of social change, including "If I Had a Hammer," " Blowin' in the Wind," and "Puff the Magic Dragon," among others. They will also remember their contributions to the civil rights movement and the woman who completed their trio of positivity, the late Mary Travers.
Peter Yarrow & Noel Paul Stookey will perform twice at Harris Center: Saturday, March 17, 2018; 7 pm, and on Sunday, March 18, also at 7 pm. Tickets are $38-$58; Premium $68. Tickets are available online at www.harriscenter.net or from the Harris Center Ticket Office at 916-608-6888 from noon to 6 pm, Monday through Saturday, and two hours before show time. Parking permits are issued at the time of ticket purchase. The Harris Center is located on the west side of the Folsom Lake College campus in Folsom, CA, facing East Bidwell Street.
No American folk group lasted longer or amassed a more loyal following than Peter, Paul and Mary. During their legendary career, the trio won five Grammy's, produced 13 top 40 hits of which six ascended into the top 10, and earned eight gold and five platinum albums.
The iconic trio began in Greenwich Village in the early 1960's. At the time, for the majority of America, folk music was viewed merely as a sidebar to pop music. The nation was still recovering from the McCarthy era; the Cold War was heating up. Peter Yarrow, Noel (Paul) Stookey and Mary Travers came together to reclaim folk music's potency as a social, cultural and political force. Peter, Paul and Mary lived their songs. They sang at the 1963 March on Washington where Dr. Martin Luther King gave his "I Have a Dream" speech, they participated in the Selma to Montgomery March, they sang at countless anti-Vietnam War rallies and they launched decades of musical activism. These individual and collective efforts addressed a wide range of issues from women's rights, to farm-worker rights to the environment and education.
The group's message is that their music belongs to everyone. "People can overcome their differences, and when united, move toward a world of greater fairness and justice," says Yarrow.
The loss of Mary Travers in September of 2009 at the age of 72 was a loss to her family, friends and the nation. Her life and legacy remain a great American treasure.
PBS recently released a new documentary of their lives titled "50 Years with Peter, Paul and Mary". The program features powerful, moving, performances by the Trio starting with the era of the group's emergence in Greenwich Village through the Civil Rights and anti-war eras where their anthems provided America's soundtrack of social and political change, and moving into the 21st century where their legacy and music continues to inform, inspire and enrich successive generations - still providing a moral compass for the way we live our lives. Also recently released is a stunning book of photographs and reminiscences, in their own words, "Peter, Paul and Mary: Fifty Years in Music and Life".
Peter and Noel continue to perform together as well as individually, and to devote their time and energy to issues they believe in. Peter founded the organization Operation Respect which is a non-profit education and advocacy organization dedicated to transforming schools, camps and other youth-serving organizations into safer, more respectful, bully-free environments for children and youth. and Noel's organization Music2Life creates music based programs, events and promotions to move hearts and minds around a particular effort or cause.
When Peter and Noel perform together, audiences comment that in many ways it feels as if Mary were still on the stage with them. The energy and enthusiasm for the music has not diminished, in fact it seems ever more impassioned, and frequently the audience steps in to sing Mary's part--their voices strong, their hearts full. It's community at its best and what folk music is all about--carrying it on.
This Year Marks Seven Seasons of Great Shows. Up Close. In Folsom!
The Harris Center for the Arts at Folsom Lake College brings the community together to share in cultural experiences featuring the work of artists from throughout the region and around the world. Built and operated by the Los Rios Community College District, the $50 million, state-of-the-art regional performing arts center boasts three intimate venues with outstanding acoustics, an art gallery, a recording studio, elegant teaching spaces, plenty of safe parking and all the other amenities of a world-class performing arts venue. Each year the Center hosts approximately 400 events attracting upwards of 150,000 annually.
More Hot Stories For You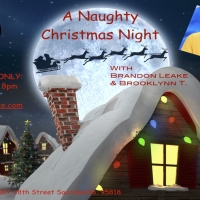 AGT Winner Brandon Leake Will Perform in Sacramento in A NAUGHTY CHRISTMAS NIGHT

December 2, 2022

 Award winning EMH Productions/The Artist's Collective presents a night of drama and comedy featuring 2 local writers and the talents of Brandon Leake with Brooklynn T. Solomon both in person and live streaming at The Ooley Theatre.
---
Placer Rep Seeks Home Venue for Season 2023

December 1, 2022

It is said a home is built with love and dreams and never has that phrase been truer, as Placer Repertory Theater's rise in popularity and programming now propels Placer Rep to seek a home facility for Season 2023 and beyond. 
---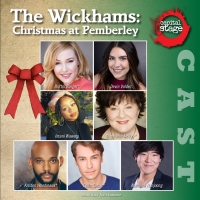 THE WICKHAMS: CHRISTMAS AT PEMBERLEY is Coming to Capital Stage This Holiday Season

November 11, 2022

Capital Stage will bring the return of Jane Austen's Pride & Prejudice beloved characters with our Holiday Production of THE WICKHAMS: CHRISTMAS AT PEMBERLEY. Capital Stage's Co-founding member, Peter Mohrmann, will direct the second installment of Lauren Gunderson and Margot Melcon's CHRISTMAS AT PEMBERLEY series.
---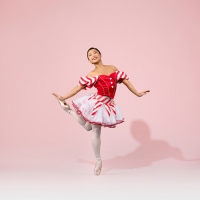 Sacramento Ballet's 2022 Hometown Nutcracker Features Local Choreography, International Dancers, and More

November 10, 2022

Sacramento Ballet presents its treasured annual holiday celebration set to Tchaikovsky's Nutcracker with eight thrilling performances complete with live orchestra running from December 10-24, 2022.
---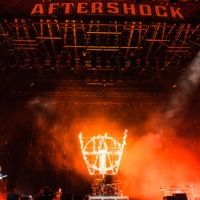 AFTERSHOCK and GOLDSENSKY Sacramento Festivals To Return In 2023

November 7, 2022

After two consecutive weekends at Discovery Park in Sacramento, California celebrating the 10th Anniversary of Aftershock Festival October 6-9, 2022 and the inaugural GoldenSky Country Music Festival October 15-16, 2022, festival promoter Danny Wimmer Presents is pleased to announce the return of both events in 2023.
---