Photo Flash: First Look at Brown/Trinty Rep's THE TOOTH OF CRIME & STONE COLD DEAD SERIOUS
The Brown University/Trinity Rep MFA Programs proudly present two raw and devastatingly humanistic plays running in repertory this May. Sam Shepard's poetic and psychedelic rock and roll drama The Tooth of Crime, directed by Dan Rogers (Brown/Trinity Rep MFA Programs '15), and Adam Rapp's surreal and dark new-age comedy, Stone Cold Dead Serious, directed by Flordelino Lagundino (Brown/Trinity Rep MFA Programs '15). Performances of both plays run through May 18 in the Pell Chafee Performance Center, 87 Empire Street, Providence. Audiences should note that both of these productions contain mature subject matter and adult language. Scroll down to see some photos from the productions!
Sam Shepard's introspective play is a "down and dirty" battle of language, style, and - above all - rock and roll. Hoss, an aging rock star must defend his territory against up-and-coming maverick, Crow. This futuristic play promises to capture audiences in an epic musical battle for glory, recognition and power. "If rock had a feud with roll and they decided to settle it with pistols, the end result would be The Tooth of Crime," explains director, Dan Rogers. Add in several high-octane original rock songs, composed by cast members, and you have a play infused with the emotionally driven language of poetry and music. "There's never been a better time to take a look at how we think of ourselves, and what we dream about," states Rogers. "It just so happens that a euphoric rock and roll play written in jive future-speak and set against a dystopian apocalypse is a pretty awesome way to do that."
Alternatively, Adam Rapp's engaging and heartbreaking play, Stone Cold Dead Serious, teeters on the verge of a shifted reality. Amidst the wastelands of American suburbia, live the Ledbetters, your average everyday dysfunctional family. Meet Wynne, your typical teenage video game whiz. His mother is a waitress working endless double-shifts while his father withers away on workmen's comp and his dropout junkie sister's life continues to unravel at an alarming rate. But our teenage hero has a plan to salvage his family from the brink of despair. Journeying to New York City, Wynne embarks on a fight to the finish in a Tang Dynasty national video game contest where the stakes are fatally high.
"This play is about salvation," explains director Flordelino Lagundino. "It's about the lengths that Wynne will go to save his family and how, essentially, we all need to be saved." Lagundino recognizes the systematic relationship the play has to the struggles faced in today's society. He wants to leave audiences questioning their own decisions and to truly realize what it is that they want from their own lives. "There are a lot of plays right now that deal with who we are as people, as individuals," states Lagundino, "Stone Cold Dead Serious asks those questions in a context which is life or death."
The cast of The Tooth of Crime features second-year MFA acting students Uche Elueze (Cheyenne), Elise Hudson (Becky Lou), Ralph Adriel Johnson (Galactic Jack), Sophie Netanel (Star-Man), Andrew Polec (Hoss), and Max Wolkowitz (Crow ). The cast of Stone Cold Dead Serious features second-year MFA acting students Michael Jennings Mahoney (Wynne Ledbetter), Marina Shay (Shaylee Ledbetter), Devon Caraway (Linda Ledbetter), and Ian McNeely (Cliff Ledbetter).
Dan Rogers is a cofounder of AntiMatter, a Brooklyn-based theater collective dedicated to making "badass theater that you will enjoy." His directing credits include Twelfth Night or What You Will (Brown/Trinity Rep), Bus Stop (Brown/Trinity Rep), sixsixsix (Magic Futurebox, Brooklyn), DEATH VALLEY (Bushwick Star) and At the Hawk's Well (Mohawk Arts Collective, Maine). His radio play version of sixsixsixis was published by n+1 Magazine. In New York he served as General Manager of the Obie Award winning Vampire Cowboys Theater Company.
Flordelino Lagundino is a director, actor, theatre instructor, Artistic Director of Leviathan Lab in New York City, and Artistic Director of Generator Theater Company in Juneau, Alaska. His directing credits include Much Ado About Nothing (Brown/Trinity Rep), In the Blood (Brown/Trinity Rep); Animals Out of Paper, Doubt, Yellowman, Topdog/Underdog, and the world premieres of Cedar House and Brother (Perseverance Theatre); Flipzoids, True West, Shakespeare's R&J, [title of show], and the world premiere of The Reincarnation of Stories (Generator Theater Company); Sweeney Todd (Juneau Symphony); Far Away (Yale Cabaret); and a developmental reading of Indian School Stories (The Flashpoint's Mead Theatre Lab). As an actor, Flordelino has performed regionally at The Shakespeare Theatre Company under the direction of Michael Kahn, The Kennedy Center, The Folger Theatre, Perseverance Theatre, Imagination Stage, ZACH Theatre, and Woolly Mammoth Theatre Company. He has been the Allen Lee Hughes directing fellow at Arena Stage and a directing fellow at Oregon Shakespeare Festival, where he assisted Ping Chong on the World Premiere stage adaptation of Akira Kurosawa's Throne of Blood and continued with the production to BAM's Next Wave Festival. Flordelino holds an MFA in acting from the University of Texas at Austin.
Performances for The Tooth of Crime are Friday, May 9 at 7:30pm; Saturday, May 10 at 2:00pm; Friday, May 16 at 7:30pm; and Saturday, May 17 at 2:00pm. Performances for Stone Cold Dead Serious are Thursday, May 8 at 7:30pm; Saturday, May 10 at 7:30pm; Sunday, May 11 at 2:00pm; Saturday, May 17 at 7:30pm; and Sunday, May 18 at 2:00pm.
Photo Credit: Mark Turek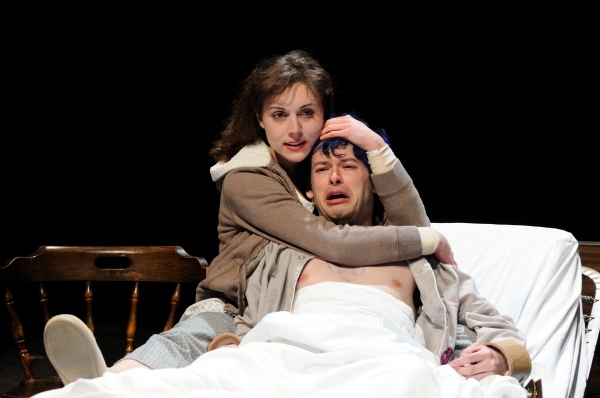 Marina Shay and Michael Jennings Mahoney

Devon Caraway and Ian McNeely

Devon Caraway

Andrew Polec, Elise Hudson, and Sophie Netanel

Elise Hudson and Andrew Polec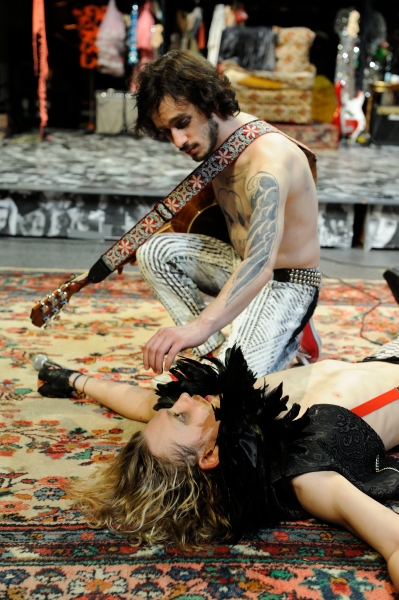 Max Wolkowitz and Andrew Polec