BWW Review: Theatre By the Sea's AIN'T MISBEHAVIN' Gets the Joint Jumpin'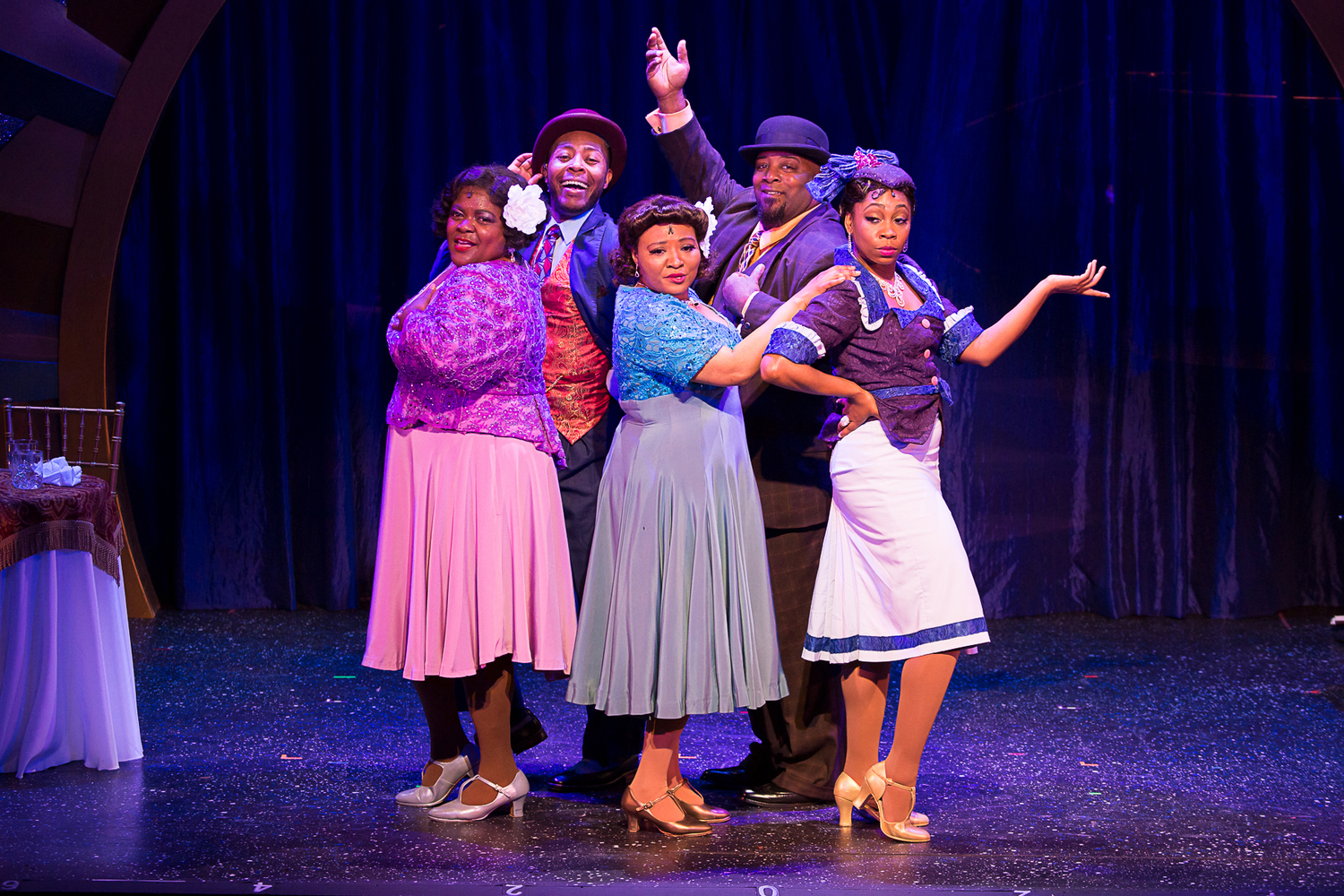 Theatre By the Sea's 85th season starts off with a bang with the 1978 musical revue AIN'T MISBEHAVIN'. Using the songs of famed African-American jazz pianist and composer Thomas "Fats" Waller, every aspect of Theatre By the Sea's rollicking production comes together to create as close to the experience of attending a 1930's Harlem nightclub as is possible in 2018.
Ain't Misbehavin' is different than most other musicals; being a revue, there is no book, no actual plot that drives a story throughout the evening, unlike so many of the more recent "jukebox musicals" that have sprung up since the early 2000's (see also Jersey Boys, Beautiful: The Carole King Story, All Shook Up, etc.) Fortunately, Waller's songs are miniature tales on their own - often funny, sometimes sassy, occasionally serious - that one hardly needs an overarching story.
The entire cast is outstanding and all five actors, two male vocalists and three female, are given their chance to shine. DeMone's rich voice is perfect for songs such as "Honeysuckle Rose" but also during his hilarious turn with the song "Your Feet's Too Big," in which an audience member is asked to sit on-stage to hear, well, how ridiculously large her feet are (all done in good fun, and the particular audience member picked at this performance was a good sport who actively played along). Tarra Conner jones has a voice that is startlingly reminiscent of the original Broadway cast's Nell Carter. She's a stand-out in every number she's a part of, such as "Cash For Your Trash," a patriotic ditty from 1941, urging all Americans not to be wasteful as part of the war effort. Jones begins the song playing a shy, brand new ingénue, and ends by bringing the house down her powerful voice. Jeffrey Eugene Johnson is no stranger to Theatre By the Sea, having also appeared as Cogsworth in last season's Disney's Beauty and the Beast, as well as the Irish Cop in The Producers. Among his many stand-out moments is the song "The Viper's Drag," referring to the era's slang for a person fond of smoking marijuana - popular among jazz musicians, and not made illegal until the late 1930s. Rounding out the stellar cast of vocalists were NaTonia Monét and Helen Marla White, each with their own moments of brilliance in both group and solo numbers.
The choreography by Gerry McIntyre (also the show's director, and prior to this engagement, the choreographer for the hit off-Broadway show Spamilton) was a perfect mix of styles from the era, including elements of swing, the jitterbug, and more. The entire cast performed every piece with energy and verve.
The performers were backed up by a live six person band, led by musical director Christopher Davis. At times they hidden behind a scrim, at times brought forward - literally - in a way that made them a larger part of the action. While it's always positive to see live accompaniment, it's especially effective in a show such as this, which aspires - and succeeds - to re-create that 1930's nightclub feel.
The technical aspects of the production also added positively to the atmosphere, with credit to resident scenic designer Kyle Dixon, resident lighting designer Jose Santiago, sound design by Alex Neumann, with costumes and wig/hair design by Lou Bird and Emily Christoffersen respectively. The entire stage was surrounded by a double proscenium of lights, with a lit up column on either side and a backdrop that was Art Deco in styling. The scrim's design would change depending upon the mood required - sometimes depicting a nightclub or a street scene, sometimes dark black with twinkling stars, and sometimes done away with altogether when the band is In Focus.
Ain't Misbehavin' runs from now until June 17th, with performances scheduled Tuesday through Saturday evenings at 8:00pm, Thursdays at 2:00pm, Saturdays at 3:00pm, and Sundays at 5:00pm. The theatre is located at 364 Cards Pond Road, Wakefield. Tickets are $52 - $75 (additional fees may apply), and are on sale at the box office Monday through Saturday from 11:00am - 6:00pm and performance days from 11:00am until curtain, online 24-hours-a-day at www.theatrebythesea.com and via telephone during normal box office hours by calling (866) 811-4111 or (401) 782-TKTS (8587). Discount rates are available for groups of 10 or more.
Pictured: Tarra Conner jones, Jeffrey Eugene Johnson, Helen Marla White, DeMone, and NaTonia Monét. Photo by Steven Richard Photography.
Related Articles View More Rhode Island

Stories

Shows
A life-long Rhode Islander, Erica has been an avid theatre-goer since being taken to children's shows at the Warwick Musical Theatre. She is also an (read more...)