Erica Cataldi-Roberts
A life-long Rhode Islander, Erica has been an avid theatre-goer since being taken to children's shows at the Warwick Musical Theatre. She is also an academic librarian in Boston, an equestrian, a former ballet dancer, and working on a slice-of-life fiction series about - what else? - people in the performing arts. Follow her on Twitter: @FrontCenterECR

MOST POPULAR ARTICLES
LAST 30 DAYS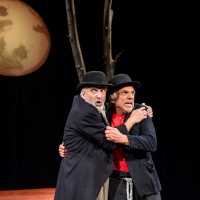 BWW Review: Fantastic WAITING FOR GODOT at The Wilbury Theatre Group
Posted: Oct. 6, 2019


LAST 365 DAYS
BWW Review: AN ILIAD at Trinity Repertory Company
Posted: Feb. 8, 2019



BWW Review: Contemporary Theater Company's Delightful LITTLE SHOP OF HORRORS
Posted: Oct. 29, 2018


BWW Review: Epic Theatre Company's THE REVOLUTIONISTS
Posted: Feb. 10, 2019



BWW Review: Fantastic and Fantastical GOBLIN MARKET at Head Trick Theatre
Posted: Mar. 31, 2019



BWW Review: JERSEY BOYS at the Providence Performing Arts Center
Posted: May. 11, 2019



BWW Review: Head Trick Theatre's Riveting WATCH ON THE RHINE at AS220
Posted: Oct. 14, 2018



BWW Review: Festival Ballet Providence's THE NUTCRACKER
Posted: Dec. 22, 2018


BWW Review: Fantastic WAITING FOR GODOT at The Wilbury Theatre Group

October 6, 2019

Samuel Beckett's classic play, WAITING FOR GODOT, opens the Wilbury Theatre Group's 2019/2020 Main Series with a production that gets to the heart of the text a?" at equal turns funny, philosophic, and sad.
---
BWW Review: Captivating QUEEN MARGARET at Head Trick Theatre

July 14, 2019

Head Trick Theatre opens their 2019-2020 season, "In War With Time," with Jennifer Dick's small cast adaptation of the play QUEEN MARGARET, which takes a closer look at Margaret of Anjou. A character in several of Shakespeare's "history plays," she is finally given her time in the spotlight, with a fuller look at her role in the 15th century War of the Roses. The audience is left to decide whether she is a hero or a villain.
---
BWW Review: DADA WOOF PAPA HOT at Epic Theatre Company

June 9, 2019

DADA WOOF PAPA HOT, the 2015 play by Peter Parnell, attempts to grapple with the complications gay couples may face after gaining marriage equality, and whether it's possible to avoid some of the same traps that straight couples also face. Epic Theatre Company's production, directed by Theodore Clement (previously the Artistic Director of Counter-Productions Theatre Company) is well-cast and makes some interesting choices, but is sometimes hampered by the source material itself.
---
BWW Review: FUN HOME at The Wilbury Theatre Group

May 26, 2019

The Wilbury Theatre Group is closing out their 2018-2019 main series season with FUN HOME, the musical based on the highly acclaimed 2006 graphic novel by Alison Bechdel. Fun Home, directed here by Josh Short, deals with both Bechdel's coming of age, as well as her coming out, but is as much her entire family's story than just hers alone.
---
BWW Review: Twisty GIDION'S KNOT at Counter-Productions Theatre Company

May 20, 2019

Counter-Productions Theatre Company's GIDION'S KNOT may run at just about an hour in length, but their effective production of this one-act play, directed by Kira Hawkridge, leaves the audience with plenty to mull over.
---
BWW Review: JERSEY BOYS at the Providence Performing Arts Center

May 11, 2019

As an older Millennial, songs by Frankie Valli & The Four Seasons have always been part of the landscape during my lifetime, on the radio, in stores, etc. But who were the men behind the music? Enter JERSEY BOYS, subtitled 'The Story of Frankie Valli & the Four Seasons' which is exactly that, portraying the rise, success, and eventual decline of the popular 1960s group.
---
BWW Review: Fantastic and Fantastical GOBLIN MARKET at Head Trick Theatre

March 31, 2019

Head Trick Theatre closes out their spectacular 2018-2019 season with the musical GOBLIN MARKET, directed by Rebecca Maxfield. Based on the 19th century poem by Christina Rossetti, the verses have been adapted for the stage by Polly Pen and Peggy Harmon.
---
BWW Review: Epic Theatre Company's THE REVOLUTIONISTS

February 10, 2019

Comedic and thought-provoking are both accurate terms for Epic Theatre Company's Rhode Island premiere of Lauren Gunderson's 2018 play, THE REVOLUTIONISTS.
---
BWW Review: AN ILIAD at Trinity Repertory Company

February 8, 2019

"Every time I sing this song, I hope it's the last time," states the Poet, our guide through the one-man show AN ILIAD, currently playing at Trinity Rep.
---
BWW Review: CATS is Still the Cat's Meow

January 28, 2019

The national tour of Andrew Lloyd Webber's hit musical CATS has kicked off in Providence and, based on Thursday night's performance, this revival is in exceedingly fine form.
---
BWW Review: Festival Ballet Providence's THE NUTCRACKER

December 22, 2018

Festival Ballet Providence's annual production of THE NUTCRACKER is a highlight of the Christmas season. Although some aspects of the production remain the same from one year to the next, there are always some small changes, and the show is no less affecting upon repeated viewings.
---
BWW Review: Contemporary Theater Company's Delightful LITTLE SHOP OF HORRORS

October 29, 2018

When it comes to Halloween season musicals, few are as appropriate as LITTLE SHOP OF HORRORS - an ever growing plant with a taste for human blood, a sadistic dentist, and the potential loss of everything you've ever dreamed of? There's plenty to feel uneasy about. Fortunately the show balances out the potential terror with a sizeable dose of charm and humor, both ably represented in the Contemporary Theater Company's (CTC) production of Little Shop, playing through November 18th at their space in downtown Wakefield, Rhode Island.
---
BWW Review: Head Trick Theatre's Riveting WATCH ON THE RHINE at AS220

October 14, 2018

Head Trick Theatre continues to perform thought-provoking, timely productions with their latest piece, Lillian Hellman's 1941 play, WATCH ON THE RHINE.
---
BWW Review: Semi-Charmed BELL, BOOK AND CANDLE at the Granite Theatre

October 14, 2018

BELL, BOOK AND CANDLE, playing at Westerly's Granite Theatre through October 28th, is the perfect choice of a play for this month, when thoughts of Halloween and all things spooky and mystical are in the air.
---
BWW Review: Colorful JOSEPH AND THE AMAZING TECHNICOLOR DREAMCOAT Continues Theatre By The Sea's 85th Year Celebration

July 29, 2018

Moreso than many other shows, JOSEPH AND THE AMAZING TECHNICOLOR DREAMCOAT is a musical that is rife for reinvention, and the current production at Theatre By the Sea, directed and choreographed by Richard Sabellico, has also been given its own unique spin.
---
BWW Review: OUT LOUD Theatre's Haunting ESCAPE

June 11, 2018

ESCAPE, the second installment of OUT LOUD Theatre's sixth season, is a thoroughly original, thoroughly engrossing movement piece that brings the audience along on the varied journey of emotions surrounding the loss of a loved one. Have Kleenex at the ready.
---
BWW Review: Theatre By the Sea's AIN'T MISBEHAVIN' Gets the Joint Jumpin'

June 3, 2018

Theatre By the Sea's 85th season starts off with a bang with the 1978 musical revue AIN'T MISBEHAVIN'. Using the songs of famed African-American jazz pianist and composer Thomas "Fats" Waller, every aspect of Theatre By the Sea's rollicking production comes together to create as close to the experience of attending a 1930's Harlem nightclub as is possible in 2018.
---
BWW Review: Daydream Theatre Company's THE INSIDE OF HIS SEVERED HEAD Turns Willy Loman Inside Out

May 14, 2018

"Willy Loman never made a lot of money. His name was never in the paper. He's not the finest character that ever lived. But he's a human being, and a terrible thing is happening to him." Although taken from the Arthur Miller script, a terrible thing is also happening to the Willy Loman in Daydream Theatre Company's comedic musical spin on Death of a Salesman, THE INSIDE OF HIS SEVERED HEAD, which could alternately be referred to as Willy Loman: Vampire Hunter.
---
BWW Review: Providence Ballet Theatre's SNOW WHITE AND THE SEVEN DWARFS Enchants at the Greenwich Odeum

May 6, 2018

Providence Ballet Theatre closed out their eighth season May 5th and 6th with their own version of SNOW WHITE AND THE SEVEN DWARFS at the Greenwich Odeum. As explained by artistic director and choreographer of the show, Eva Marie Pacheco, on-stage before the performance, almost everything about this production is original and locally created – with the exception of the piece's composer, Tony Lustig, who hails from New York. Snow White was seen previously as one part of a larger program at Rhode Island College's Sapinsley Hall back in March of this year, but this is the first time it's been presented as its own, stand alone show.
---
BWW Review: Granite Theatre's PROOF Adds Up

May 1, 2018

Fear not, theatre-goers: David Auburn's Proof, presented by the Renaissance City Theatre, Inc. at Westerly's plush Granite Theatre weekends through May 12th, may contain talk of mathematicians and theorems, but to consider this merely a "play about math" would be disingenuous.
---
1