Photo Flash: First Look at NC Theatre's IN THE HEIGHTS
North Carolina Theatre, the region's premiere nonprofit professional theatre, presents its first production of the 2018-19 season, Lin-Manuel Miranda's In the Heights, playing Oct. 16-21 at Duke Energy Center for the Performing Arts in downtown Raleigh.
From the creator of Hamilton, In the Heights tells the universal story of a vibrant community in New York's Washington Heights neighborhood - a place where the coffee from the corner bodega is light and sweet, the windows are always open and the breeze carries the rhythm of three generations of music. It's a community on the brink of change, full of hopes, dreams and pressures, where the biggest struggles can be deciding which traditions you take with you, and which ones you leave behind.
Starring in the role of Usnavi, the Dominican-American bodega owner, is Andres Quintero. Quintero boasts television and film credits including Madam Secretary, Law & Order: SVU, and more. His previous theatre credits include regional productions of In the Heights, Rent, and The 25th Annual Putnam County Spelling Bee and the national tour of Altar Boyz.
Danny Bolero will portray Kevin Rosario, the overprotective father of "good girl" Nina. Bolero previously starred as Kevin on Broadway, with other Broadway credits including Joseph and the Amazing Technicolor Dreamcoat (revival), Man of La Mancha (tour) and regional productions of Evita, Selena, and Nine.
Michael Balderrama will direct and choreograph NC Theatre's production of In the Heights. Balderrama's previous Broadway credits include the first and second national tours of In the Heights, West Side Story, Saturday Night Fever, and Ghost. Michael has taught and choreographed in over 60 states and countries on four continents and has worked with artists including Michael Jackson, Gloria Estefan, Bruno Mars, and Sutton Foster.
Portraying Nina Rosario, the "girl who made it out" and a first generation college student, is Cristina Sastre. Like Balderrama, for whom she has previously played the role twice, Sastre feels the show is important because of its focus on strength of community while proudly depicting the lives of immigrants and their children. As a Latina who grew up in northern California, she says the role will always have a special place in her heart.
Other principals include David Guzman (Graffiti Pete), coming straight to In the Heights from Broadway's Hamilton; Genny Lis Padilla (Daniela), with previous credits including the first national tour of In the Heights; Nick Sanchez (Benny) who recently starred in Escape to Margaritaville on Broadway; Nicole Paloma Sarro (Abuela Claudia); Reed Lorenzo Shannon (Sonny), television star and NC Theatre Conservatory alum; Carly Prentis Jones (Camila Rosario); Elizabeth M. Quesada (Carla); and Melanie Sierra (Vanessa).
Rounding out the cast are Ashley Adamek, Josie Bodle, Jurä Davis, Alexander Domingue, Greer Gisy who also serves and the associate director and associate choreographer for this production, Sai Graham, Michael John Hughes, Christina Austin Lopez, Michael Schimmele (Piragua Guy), Travis Staton-Marrero, and Carlita Victoria.
In the Heights will open Tuesday, Oct. 16 and run through Sunday, Oct. 21 at Raleigh Memorial Auditorium in Duke Energy Center for the Performing Arts. Visit nctheatre.com to purchase tickets or call (919) 831-6941. For groups of 10 or more, call (919) 831-6941 x6949.

Carly Prentis Jones, Danny Bolero, and Cristina Sastre

Elizabeth M. Quesada, Genny Lis Padilla, and Melanie Sierra

Nick Sanchez, and Cristina Sastre

Nick Sanchez, Andres Quintero, Reed Lorenzo Shannon

Reed Lorenzo Shannon and Andres Quintero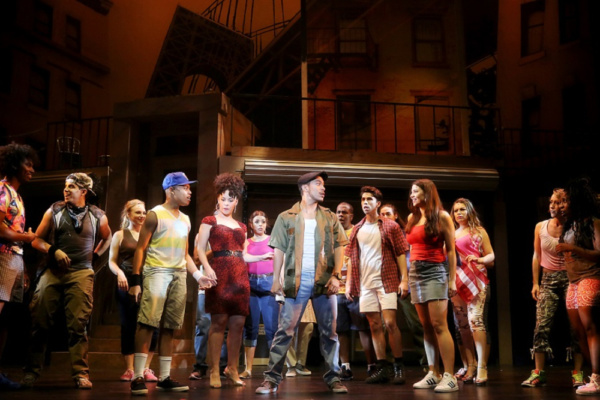 Cast