PIPPIN Comes to Lakewood Theatre Company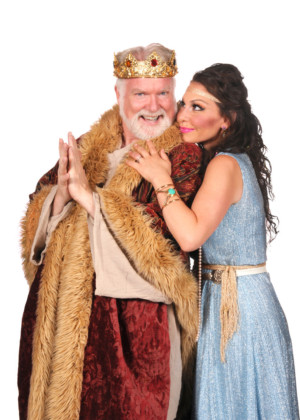 Lakewood Theatre Company continues its 66th season with the extraordinarily timeless tale of Pippin from composer and lyricist Stephen Schwartz (Wicked, Godspell). Directed by Paul Angelo with musical direction by Valery Saul and choreography by Erin Shannon, this musical questions the choices we make in life that lead us to happiness. Pippin first premiered on Broadway in 1972, with music and lyrics by Stephen Schwartz and book by Roger O. Hirson. The original production featured choreography and direction by Bob Fosse, who won Tony awards for both categories in 1973. Lakewood Theatre Company's production opens September 7 and runs through October 14, 2018 on the Headlee Mainstage at Lakewood Center for the Arts, 368 S. State Street in Lake Oswego.
Performances are Thursday, Friday, and Saturday nights at 7:30 PM, two Wednesday performances at 7:30 PM (September 26 and October 10), Sunday matinees at 2:00 PM (September 9, 16, 30 and October 7, 14) and Sunday evenings at 7:00 PM (September 23 and October 7). Ticket prices are $39/adults and $37/seniors. Discounts are available for students and groups. For additional information and tickets, call the Lakewood Box Office at (503) 635-3901 or order online at www.lakewood-center.org. The production sponsor for Pippin is Drs. Bill & Ricky Korach and the directorial sponsor is The Springs Living at Lake Oswego.
Special note: On Wednesday, September 26 and October 10, the theatre continues its program called Wine on Wednesday (WOW). For people ages 25-35, tickets are priced at $25 each. On September 26, one hour prior to the performance, there will be a complimentary wine tasting hosted by World Class Wines. On October 10, one hour before performance, there will be complimentary whiskey tasting hosted by Trail Distilling. Come enjoy WOW paired with discounted show tickets. OLCC rules apply!
The Story: A troupe of players enters the stage, led by the enigmatic Leading Player (Jessica Tidd) and prepare to tell the story of Pippin (Paul Harestad). Young prince Pippin's tale begins as he returns home from his studies, certain that he will find a fulfilling purpose in life. As he sets off on adventures through war, love and politics, he is guided by the cunning hand of the Leading Player, who influences him in his most ambitious tasks. Along the way, we encounter Pippin's father, the tyrant King Charles (Dan Murphy) and his scheming wife Fastrada (Stephanie Heuston), Pippin's kindly grandmother Berthe (Joan Freed) and a young widow named Catherine (Kelly Sina) each of whom contributes to shaping his story. While the Players strive to steer Pippin towards the perfect finale, Pippin begins to discover what it truly means to be extraordinary in our world. Featuring iconic songs such as "Corner of the Sky," "Magic To Do" and "Extraordinary," Pippin is both a humorous allegory about growing up and a dark tale of the danger of false appearances and empty promises. Magical, mysterious and poignant, this "play within a play" reaches beyond the bounds of conventional theatre to challenge us to consider the meaning of life and what it means to live extraordinarily. So join us, won't you? We've got magic to do.
The cast also features Erik Montague as Lewis and Theo Curl as Theo. The ensemble includes Essie Bertain, Catherine Garcia, Laura Hiszczynskyj, Jared Lingle, Megan Misslin, Aidan Nolan, Brice Schmietenknop, Sam Schultz, Matthew Snyder, Danielle Valentine and Claire Zavislan.
LTC's production of Pippin is directed by Paul Angelo, musical direction is by Valery Saul, choreography is by Erin Shannon, scenic design is by Samie Pfeifer, lighting design is by Ian Anderson-Priddy, costume design is by Melissa Heller, hair and makeup is by Signe Larsen, the assistant stage manager is Jennifer Summering and sound design is by Marcus Storey. The stage manager is Addie Underwood and the producer is Steve Knox.
Photo Credit: Triumph Photography