BWW Review: BROKEN BONE BATHTUB: A Quirky, Intimate Play That Will Restore Your Faith in Humanity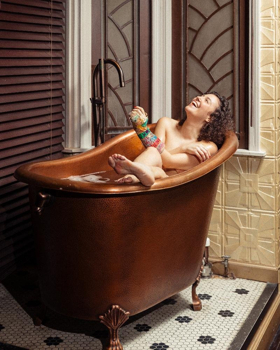 I had no idea what to expect from a play performed in a bathroom (as in a real bathroom in someone's house), but I definitely did not expect the life-affirming experience that is BROKEN BONE BATHTUB. Whatever you may be feeling about the state of the world, or even your day, Siobhan O'Loughlin's award-winning solo piece will give you hope, and you'll walk out a happier and more compassionate person than you walked in.
The show is based on O'Loughlin's experience of breaking her hand in a bike accident. She needed to keep the cast dry, but she only had a shower at her place, so she started asking friends if she could use their bathtubs. The outpouring of kindness and support she received inspired her to use her experience as a catalyst for a story about empathy, compassion, and healing on a much larger scale.
So, about that bathroom...the play does indeed take place in a real bathroom. The show I went to was in Arbor Lodge in North Portland. Fitting an audience into a normal-sized bathroom was an art form in itself -- there were eight of us, and they puzzle-pieced us in using a combination of small stools, standard chairs, tall stools, and the toilet for seating. O'Loughlin was in the bubble-filled bathtub. As soon as we got settled, she lifted her head and started talking to us as if we were her closest friends, i.e., friends who you'd feel comfortable asking for help with a bath.
O'Loughlin is a warm and open performer, which is the only reason this quirky bathtub play works, especially when she turns the audience participation dial into overdrive. As she relates her experience of the accident, which involved feeling vulnerable and alone, she asks her friends (meaning the audience) about times they've felt vulnerable and alone as well. This is where the real magic happens -- people opened up and shared their own stories, many of which were highly personal. We really were a group of close friends listening to and supporting one another. It was a moment of completely unexpected beauty.
BROKEN BONE BATHTUB runs through June 18 at various locations throughout the city. I couldn't recommend it more highly. Details and tickets here.
Photo credit: Zack DeZon