Phoenix Chorale Performs Enchanting and Ethereal NORDIC SONGS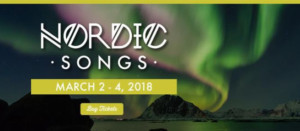 Phoenix Chorale brings a smorgasbord of ethereal and lighthearted music from Nordic countries as it performs NORDIC SONGS, March 2nd - 4th in venues around the Valley.
The Phoenix Chorale March concert is filled with music from Finland, Sweden, Estonia and Norway, conjuring images ranging from the otherworldly Aurora Borealis, to fantastic folk tales of kings and unicorns in the forests.
"Scandinavia has an intense love of singing, a long tradition of choral music that has been interwoven into the fabric of its communities," says Joshua Habermann, guest conductor for the upcoming concerts. "Because of this, some of the most beautiful, well-crafted choral music comes from this part of the world."
The first half of the NORDIC SONGS concert showcases the gorgeous music created by such masters. Audiences will hear pieces which have preserved the old folk tunes of the region with selections from Baltic composers and folk ethnologists Algirdas Martinaitis and Cyrillus Kreek, Alleluia and Õnnis on inimene.
The Chorale will then perform a traditional Norwegian piece, Amen, Jesus han skall rade, reminiscent of Appalachian tunes and conjuring visions of mountain folk. The set then concludes with Kung Liljekonvalje, a famous folk tune from Sweden, with scenes of a king whose princess dies in the forest.
Highlighting NORDIC SONGS will be the stunning piece, Unicornis Captivatur, by Ola Gjeilo. The Phoenix Chorale has become known for its interpretations of Gjeilo's music since its release of Northern Lights - Choral Works by Ola Gjeilo (2012, CHANDOS), which has become one of the Chorale's top selling albums.
The second half of the NORDIC SONGS concert is filled with fun, lighthearted music surrounding themes of love and the heart-warming celebrations of summer. "The summer season is so short in these countries," says Habermann, "and it's traditionally the time for weddings." Highlights will include a traditional Finnish processional sung when a bride is walking to her new home, as well as a piece by Jan Magne Førde, Bruremarsj, where the choir creates sounds like wedding bells.
Scandinavian composers, much like their fellow countrymen, love to travel, therefore their compositions often draw from musical traditions from all over the world, creating fascinating and intricate sounds. Phoenix Chorale will round out the program with Swedish composer Sten Källman's rendition of a traditional Haitian tune sung in Haitian Creole along with Berusa Er, a tune with a similar Swedish-Cuban salsa vibe, featuring local percussionist Sonja Branch.
The concert concludes with the rousing, El Hambo from composer Jaakko Mäntyjärvi. "It's so fun and jolly," says Habermann. "Every time I hear [El Hambo] I'm reminded of the Muppets' Swedish Chef." The quirky tune has become one of the best-selling Finnish choral works of all time, but is actually a Swedish folk dance sung on nonsense syllables.
Tickets for NORDIC SONGS start at $35 for Adults, $30 for Seniors & active Military, and $15 for Students. (Please note: tickets are $5 more on the day of the concert). Tickets may be purchased by calling 602-253-2224 or online at phoenixchorale.org.