Photo Flash: UP Playwrights Theater Presents Nick Joaquin's FATHERS AND SONS
Manila, Philippines--Except his visually engaging take in the finale, legendary director Tony Mabesa remains faithful to Virgilio Almario and Jose Lacaba's Filipino translation of one of National Artist for Literature Nick Joaquin's shortest plays "Fathers and Sons" ("Mga Ama, Mga Anak"), which runs at the Wilfrido Ma. Guerrero Theatre at the University of the Philippines-Diliman until this Sunday, September 24.
UP Playwright's Theatre's (UPPT) staging of Mr. Joaquin's opus celebrates the Filipino writer's birth centennial, which also opens the theater company's 26th theatrical season, along with its theme "Honoring Defiance."
Set in the mid- '70s, "Fathers and Sons" ("Mga Ama, Mga Anak") introduces the audience to the dying Zacarias Monzon, a self-made man who earned his "karitela king" reputation in his heyday.
In his empty mansion on the outskirts of town, Zacarias boastfully recalls his past wealth, power, and success, which also points out the atrocities brought about by a patriarchal household.
Veteran actors Leo Rialp and Menggie Cobarrubias alternate as Zacarias Monzon. Also in the cast are Rody Vera, George de Jesus III, and Greg de Leon (Celo, Zacarias' son); Stella Cañete-Mendoza, Banaue Miclat-Janssen (Nena, Zacarias' daughter); Adriana Agcaoili, Issa Litton (Sofia, Celo's wife); Belen Calingacion, Olive Nieto (Mrs. Paulo); Carlo Tarobal, Tracy Quila, Mark Dalacat (Chitong, Celo's son); Candy Pangilinan, Paula Benitez, Sarina Sasaki, Chloe Jenna (Bessie), and Vincent Macapobre and Ian Ramirez (laborers).
Ohm David is set designer; Eric Pineda, costume designer; Meliton Roxas Jr., lighting designer; Jethro Joaquin, sound designer, and Charmaine Aranton and Nour Hooshmand, dramaturges.
"Fathers and Sons" ("Mga Ama, Mga Anak") was first staged by the Philippine Educational Theater Association (PETA) in 1977. The Cultural Center of the Philippines' (CCP) resident theater group, Tanghalang Pilipino, also staged it in 1995 and 2014.
To buy tickets, contact Camille Guevara (0917 823 9531) or the Dulaang UP Office (tel. No.: 926-1349/ 981-8500 local 2449).
Photos: Dino Dimar


Stella Canete-Mendoza, Carlo Tarobal, Menggie Cobarrubias, Issa Litton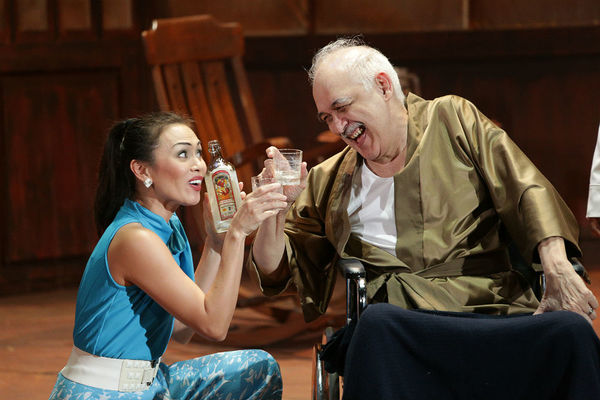 Issa Litton, Leo Rialp

Candy Pangilinan, George de Jesus III

Banaue Miclat-Janssen, Candy Pangilinan

Menggie Cobarrubias

Candy Pangilinan, Menggie Cobarrubias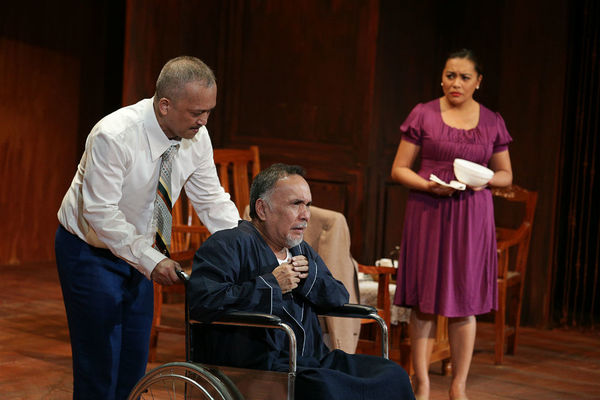 George de Jesus III, Menggie Cobarrubias, Banaue Miclat-Janssen

Stella Canete-Mendoza, Menggie Cobarrubias