The Kimmel Center & Joe's Pub Join Forces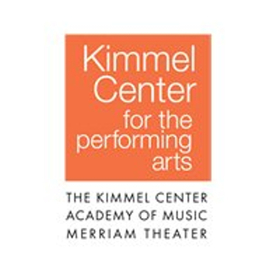 The Kimmel Center for the Performing Arts and Joe's Pub at The Public join forces once again for the Kimmel Center Theater Residency. Under the tutelage of Jay Wahl, Producing Artistic Director of the Kimmel Center, and Shanta Thake, Director of Joe's Pub, the program serves as an incubator for artists and their collaborators to create and develop music and theater projects. The program will be held in the Kimmel Center's SEI Innovation Studio (300 South Broad Street, Philadelphia, PA) from June 18-30 with Public Readings, free and open to the public, on June 29 and 30. Readings will be followed by Q&A sessions with the artists.
This year's hand-picked artists from both New York and Philadelphia include: NYC-based, wildly imaginative composer-storyteller duo James Harrison Monaco and Jerome Ellis, better known as James & Jerome; NYC-based, socio-politically driven composer, pianist, and performer Samora Abayomi Pinderhughes with writer/director Sabaah Folayan and producer/audio engineer Joe Caravalho; Philadelphia-based, beloved composer, writer, and jazz vocalist M'Balia Singley; NYC-based, daringly brilliant jazz vocalist and songwriter Somi with The Public Theater's Company Dramaturg Jesse Cameron Alick and Toru Dodo, pianist; NYC-based, jazz vocalist Sofia Tosello with journalist John Osburn and Yuri Martín Juárez Yllescas - guitarist, arranger, and composer; NYC-based, critically-acclaimed composer, lyricist, and performer Max Vernon with playwright Erin Courtney and director Ellie Heyman.
Residents will focus on creating multidisciplinary theater works - both new and previously in-progress. Artists will be challenged to go outside their comfort zones, plumbing the depths of long-form narrative, with guidance from Thake and Wahl, their collaborators and each other. The residency will culminate in excerpt readings at the Kimmel Center's SEI Innovation Studio and are BYO.
"This residency with the Kimmel Center has quickly become one of the most thrilling pieces of our work at Joe's Pub," said Shanta Thake, Director of Joe's Pub at the Public. "This kind of artist support is critical and has proven to be successful. Several projects have gone on to greater heights, including two Public Theater mainstage productions."
"The Kimmel Center is proud to produce new works, especially works created by Philadelphia-based artists, participating in our Theater Residency Program, such as Martha Graham Cracker in Lashed But Not Leashed and Johnny Showcase in The Johnny Shortcake Show," said Anne Ewers, President & CEO of the Kimmel Center for the Performing Arts.
"In partnership with our dedicated colleagues at Joe's Pub (NY), we have continued to foster individual artists in an effort to develop new works that engage our community."
Over the past five seasons, the Kimmel Center has produced finished works from the following Theater Residency Alumni: Jamie Leonhart's Estuary; Ethan Lipton's The Outer Space, which then played at The Public Theater in New York City; Dito Van Reigersberg's Martha Graham Cracker production of Lashed But Not Leashed; David Sweeny's Johnny Showcase alter-ego in The Johnny Shortcake Show; Courtnee Roze's The Culture; Martha Stuckey's Due to the Sensitive Nature; Daniel Alexander Jones' BLACK LIGHT; and Mary Tuonomen's Hello Sadness!.
The 2018 program is held in SEI Innovation Studio from June 18-30 with FREE public readings on June 29 and 30 (reservations required). Tickets are available by phone at 215-893-1999, online at kimmelcenter.org, or at the Kimmel Center Box Office at Broad & Spruce Streets (Daily 10:00AM - 6:00PM).
This is a designated BYO performance, a new feature at select performances in the SEI Innovation Studio. Acceptable forms of BYO are 6-pack of beer and/or 750ml bottles of wine only; no liquor or open containers are permitted. Limit of one (1) 750ml bottle of wine OR one (1) six-pack of beer per two patrons. Corkscrews and rolling coolers are not permitted. Ice, cups and corking service available at venue at no cost. All BYO Night patrons are subject to lawful ID checks and bag checks at the manager's discretion.
Upcoming Resident Artists in 2018:
James Harrison Monaco and Jerome Ellis, aka James & Jerome
Samora Abayomi Pinderhughes with Sabaah Folayan and Joe Caravalho
Somi with Jesse Alick and Toru Dodo
Max Vernon with Erin Courtney and Ellie Heyman
Sofia Tosello with John Osburn and Yuri Martín Juárez Yllescas
TEAM 1
James Harrison MONACO & JEROME ELLIS
James & Jerome are a storyteller-composer duo based in New York. Their work is dedicated to the blending of story and music, often with a strong international and literary bent. Their shows take various forms, including evening-length works of musical tales with food and drink, hyper-literary narratives with electronic music, and customized tours of art museums. These shows have been directed by Rachel Chavkin, Annie Tippe, and Andrew Scoville. Previous projects include: Piano Tales (Lincoln Center, Joe's Pub at The Public Theater, La MaMa), Ink (The Brick, BRICLab residency), Aaron/Marie (Incoming! @ Under The Radar Festival, Ars Nova), and They Ran and Ran and Ran (HERE Arts). They often work as a composer/sound-design duo for directors such as Andrew Scoville and Rachel Chavkin, and they are scoring and co-creating the upcoming project by The TEAM, Reconstruction. They were selected as part of The Public Theater's inaugural Devised Theater Working Group in 2015. They are also professional translators of Italian, Portuguese, and Spanish. jamesandjerome.org
TEAM 2
M'BALIA SINGLEY
M'Balia Singley is a Philadelphia-based performing artist who has been exploring and excavating the human condition through story, song and audience engagement for the last quarter century.She has shared her musical talents in such legendary music halls as the Jazz Standard and Smalls in New York City, and the World Cafe Live and the Kimmel Center in Philadelphia, and she can be heard on John Legend's Grammy-nominated debut album, Get Lifted, Orrin Evan's #knowingishalfthebattle, and her own self-produced albums, including her recent release, Halfway There. M'Balia is a graduate of Yale University with a Bachelor of Arts in history, and she attended Temple University's Beasley School of Law. http://www.mbalia.com/
TEAM 3
SAMORA PINDERHUGHES, SABAAH FOLAYAN & JOE CARAVALHO
Samora Abayomi Pinderhughes is a 25-yr-old composer & pianist, known for large multidisciplinary projects and for his use of music to examine sociopolitical issues. Samora has performed in venues including Carnegie Hall, the White House, MoMA, the Sundance Film Festival, and Monterey Jazz Festival, and has toured internationally with artists including Branford Marsalis, Christian Scott, and Emily King. Samora is the creator and composer of The Transformations Suite. He has written music for artists including Kenny Barron and Common; and is the composer for the film "Whose Streets". He is also a member of Blackout for Human Rights, and was musical director for their 2016 #MLKNow and #JusticeForFlint events. https://www.samorapinderhughes.com/
Sabaah is an award-winning storyteller who uses written and visual media to bring a fresh perspective to the urgent questions of our time. A Los Angeles native, she has thrived in vastly different environments, from South Central LA to the Upper West Side. Her outlook on social change is both inclusive and unapologetic. She attended Columbia University as a premedical student and graduated with a degree in biology. Outside-the-box thinking and passion for social good then drew her to community organizing. She honed strategic planning skills in the non-profit and grassroots sectors before becoming a filmmaker.
Joe Caravalho is an audio engineer and electronic music producer. He works as a freelance engineer at Engine Room Audio NYC and as an instructor at the Institute of Audio Research.
TEAM 4
SOMI, Jesse Alick & Toru Dodo
Born in Illinois to immigrants from Rwanda and Uganda, acclaimed vocalist & songwriter Somi has built a career of transatlantic sonicism and storytelling. Petite Afrique Somi's sophomore effort for Sony Music, is a daring, relevant, refashioning of what "jazz" and "African music" mean - both singularly and to each other. The album which was tells the story of African immigrants in the midst of a gentrified Harlem, New York, which won a 2018 NAACP Image Award for Outstanding Jazz Album and features special guest Aloe Blacc, is a timely Petite Afrique is the highly anticipated follow-up to Somi's last chart-topping album and major label debut The Lagos Music Salon which was inspired by an 18-month creative sabbatical in Lagos, Nigeria and features special guests Angelique Kidjo and Common landed at #1 on US Jazz charts. Both albums straddle the worlds of African jazz, soul, and pop with a newfound ease and a voice that Vogue Magazine simply calls "Superb!" http://www.somimusic.com/
Jesse Cameron Alick is a poet, playwright, producer, and Zen Master. Jesse is the Literary Manager at The Public Theater, where he manages the flow of plays in and out of the building, reads and sees a very high volume of plays, and feeds plays into the Public's season pipeline. He runs the Emerging Writers Group and manages such programs as New Work Now and Public Studio, while also providing dramaturgical support and serving as an artist liaison. Outside the Public, Jesse is also a freelance journalist and essayist. Jesse studied writing with playwright Adrienne Kennedy and has taught for the theater department at Lewis and Clark College.
Toru Dodo, born in Tokyo, started playing classical piano by age 4. Shortly after entering the prestigious Meiji University in Tokyo where Dodo majored in Economics, he discovered Jazz music, and soon after began gigging in the Tokyo area. After graduating from Meiji University, he studied at the Berklee College of Music in Boston (1995), where he graduated as summa cum laude in 1998. Following his graduation from Berklee, Dodo moved to NY. His musical career progressed both as a leader and a sideman with tours taking him throughout the U.S., Japan, Canada, Italy, Africa, and South America. Dodo has released to date five solo albums: "DODO" (2002); "116 West 238 St." (2004) featuring Reuben Rogers on bass and John Lamkin on drums: "DODO 3" (2006) featuring Joseph Lepore on bass and Rodney Green on drums, all produced by legendary guitarist, Yoshiaki Masuo for the Japanese label, Jazz City Spirits/Muzak. His fourth album was entitled "Do You Like Cappuccino?" (2009). His latest album is entitled "JAfro" (2012/2013) from Dodo's do & do label.
TEAM 5
Max Vernon, Erin Courtney & Ellie Heyman
Max Vernon is a composer/lyricist, playwright, performer, and brooch enthusiast. Described by the New York Times as "perversely addictive," Max is a 2017 Out100 Honoree, and recipient of the Lucille Lortel Award of Best Musical, Richard Rogers Award, Jonathan Larson Grant, New York Stage and Film's Founders Award, New York Foundation of the Arts Fellowship, and the JFund Award from the Jerome Foundation. He has been a Dramatist Guild Theatre Fellow, MacDowell Fellow, and an artist in residence at Rhinebeck Writer's Retreat. Musicals include KPOP (9 Lortel Awards Nominations, 2 Drama League Nominations, and 7 Drama Desk Nominations including Outstanding Music, Outstanding Lyrics, and Outstanding Musical) and The View UpStairs, which will have 10 new productions around the world in 2017-2019; original cast recording on Broadway Records. www.maxvernon.com
Erin Courtney's work has been produced and/or developed by Playwrights Horizons, Clubbed Thumb, The Flea, The Atlantic Theater, New York Stage and Film, Adhesive Theater, Soho Rep, The Vineyard, and The Public. She collaborated with Elizabeth Swados on two musicals Kaspar Hauser and The Nomad. She has been a resident at the MacDowell Colony, a recipient of a NYSCA grant and two MAP Fund grants from the Rockefeller Foundation. She is an affiliated artist with Clubbed Thumb, a member of 13P, and a member of New Dramatists. She teaches in the MFA playwriting program at Brooklyn College and is a co-founder of Brooklyn Writers Space. Mac Wellman's MFA program at Brooklyn College, 2003. BA, Brown University, 1990.
Ellie Heyman is a New York City-based theatre director. Her work is best known for its athletic physicality and visually imaginative aesthetic. Ellie directed The Traveling Imaginary, a theatrical rock show, which was rated in the "top five shows of the year" by NPR and a Time Out "Critic's Pick" on two continents. Ellie is the Co-Artistic Director of The Orbiting Human Circus with Julian Koster (Neutral Milk Hotel) and co-directs/develops the podcast The Orbiting Human Circus (of the Air), featuring John Cameron Mitchell, Tim Robbins, Mandy Patinkin and Charlie Day. It's been downloaded over 2 million times, Rated #1 in iTunes & featured in The New York Times, Wired & The Guardian (Top Podcasts of 2016).
TEAM 6
SOFIA TOSELLO, YURI JUAREZ & JOHN OSBURN
Sofia Tosello sang her first professional concert at the age of 8 in her hometown of Córdoba in the heart of Argentina. Tango, the best-known music of her homeland, has always been a part of her musical life. She remembers her father listening to tango on the radio and her niñera singing tangos to her as a child. Jazz was also heard in the household, and to the north of the city was the fount of Argentinian folklore, with its zambas and chacereras. When she moved to New York in 1999, it was inevitable that she would encounter even more forms, both Latin American and worldwide. She has performed in tango shows as well as concerts, singing in Recuerdo Tango and Tango Connections: A Love Story by Mariela Franganillo and touring internationally with Polly Ferman's Glamour Tango. She is attracted to tango because it lets her sing the way she talks in life. "The fullness and affective depth of Tosello's interpretations," writes one blogger, "remind me more forcefully with every hearing ... that singing and acting are in some way sister arts, that less leads to more in each, and that tango is the drama and the tragedy of a life lived between nostalgia and hope" (osburnt.com).
Yuri Martín Juárez Yllescas (Lima-Peru 1973), guitarist, arranger and composer, began his career in 1996 as guitarist for various groups of Afro-Peruvian music, folk and fusion. He has shared the stage and recorded with musicians like Arturo O'Farrill, Ron Carter, Eva Ayllón, Susana Baca, Claudia Acuña, and iconic Peruvian composers such as Kiri Escobar and Javier Lazo, and trail blazing bands including the Gabriel Alegría Afro Peruvian Sextet, Arturo O'Farrill Afro-Latin Jazz Orchestra, Novalima, among others. In November of 2008 Yuri released his first album. Afroperuano with its own repertoire and important composers Chabuca Granda, Carlos Hayre and Chucho Valdes, achieving great success in domestic and international criticism.
John Osburn is an Instructor of Theater Studies and Dramatic Literature at NYU as well as an aficionado of Argentine tango and Afro-Peruvian jazz. He has written extensively about both on his performing arts blog osburnt.com, in addition to liner essays and online notes for recording projects in both genres. Tango is an important part of his social and professional life, including co-facilitating workshops in Tango and Communication at Cooper Union, participating as a dancer in NeuroTango: Brainwaves in Sync? for Brain Awareness Week NYC in 2014, being host dancer on a tango cruise, and curating tango events. He is writing text and conducting for a book of tango photography as part of the Social Tango Project this August in Buenos Aires. His work crosses artistic and disciplinary boundaries. CONNECT, which he co-developed and directs at the Cooper Union for the Advancement of Science and Art, uses performing arts to enhance the communication skills of undergraduate engineering students. His background includes directing, performance composition, editing and criticism, dramaturgy, and research that connects drama and performance to law, news, and engineering.
Former Resident Artists
2017:
Molly Pope with Matt Aument
Jo Lampert with Kate Ferber
Martha Stuckey, Kate Faust, and Isaac Stanford
Daniel Watts with Michael Thurber
Ethan Lipton - Playwright-in-Residence
Ellie Heyman - Director-in-Residence
2016:
Carol Lipnik with Tareke Ortiz
Dawn Landes with Daniel Goldstein
Theo Bleckmann with Jacob Cooper
Courtnee Roze with Jeffandy AllTogether
David Sweeny with Ross Bellenoit and Michael Baker
2015:
Daniel Alexander Jones with Bobby Halvorson
Jamie Leonhart with Joanna Settle
Ethan Lipton & his Orchestra
Dito Van Reigersberg with Eliza Hardy Jones, David Sweeny and Vince Federici