Click Here to Visit the College Center

Blogs are the opinions of the authors and do not necessarily reflect the opinions of BroadwayWorld. BroadwayWorld believes in providing a platform for open and constructive conversation.

Student Blog: My First Director's Note
I was not afraid of the story itself, but I was afraid of how to bring it to life as a new director.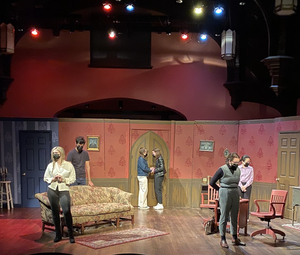 Directing is not an easy task, but it was one of the most rewarding endeavors I have ever taken on. The entirety of my free time outside of class during September and October was dedicated to co-directing Quadramics Theatre Company's production of The Haunting of Hill House. Even though I have performed for years and have experience stage managing and designing, I had never directed a play. Luckily, I had a fabulous first-time co-director and an incredibly talented cast and crew. Undoubtedly, this experience has been one of my highlights of college and has influenced me to consider directing as a career in addition to my initial interests in producing.
After our first run, filled with laughs and screams, I finally saw my vision fit with my co-director's vision. When our hand-painted set was constructed on the first day of tech week and cue-to-cue began, I got chills and knew my work as a director was practically done. I could finally enjoy the show and see everything come together. Before our final run, I sat in the theatre and channelled my thoughts and feelings into my first director's note. All audience members had the opportunity to read this director's note from our digital program.
Now imagine you are in the Class of '49 Auditorium at the University of Pennsylvania. Hill House looms in front of you, and you begin reading the digital program where you stumble upon my director's note:

Ever since I was a child, I was drawn to mysteries and psychological thrillers. From Scooby Doo to Nancy Drew, my heroes were detectives like Dr. Montague searching for the answers to Hill House. My foremost goal as a director is to leave audiences feeling compelled to dive deeper into a story to see how it expresses the human condition. Shirley Jackson's The Haunting of Hill House was the perfect option for me to tackle this aspiration while following my interests. During the height of the pandemic, I binge-watched the television series based on the book, and I fell in love with the seamless combination of horror, drama, family, and psychoanalysis that the story allows for. This inspired me to research Jackson's original story and I discovered the play adaptation you will be experiencing at this performance. I was not afraid of the story itself, but I was afraid of how to bring it to life as a new director. I would like to thank Bilal Morsi for joining me on this journey to make our directorial debuts with a classic thriller that not only investigates the human mind, but also brings chills to audiences for it scarily could happen in any time period. I would also like to thank my qamily on Q board for giving Bilal and I this opportunity and supporting us for every second of the past few months. I am excited for you (yes, you!) to enter the Hill House of 2021; the Hill House that will make you question what home and fear truly are.