IT CAN'T HAPPEN HERE Comes to ActorsNET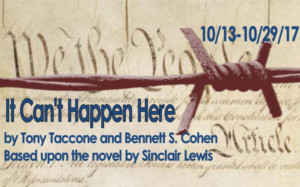 ActorsNET launches its 22nd season with a stunning new adaptation by Tony Taccone and Bennet S. Cohen of Sinclair Lewis' satirical drama, It Can't Happen Here. Writing in the 1930s, Lewis, an acclaimed socially conscious author, adapted his best-selling novel of the same name into a play as a warning. His message? Do not elect a fascist to the American presidency.
This play imagines the dire consequences had Franklin Delano Roosevelt been defeated in his bid for a third term. Elected instead is pseudo-populist "Buzz" Windrip, who initiates martial law, prompting many to flee the country and/or join resistance movements. Co-directed by Joe Doyle and Andrena Wishnie.
Co-starring Tom Stevenson and Kyla Donnelly. Also starring (alphabetically) James "Jim" Cordingley, John Helmke, Gina Rose Hermans, Tim Irvine, Olivier Leroux, Jessica Mousley, Marco Newton, Ed Patton, Jack Petzko, R.O. Scott, D.J. Tomalin & Hayley Rubins-Topoleski. Featuring (alphabetically) Francesca Arco, Sean Costello, Joe Doyle, Dee Hamilton, Bonnie Kapenstein, Griffin Kemp, Katie Marra, Rick J. Speer and Ellen Wisnosky. Stage managed by Francesca Arco and Katie Marra. Set and costume design by Cheryl Doyle. Lighting design and operation by Andrena Wishnie of Morrisville. Sound design by Joe Doyle. Presented by special arrangement with Dramatists Play Service.
SHOW DATES: Oct. 13 - 29, 2017. (Nine performances only)
TIMES: Friday and Saturday, 8 p.m. and Sunday, 2 p.m.
PLACE: The Heritage Center Theatre, 635 North Delmorr Avenue (Route 32), Morrisville, PA - near the Calhoun Street Bridge.
ADMISSION: $20 for adults, $17 for seniors (62+), $15 for WHYY cardholders and students. Parental discretion advised. Group rates available for ten or more.
TO RESERVE: Call the nonprofit Actors' NET at 215-295-3694 or email actorsnet@aol.com.
ON THE INTERNET: The Company's website is www.actorsnetbucks.org. Social networking includes Facebook page -- "ActorsNET, AKA Actors' NET of Bucks County" -- and Twitter name @actorsnet.
COMING NEXT: Weekends, Dec. 1 - 17, ActorsNET presents the regional premiere of Bo Wilson's comedy, THE CHARITABLE SISTERHOOD CHRISTMAS SPECTACULAR - a comic romp about the theft of a baby Jesus from a crèche, which causes ladies from feuding southern church groups to unite and present a Christmas show. Directed by Joe Doyle. Starring Virginia Barrie, Maryalice Rubins-Topoleski and more.