UCF Graduate Student Produces All Female TWELFTH NIGHT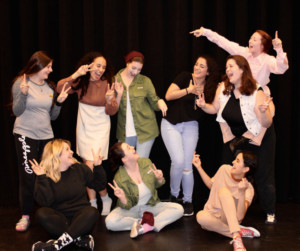 As a part of her graduate thesis at the University of Central Florida, MFA Acting Candidate Mandi Lee is putting up an all-female production of Shakespeare's Twelfth Night. The idea came when Orlando Shakespeare Theatre announced that they would be producing an all-male, Elizabethan set version of the same play this February and March.
Ms. Lee met with Orlando Shakespeare Theatre's Artistic Director, Jim Helsinger, and pitched the the idea of doing a contemporary set, all-female version as a counterpoint.
Mr. Helsinger told us, "I'm really excited about this production. What could be better for audiences than seeing our partner, UCF, doing an all female Shakespeare while we are doing an all-male!"
"I have had a passion for gender play in Shakespeare for some time," said Ms. Lee. "In the midst of the #TimesUp and #MeToo movements, it seems more important than ever to give a voice to women on stage. Shakespeare is the greatest playwright in the English language, and it is incredibly empowering to stand beside a cast of all women as they breathe new life into his words."
The limited run production features both student and professional actors, and will be performed in the intimate Santos Dantin Studio Theatre at the Lowndes Shakespeare Center. Each performance will culminate in a talk back with the director and cast. A Special Fundraising and Sneak Preview Event is happening on March 4th at Roque Pub. The night will feature Theatre Trivia, Raffles, Prizes, and live performances from the cast.
Advance Tickets $10
Available at: https://www.eventbee.com/v/mandileeproductions/event?eid=142468644#/tickets
Photo Credit: Jaclyn Thomas