BWW Review: Creighton University Brings BONNIE & CLYDE to Omaha!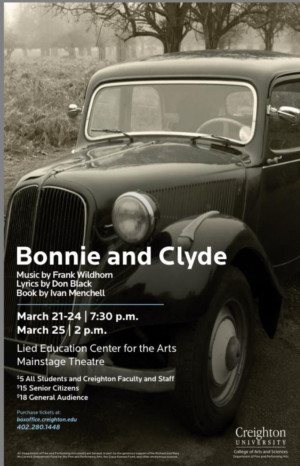 One of the things that I will never understand is how theater critics in New York City managed to shut down one of the best musicals I've seen after only one month. What a shame! BONNIE & CLYDE ran on Broadway during December of 2011 and was closed before the public even had a real chance to experience it. I was lucky enough to see it, to be moved by it, and to become one of its many fans. I fell in love with Jeremy Jordan's Clyde Barrow and Laura Osnes' Bonnie Parker. If you want a chance to see this wonderful show, Creighton University Theatre Department is running BONNIE & CLYDE through March 25 at the MainStage Theatre at the Lied Education Center for Fine Arts.
BONNIE & CLYDE, with memorable music by Frank Wildhorn, lyrics by Don Black, and book by Ivan Menchell, tells the story of the fabled bank robbers, Clyde Barrow and Bonnie Parker, during the Great Depression. From small towns in West Texas, young Bonnie (Mackenzie Reidy) yearns to become a famous movie star like Clara Bowe. Young Clyde (Carson Bishop) dreams of being a gun slinging outlaw like Billy the Kid. As older versions of themselves take the stage, Bonnie (Natalie Hanson) and Clyde (Andrew Wall) find out that being infamous is not the same as being famous and "ain't nothing I can't do with a gun" ain't the truth.
Bonnie and Clyde are both devoted to their families, but their families cannot save them from their own self destruction. Clyde drags his brother Buck (Peter Nicholson) in and out of jail with him while Buck's goodhearted wife Blanche (Torisa Walker) tries to save his life and his soul. Nicholson and Walker have remarkably good on stage presence, and Walker's voice is exceptionally pleasing.
Frank Wildhorn (Jekyll & Hyde, Dracula) has written music that burrows into your head and lives there. I remember after seeing the show in NYC, I bought the cast recording and listened to it on repeat. Critics have called his songs derivative psuedo-pop, but I call them singable, memorable, likable show tunes that cross the lines of gospel, rockabilly, and blues. The duet between Hanson and Walker "You Love Who You Love" pulls at your heart with its sentimentality. Walker with the three ladies in the hair salon is one of the best comic scenes of the night as they sing about their freedom from their imprisoned husbands in "You're Going Back to Jail." Ted (Oliver Alonzo) is tragic as he pines for Bonnie in "You Can Do Better Than Him."
The use of vintage film clips and photos alongside actors replicating the poses and costumes is a creative touch that works well. Bill Van Deest's scenic design is simple, but effective. Lora Kaup's costume design is notable, particularly the red suit that copies Bonnie Parker's.
I'd like to shout out to Director Amy Lane and Musical Director Stephen Sheftz for bringing this marvelous musical to Omaha.

Related Articles View More Omaha

Stories

Shows