Click Here for More Articles on NEW YORK CITY
Winter Mountain Village Will Come to Life at HERE in TREE POP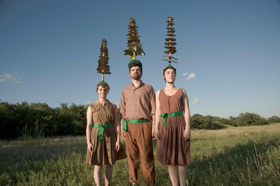 As part of its 25th anniversary season, HERE will present the world premiere of Tree Pop by multidisciplinary artist Lake Simons and composer and musician John Dyer.
In Tree Pop, a presentation from HERE's Dream Music Puppetry Program (Basil Twist, Artistic Director), six performers bring a miniature, winter mountain village to life using a variety of puppetry techniques including direct manipulation, shadow, and large-scale figures worn by the performers. Set against Dyer's sparse Americana-influenced score, Tree Pop finds Simons working at the height of her artistry to create a whimsical meditation on the passage of time.
Eccentric characters abound in Tree Pop including a forest of trees who grow, walk, and dance; a train conductor who beckons passengers to explore the village and woods; a poet who houses a family of displaced birds in his beard; and a woman who lifts off the ground in her pigeon shoes. As their wordless encounters play out, a creature lurks on the edges of the town.
"Tree Pop is inspired by an environment a dear friend of mine, now deceased, created in his home," says Simons. "In his New York City apartment, he created a miniature forest of pine trees and other flora, complete with special figurines and images placed perfectly throughout it. I loved spending time with him in that world. Tree Pop pays homage to his memory and that environment by creating a world where different people live in harmony with each other and nature."
The multi-talented cast of Tree Pop includes Kiyoko Kashiwagi, Cory Antiel, Justin Perkins, Katie Melby, Allen Dean, and Lake Simons. Additional creative team includes Ayumu "Poe" Saegusa (lighting design), Neelam Vaswani (production stage manager), and Kaya Hubbard (stage manage).
Ten performances of Tree Pop will take place November 30-December 10 (see above schedule) at HERE, located at 145 Sixth Avenue, just below Spring Street. Critics are welcome as of November 1, which will act as the official opening. Tickets, priced at $25 general, can be purchased by visiting here.org or by calling 212-352-3101. In person sales at the box office after 5pm only on performance days and two hours prior to curtain for matinees. For Group Sales, contact tickets@here.org.
Tree Pop is a HERE Dream Music Puppetry Presentation.
ABOUT THE ARTISTS:
Lake Simons is a multidisciplinary theatre artist based in New York City. She is a director, designer, choreographer, puppeteer, craftsperson, clown, and actress. She has created over a dozen theatre productions both original and adapted texts from the ground up that utilize puppetry, physical theatre, and live music, but most importantly she relies on make-believe. Her works have been performed in New York City, Fort Worth, Boston, Chicago, and Edinburgh, Scotland. Lake is an artistic associate with her family's Hip Pocket Theatre in Texas. She served as Puppetry Associate for the Lincoln Center Broadway production of War Horse. Past collaborative productions include: The Land of Oz, Bremen Town Band, Don Quixote, Carnival of the Animals, Rose Nose Rhapsody, A Tempest, Wind Set-up, Moby Dick, Electric Bathing, Etiquette Unraveled, White Elephant, Alice In Wonderland, How I Fixed My Engine with Rose Water, What's Inside the Egg?, and Paper Plane. Lake is the recipient of six Jim Henson Foundation grants. She teaches set design and puppetry at Sarah Lawrence College. She is a graduate of Ecole Jacques Lecoq in Paris, France and holds a BFA in Set Design from the University of North Carolina School of the Arts.
John Dyer is a Brooklyn-based singer-songwriter, composer (for experimental theatre and dance), and visual artist. His primary instrument is guitar. In New York he has performed at The Knitting Factory, Tonic, Living Room, American Folk Art Museum, St. Ann's Warehouse, HERE, Dixon Place, La MaMa, St Marks Church, and Theatre For The New City. His CD GoStayPlay (2004) was an Independent Music Awards Best Album Finalist while his song Hot Owl received an Honorable Mention (for Best Song/ Performance) in the International Songwriting Competition. He is the recipient of nine consecutive ASCAPlus Awards, two Meet The Composer grants and multiple Dallas Fort Worth Theatre Critic's Forum Awards. Dyer served as Music Director for several years with North Carolina's Paper Hand Puppet Intervention. Theatrical collaborations with his partner, puppetry artist Lake Simons, include What's Inside The Egg? (2002), Alice's Adventures in Wonderland (2003), How I Fixed My Engine With Rose Water (2006), White Elephant (2009), Wind Set-up (2011), Moby Dick (2012), A Tempest (2013), Rose Nose Rhapsody (2014), Don Quixote (2016), & The Land Of Oz (2017).
HERE's Dream Music Puppetry Program, under the artistic direction of Basil Twist, with producing direction from HERE co-founder Barbara Busackino, is one of few programs in the country to grow and commission contemporary adult puppet works, particularly works that feature live music as a collaborative element. Dream Music seeks to secure the future of puppetry by providing increased development and performance opportunities to puppet artists, and by collaborating with artists from other disciplines to develop new puppetry techniques. In addition, Dream Music brings to New York the most excellent of international puppetry, reflecting on Twist's roots at the E?cole Supe?rieure Nationale des Arts de la Marionnette in Charleville-Mezieres, France. Dream Music was inaugurated with the premiere of Basil Twist's OBIE-award winning Symphonie Fantastique in 1998 and the opening of the Dorothy B. Williams Theatre, an intimate space created specifically for intimate puppetry. HERE's Dream Music is also proud to house the Griff Williams Puppetry Collection. The 6 antique marionettes of Harry James, Griff Williams, Cab Calloway, Arturo Toscannini, Ted Lewis and Paul Whiteman were all performed with The Griff Williams Orchestra in the 1930s & 40s throughout America's big band era. They have a permanent home outside the Dorothy B. Williams Theatre at HERE.
The OBIE-winning HERE (Kristin Marting, Artistic Director and Kim Whitener, Producing Director), which celebrates its 25th Anniversary this season, was named a Top Ten Off-Off Broadway Theatre by Time Out New York, is a leader in the field of producing and presenting new, hybrid performance viewed as a seamless integration of artistic disciplines-theater, dance, music and opera, puppetry, media, visual and installation, spoken word and performance art.
Standout productions include Eve Ensler's The Vagina Monologues, Basil Twist's Symphonie Fantastique and Arias with a Twist, Trey Lyford & Geoff Sobelle's all wear bowlers, Young Jean Lee's Songs of the Dragons Flying to Heaven, James Scruggs Disposable Men, Corey Dargel's Removable Parts, Taylor Mac's The Lily's Revenge, Kamala Sankaram's Miranda and Robin Frohardt's The Pigeoning, among many others. In 2008, following an extensive renovation, HERE re-opened the doors to its long-time downtown home for the arts, where it continues as a vibrant, welcoming haven for artists and audiences alike.
Photo Credit: John Carlisle Moore