Wagner College Theatre's Stanley Drama Awards to Be Announced Tonight At The Players Club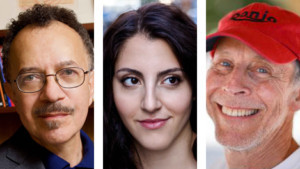 Wagner College Theatre's Stanley Drama Award, now celebrating its 60th Anniversary, has awarded this year's honor to B.V. Marshall for his play, Incident at Willow Creek.
Two finalists for this year's awards are Nicole Pandolfo for her play, The Belle of Belmar, and Stuart Warmflash for his play, Mortar and Pestle.
The Stanley Drama Awards will be given at the historic Player's Club in Gramercy Park, Manhattan, on Monday, February 12 at 6:00pm.
In honor of the Stanley Drama Awards 60th Anniversary, there will be a special performance of "Take Me or Leave Me" from Jonathan Larson's RENT, which won the 1996 Stanley Drama Award. Wagner College Theatre 2013 alums Melanie Brook and Jenny Kelly will recreate their roles as Maureen and Joanne respectively, accompanied by Matthew Hosmer.
Wagner College Professor Mickey Tennenbaum directs a reading from Incident at Willow Creek that features Wendy Hobbie as Verité and Scott Hoke (WCT Class of 2018) as Maxwell.
The Stanley Drama Awards are under the direction of Wagner College Professor Todd Alan Price, Esq.. Judges for this year's Awards are Adam Bock, Stephanie DiMaggio and Jeffrey Sweet. Readers for the Awards are Susan Fenley, Michele Pawk, Theresa McCarthy, David McDonald, Mickey Tennenbaum, and Amy Williams.
B.V. Marshall's Incident at Willow Creek synopsis: Verité, an African-American professor, is at a crossroads. She's smug about her neutral stance regarding guns, yet she obsesses over a recent gun incident that resulted in the killing of an innocent black man. She closely follows the story on TV and radio and is torn between the need to defend oneself and the need to comply with law enforcement. At the same time, Maxwell, a student perplexes her with his own fixation on guns. He even offers to teach her how to shoot, and that conflicts with her sense of self. With her own college preparing for security risks, Verité is forced to confront her beliefs, her passive nature and her own physical safety.
B.V. Marshall's work has been performed and developed at the HBO New Writers Workshop, Theatre for the New City (New York), Luna Stage, Playwrights Theatre of New Jersey, Interact Theatre in Philadelphia, WBEZ Chicago public radio, the Kennedy Center, the Warner International Playwrights Festival and the Berrie Center at Ramapo College. Most recently, Incident at Willow Creek was awarded the Bauer-Boucher award from Kean University, and a reading of Five Husbands was presented as part of the city of Plainfield's Gay Pride Celebration. Some of his honors include fellowships from the Geraldine R. Dodge Foundation, the Helene Wurlitzer Foundation, the Victor Bumbalo/ Robert Chesley Foundation, the Virginia Center for the Creative Arts, the National Endowment for the Humanities and four playwriting fellowships from the New Jersey State Council on the Arts. Previously a musician and a teacher of English in Middle Eastern countries, Marshall has published poetry, fiction and essays in several literary magazines. Most recently, his essay appears in the book, "What Does It Mean to be White in America?" He has directed numerous productions and readings, including the upcoming musical Harlem Ladies Knittin' and Bitchin' Society. A member of the Dramatists Guild, the Playwrights Center in Minneapolis and the Ninth Floor in NYC, Marshall earned a B.A. from Kean University and an MFA in creative writing from the University of Massachusetts in Amherst after studying playwriting at Hunter University. As an associate professor at Middlesex County College in New Jersey, he specializes in African-American literature, creative writing and playwriting. The school recently named him its Scholar of the Year for his creative work.
Finalist Nicole Pandolfo was recognized for her play, The Belle of Belmar. Nicole was a Stanley Award finalist in 2017 for her play, Pump. Her NJPAC Stage Exchange commission play, Brick City, opens in July at Premiere Stages at Kean University. She was a 2017 Dramatists Guild Foundation Fellow, and her work has been developed at the Eugene O'Neill Theater Center as a Playwright Observer, at Tofte Lake as a Jerome Foundation Fellow, and at The Actors Studio, N.J. Rep and the Lark, among others. She was a finalist for the Edward Albee Foundation Fellowship, SPACE on Ryder Farm, and the Leah Ryan Fund for Emerging Women Writers. She is a member of The Actors Studio in the Playwright/Director Unit and earned her MFA degree from Hunter College.
Finalist Stuart Warmflash was recognized for his play, Mortar and Pestle. A native New Yorker, Stuart Warmflash has been involved in the theater for over 35 years. After graduating from New York University, he attended the Royal Central School of Speech and Drama in London. He then enjoyed a successful acting career, appearing on Broadway (with the prestigious Phoenix Repertory Co.) and Off-Broadway as well as in film and television. He subsequently began writing and directing. His first play, Art's Life, enjoyed an extended run on Theatre Row, and his almost two dozen subsequent plays have been read/performed all over the United States and Europe. In 1994, he founded the Playwrights Harbor to provide a supportive, self-directed, cooperative workshop in which writers could realize their visions with the assistance of a company of actors and directors. Fortified by artistic growth and enthusiastic public response, he launched the not-for-profit Harbor Theatre. Through weekly workshops, the company contributed to the ongoing development of over 50 new works, producing public presentations and full productions. Currently, the company is on hiatus. He has also written for television and scripted the theatrically released, award-winning, full-length documentary, "Unforgotten: 25 Years After Willowbrook." In his "spare" time, Warmflash earned a master's degree in special education and now devotes several hours a day to assisting students with learning disabilities.
About the Stanley Drama Award. The Stanley Drama Award was established in 1957 by Staten Island philanthropist Alma Guyon Timolat Stanley and endowed through the Stanley-Timolat Foundation to encourage and support aspiring playwrights. The national Stanley Award competition is administered by the Wagner College Theatre program, ranked as the number one college theater program in the country in the Princeton Review's "Best Colleges Guide 2015." The Stanley Award carries with it a monetary prize along with the distinction of joining the company of past Stanley winners.
The Stanley Drama Award has a long and distinguished history. Past winners include Terrence McNally's This Side of the Door (aka Things That Go Bump in the Night), Adrienne Kennedy's Funnyhouse of Negro & The Owl Answers, Lonne Elder III's Ceremonies in Dark Old Men, and Jonathan Larson's Rent. Among those judging for the Stanley Award have been playwrights Edward Albee and Paul Zindel, actresses Geraldine Page and Kim Stanley, and TV producer/pioneer talk-show host David Susskind.
More Hot Stories For You