The Drilling Company Brings Shakespeare Back to Bryant Park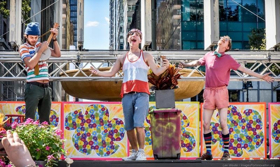 The Drilling Company, led by director/producer Hamilton Clancy, returns for their fifth summer season at Bryant Park. Best known for their Shakespeare in the Parking Lot performance series (now entering its 24th season), The Drilling Company brings three of The Bard's best-known plays to the park this summer: A Midsummer Night's Dream, Twelfth Night, and Macbeth. The series kicks off with a special performance on Shakespeare's birthday, The Folio is Female: Great Women of Shakespeare (April 23). Clancy explains, "We're trying a simple experiment in Bryant Park: pairing a great comedy, a great tragedy and an annual return of one of the greatest in the canon, Twelfth Night. We thought an annual Twelfth Night in Bryant Park, in the middle of the summer, could become something New Yorkers and visitors look forward to. We chose A Midsummer Night's Dream for its accents of comedy and love and Macbeth for its political overtones.
"In the last five years with Bryant Park, we've grown to be the second largest producer of free Shakespeare in the city. We're obviously inspired by Joseph Papp, the predecessor of free Shakespeare in Manhattan. But Bryant Park offers something different than the Delacorte. There are no tickets and no lines. With an expansive Lawn and thousands of chairs, we can welcome all who come. It's a tremendous privilege. And each production is set against the buzz of the park and the backdrop of the city."
The Folio is Female: Great Women of Shakespeare
Monday, April 23, 6:00pm - 8:00pm
Fountain Stage
A special birth (and death) day party for William Shakespeare that celebrates the dynamic female leads of Shakespeare's plays. Audiences can expect to see climactic moments from both Shakespearean comedies and dramas at this special event, including excerpts from Othello, A Midsummer Night's Dream, Hamlet, The Merchant of Venice and The Taming of the Shrew. The Folio is Female director Jane Bradley says, "In this cultural moment of Pantsuit Nation, #MeToo and real-life heroes like Emma Gonzales, it has become abundantly clear that the future is female ... and so is the Folio. Shakespeare's plays contain some of theater's greatest female leaders, icons and trailblazers, characters we're still coming to terms with centuries later." Since Shakespeare's death as well as his birth are traditionally noted as April 23, the evening will feature a New Orleans Second Line funeral processional to spirit the Bard into Bryant Park, played by guest artists, the Jambalaya Brass Band, and accompanied by the entire cast.
Midsummer Night's Dream
May 18 - June 2 (Fridays and Saturdays), 7:00pm - 9:00pm
Upper Terrace
A familiar sight ---- a romantic Bryant Park wedding ---- develops into a modern-day twist on Shakespeare's classic comedy, full of madcap revelry and literary fantasy. A Midsummer Night's Dream's cast will be led by director Drew Valins, assisted by Karla Hendrick, and will feature Drew Valins, Mary Linehan, Brad Frost, Kathleen Simmonds, Eddie Shields, Serena Miller, Emmanuel Elpenord, David Marantz, Jarrod Bates, Una Clancy, and design by Jennifer Varbalow.
Twelfth Night
July 27 and July 28 (Friday and Saturday), 7:00pm - 9:00pm
July 29 (Sunday), 3:00pm - 5:00pm
Bryant Park Stage
Twins Sebastian and Viola stumble upon the flamboyant, technicolor world of Illyria, visually inspired by the surreal wonderlands of The Wizard of Oz, Yellow Submarine and the works of Doctor Seuss --an exuberant live-action cartoon. Twelfth Night, directed by Jane Bradley, returns with last year's cast mostly intact, led by Natalie Smith, Kathleen Simmonds, Lukas Raphael, Rachel A. Collins, Emmanuel Elpenord, Jack Sochet, and Haley Simmonds. Susan Edkins returns as designer.
Macbeth
August 24 - September 8 (Fridays and Saturdays), 7:00pm - 9:00pm
Upper Terrace
A Gangs of New York-styled Macbeth, set in the mid-1800s when early settlers fought for turf in the infamous Five Points area. Macbeth will be led by Alessandro Colla, with Brad Frost in the leading role; the remainder of the cast will be announced soon.
About Bryant Park Corporation
Bryant Park Corporation (BPC), a private not-for-profit company, was founded in 1980 to renovate, finance and operate Bryant Park in New York City. BPC is funded by income from events, concessions and corporate sponsors, as well as an assessment on neighboring properties, and does not accept government or philanthropic monies. In addition to providing security and sanitation services and tending the park's lush lawn and seasonal garden displays, BPC provides public amenities and activities, including movable chairs and tables, cafe umbrellas, restaurants, food kiosks, world-class restrooms, and a wide range of free events throughout the year. The Midtown Manhattan park is visited by more than six million people each year and is one of the busiest public spaces in the world. BPC's website, bryantpark.org, is available for more detailed information and a schedule of upcoming events.
Photo Credit: Lee Wexler
More Hot Stories For You