THE SOAP MYTH Starring Ed Asner and Tovah Feldshuh to Be Filmed by WNET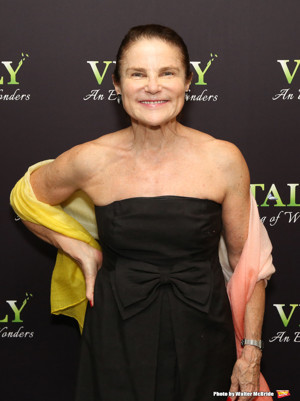 On Monday, April 22, 2019 at 7 pm, ALL ARTS, a new 24/7 arts and culture broadcast channel and streaming platform from WNET, will film a special performance of Jeff Cohen's The Soap Myth. The concert reading stars seven-time Emmy Award and five-time Golden Globe Award winner Ed Asner and two-time Emmy Award and four-time Tony Award nominee Tovah Feldshuh at The Leo and Julia Forchheimer Auditorium, The Center for Jewish History, 15 W. 16th St. Tickets for this one-night-only event, priced $20-25, are available online athttps://programs.cjh.org/event/the-soap-myth-2019-04-22. Tickets may also be purchased at the door for $30, subject to availability. The evening also includes a post-performance discussion with the cast, creative team, and Stefanie Halpern, Acting Director of the YIVO archives.
Mr. Asner stars as Holocaust survivor Milton Saltzman and Ms. Feldshuh plays the dual roles of Holocaust scholar Esther Feinman and Holocaust denier Brenda Goodsen. Also featured in the cast are Drama Desk Award winner Ned Eisenberg, who plays Holocaust scholar Daniel Silver and various other roles, and Liba Vaynberg as Jewish journalist Annie Blumberg. The reading is directed by Pam Berlin.
The play dramatizes the friendship that develops between a young Jewish journalist, Annie Blumberg, and a cantankerous Holocaust survivor, Milton Saltzman, on a crusade about including "soap" in Holocaust museums-Did the Nazis make soap from the corpses of murdered Jews?Along the way, the play grapples with the pernicious evil of antisemitism masquerading as Holocaust denial. The Soap Myth tackles such timely and provocative themes as how does a survivor survive surviving, who has the right to write history and how we determine the truth.
Mr. Cohen, commenting on the continued relevance of The Soap Myth, observes: "In light of recent tragic events and the frightening rise of bigotry and intolerance, I feel a renewed urgency to fight the tide of hatred using the weapons I possess-words and ideas."
Mr. Asner is beloved for such legendary roles as Lou Grant in "The Mary Tyler Moore Show" and "Lou Grant," Santa Claus in the Will Farrell-comedy Elf, and Carl Fredrickson in the smash animated feature Up. This marks the third year that he will perform the role of Holocaust survivor Milton Saltzman in The Soap Myth. Ms. Feldshuh, who is the recipient of the Eleanor Roosevelt Award and the Israel Peace Medal, is adored for her portrayal of such roles as Israel Prime Minister Golda Meir in Golda's Balcony, the longest running one-woman play in Broadway history, and her Emmy Award-nominated character Danielle Melnick on NBC's "Law & Order."
Concert readings of The Soap Myth starring Ed Asner have toured the country over the past three years with casts that have included Ms. Feldshuh, Johanna Day, Jayne Atkinson, Mr. Eisenberg, Donald Corren, Ms. Vaynberg and Blair Baker. The Soap Myth was originally produced Off-Broadway at the Roundabout Theater in 2012 by the National Jewish Theater Foundation in a production directed by Arnold Mittelman and a cast that included Greg Mullavey, Dee Pelletier, Donald Corren and Andi Potamkin
Photo Credit: Walter McBride / WM Photos