Photo Flash: The Actors Studio Drama School Performs TOPDOG/UNDERDOG, BRILLIANT TRACES, RAISED IN CAPTIVITY
Week Three of The Actors Studio Drama School at Pace University's MFA Repertory Season (April 11 – 14) present scenes from Topdog/Underdog and Raised in Captivity, plus the one-act play, Brilliant Traces. Check out production photos below!
Scenes from the 2002 Pulitzer-Winning Drama Topdog/Underdog written by Suzan-Lori Parks. ARTISHA MANN and Crystal Thompson play two brothers, Lincoln and Booth respectively, who hustle cards and take money from fools. Lincoln, a master of the con game three-card monte, has abandoned a life of crime for a more respectable job impersonating Abraham Lincoln at an arcade. Booth is a petty thief who tries to emulate his older brother's success by learning how to "throw the cards." The brothers compete against each other, vying for control (think Cain & Abel). At any given moment, one may yield power over the other, only to relinquish it in the next. Directed by Colleen Britt.
The one-act play Brilliant Traces by Cindy Lou Johnson tells the story of Henry Harry (OLLIE OLIVER), a lonely man who has sworn off personal relationships to live an isolated existence in a remote cabin in the wilds of Alaska. As a blizzard rages outside, his seclusion is interrupted by Rosannah DeLuce (AMIE LYTLE), a distraught runaway bride from Arizona. Like Henry, she has been wounded and embittered by life, and wants to escape her responsibilities and get as far away from her loved ones as possible. Directed by Chris Triebel.
Scenes from Raised in Captivity by Nicky Silver. The play, which received a Drama Desk Award nomination for Outstanding Play in 1995, explores the guilt and redemption in the lives of two estranged siblings - Sebastian Bliss (DANIEL J. O'BRIEN) and his twin sister, Bernadette Dixon (Heather Burgher) - when they re-unite at their mother's funeral. Dr. Hillary MacMahon (Marianne Vidal) is Sebastian's needy therapist. A convicted murderer on death row, Dylan (Adam Petherbridge), is Sebastian's pen pal and closet relationship in recent years. Kip, Bernadette's dentist husband (Peter Marciano), hates teeth. Directed by Melody Erfani.
Further details: www.pace.edu/asdsrep. The 24-hour reservation line is: (212) 501-2099 and email is ASDSRep@pace.edu. Free admission.
Photo Credit: Scott Wynn



(Seated) DANIEL J. O'Brien and Adam Petherbridge in RAISED IN CAPTIVITY

Marianne Vidal and DANIEL J. O'Brien in RAISED IN CAPTIVITY

DANIEL J. O'Brien, Heather Burgher and Peter Marciano in RAISED IN CAPTIVITY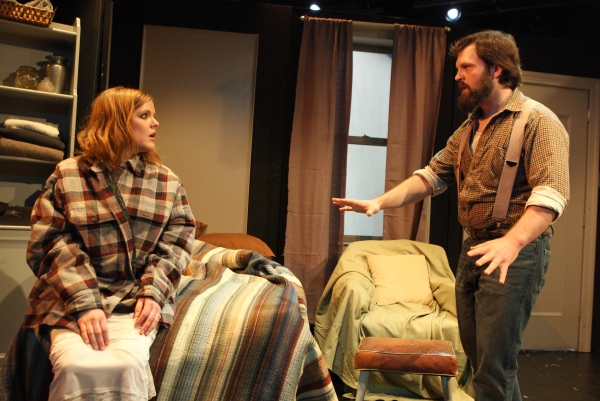 AMIE LYTLE and OLLIE OLIVER in BRILLIANT TRACES

Crystal Thompson and ARTISHA MANN (wearing hat) in TOPDOG/UNDERDOG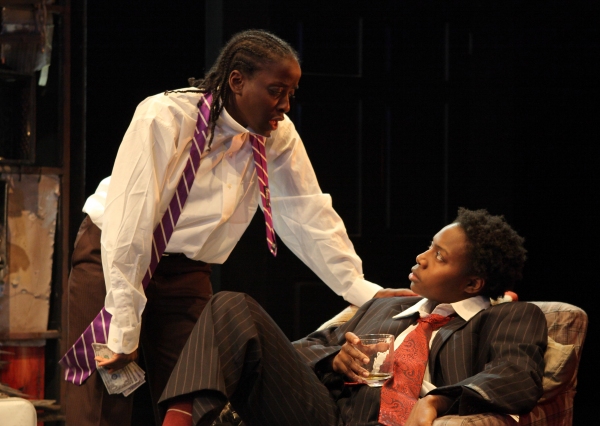 Crystal Thompson (standing) and ARTISHA MANN in TOPDOG/UNDERDOG

AMIE LYTLE and OLLIE OLIVER in BRILLIANT TRACES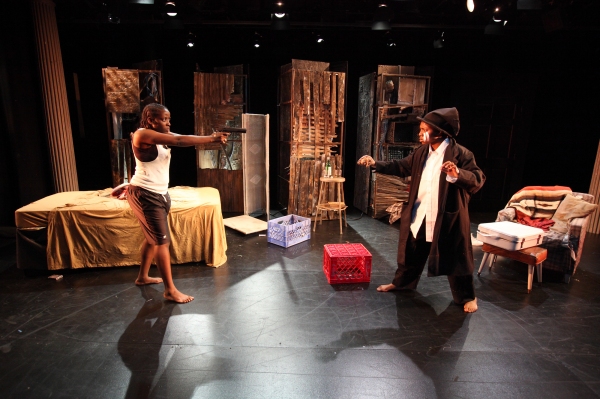 Crystal Thompson (with gun) and ARTISHA MANN in TOPDOG/UNDERDOG