Harmony Wheeler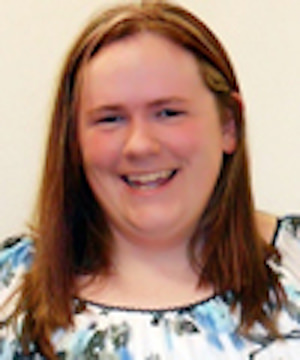 Harmony Wheeler has worked for theatres including Sierra Repertory Theatre, Modesto Performing Arts, and The Hanover Theatre. Her byline has appeared with the Sierra Lodestar, The Modesto Bee, The Chimes at Biola University (where she served as News Editor), StaticMultiMedia.com, and more. She holds a degree in Journalism, Public Relations.
MOST POPULAR ARTICLES
LAST 30 DAYS
LAST 365 DAYS
BWW Feature: San Francisco Students Participate in HAMILTON EduHam Program

April 19, 2017

History had its eyes on thousands of students last Wednesday when they arrived at SHN's Orpheum Theatre for the second San Francisco EduHam. Fourteen high schools participated in the April 12th program, with groups of one to three students from each school given the opportunity to "tell their story" on the Orpheum stage.
---
BWW Review: NEW GIRL IN TOWN at 42nd Street Moon

April 4, 2017

Based on playwright Eugene O'Neill's Anna Christie, Bob Merrill and George Abbott's New Girl in Town is a romance mixed with near-tragedy. Its title character's foggy past sets the ground for a beautiful story of redemption and hope, but vaudeville-style humor and dance still feel perfectly at home in this masterpiece of musical theatre. The unexpected treasure plays at 42nd Street Moon through April 16.
---
BWW Review: PETER AND THE STARCATCHER at Playhouse Merced

March 14, 2017

Based on a children's book and built with a mostly adult audience in mind, Peter and the Starcatcher isn't the sort of show you can put in a defined box. The J.M. Barrie-inspired play utilizes an unusual narrative style dependent on a versatile cast and imaginative staging. And of course, familiarity with the boy who never grew up adds to the enjoyment of a clever script.
---
BWW Review: GENTLEMAN'S GUIDE TO LOVE AND MURDER at Broadway Sacramento

March 9, 2017

I should probably say that A Gentleman's Guide to Love and Murder is murderously hilarious. But the Tony Award winner isn't quite an over-the-top farce. The show's music might remind you of anything from Gilbert and Sullivan operettas to Andrew Lloyd Webber's Phantom of the Opera, or perhaps even a bit of Sondheim's A Little Night Music. But it's not quite those, either. The unique, character-driven musical, which plays through Sunday at Broadway Sacramento, is rather silly, rather charming and all together entertaining. Never has murder been so fun.
---
BWW Interviews: Evan Rees of INTO THE WOODS, Coming to SHN Broadway San Francisco

March 1, 2017

BroadwayWorld San Francisco spoke with Evan Rees about the national tour of Sondheim's Into the Woods. Rees not only music directs the tour, but also plays the piano on stage with the actors. The new production takes an eclectic, minimal approach and recently played off-Broadway at Roundabout Theatre. Broadway San Francisco welcomes the musical March 7 through April 2 at the Golden Gate Theatre. Visit www.shnsf.com for tickets and information.
---
BWW Review: Have a Little PATIENCE with Lamplighters Music Theatre

February 14, 2017

This production offers the very best of Lamplighters Music Theater.  As of last week's opening, Barbara Heroux has now directed every Gilbert and Sullivan operetta. Once again, she brings the finest ensemble (with leads double-cast) and a pleasant, character-driven staging.
---
BWW Interview: Christian Thompson of RENT 20th Anniversary Tour

February 9, 2017

BroadwayWorld San Francisco spoke with Christian Thompson, who plays Benny in the 20th anniversary tour of RENT, coming to San Francisco February 7 - 19. Thompson tells us about the universal themes found in the musical, his own favorite Bohemian activity for each tour stop and, of course, love.
---
BWW Interview: Crystal Kellogg of FINDING NEVERLAND

January 13, 2017

BroadwayWorld San Francisco talks with Crystal Kellogg, Mary Barrie and the understudy for Sylvia in Finding Neverland. Kellogg joins the tour after performing in the Broadway production and tells us about changes to the musical, the history behind the story and her own personal connection to the Bay Area.
---
BWW Review: WHITE CHRISTMAS at Broadway Sacramento

December 29, 2016

Don't pack away your favorite Christmas sweater quite yet. You have one more opportunity to celebrate Christmas in full color: The national tour of White Christmas the musical visits Sacramento through this Sunday only. It's a quick-paced production that never quite finds its heart, but you can't deny the feel-good nostalgia associated with White Christmas, nor help but love all its impressive dance numbers. And when those barn doors finally open to reveal a gorgeous snowy landscape, the day undoubtedly becomes merry and bright.
---
BWW Review: Center Rep Presents Its Magical A CHRISTMAS CAROL For One Week Only

December 13, 2016

If Christmas is the season of wonder, A Christmas Carol at Center Rep is its chief proprietor. No doubt, the Ghost of Christmas Present must sprinkle his blessing over each delightful performance. Center Rep, which performs Christmas Carol for just over a week every December, fills this holiday tradition with wonders both technical and simple.
---
BWW Interview: Kerry Conte on WHITE CHRISTMAS Tour

December 13, 2016

BroadwayWorld San Francisco spoke with Kerry Conte, who plays Betty Haynes in the national tour of White Christmas. The musical comes to San Francisco December 14-24. Kerry tells us about the science behind Irving Berlin's music, working with Lorna Luft, and becoming a part of the White Christmas family.
---
BWW Review: TheatreWorks Revives an Excellent DADDY LONG LEGS

December 7, 2016

Like many, I was introduced to the charms of Daddy Long Legs when the show recently became the first Off-Broadway production to stream a performance live on the Internet. Bay Area audiences may have an advantage on the rest of the world, though, as the show had its origins at TheatreWorks Silicon Valley. The company is no stranger to Paul Gordon musicals, having given us an excellent revival of Emma as recent as last December. But Daddy Long Legs is perhaps the most fully realized of Gordon's works, exhibiting both his propensity for story-driven songs and some of his most exquisite ballads and duets.
---
BWW Review: Jane Austen Fans Embrace an Enchanting New MISS BENNET

December 6, 2016

It's the holidays at Pemberley. One might expect lavish decorations, ornate rooms, and a ball to be had any day now. But it's not the eclectic library or drawing room (more Longbourn than Pemberley in style) that stands out in Marin Theatre Company's latest production - although the tree does receive a few pleasant jabs throughout. Playwrights Lauren Gunderson and Margot Melcon treat us to a family Christmas in which the Bennet sisters continue to meddle, prattle and all together steal our hearts.
---
BWW Review: Cirque du Soleil Visits the World of Avatar in TORUK

December 2, 2016

In its 32 year history, Cirque du Soleil never needed a defined story. The human body and artistry spoke for itself. But the company's latest production shifts gears, partnering with James Cameron to provide a sort of prequel to the 2009 film "Avatar." For its first attempt at creating a plot-driven Cirque, Soleil mostly succeeds. But believe the promoters when they tell you the acrobatics support the story, rather than vice versa. It's true. "Toruk" has all the creativity of other Cirque du Soleil shows, but as a whole it comes across as something closer to the typical arena performance - "Batman Live" and "How to Train Your Dragon" to name a few - only it's far more spectacular.
---
BWW Review: BEAUTY AND THE BEAST Enchants at Playhouse Merced

November 28, 2016

The beloved "tale as old as time" plays to sold out audiences at the intimate, but sparkling family atmosphere of Playhouse Merced now through December 11. A lively cast gives this "Beauty and the Beast" its enchanting and often comical quality.
---
BWW Interview: THE KING AND I's Anthony Chan and Stephanie Lo

November 28, 2016

BroadwayWorld San Francisco spoke with King and I cast members Anthony Chan (Prince Chulalongkorn) and Stephanie Lo (Ensemble) about growing up in the Bay Area, working with Jose Llana and Laura Michelle Kelly, and the very relevant themes in this beautiful production.
---
BWW Interview: Ted Sperling on Rodgers & Hammerstein Concert at SF Symphony

November 25, 2016

BroadwayWorld spoke with conductor Ted Sperling about his upcoming concert with Laura Osnes and the San Francisco Symphony. They will be performing selections from Rodgers and Hammerstein musicals.
---
BWW Interview: Laura Silverman on Cirque du Soleil TORUK

November 23, 2016

BroadwayWorld Sacramento spoke with Cirque du Soleil spokesperson Laura Silverman about the innovative technology and puppetry of Cirque's latest arena show, TORUK - The First Flight, a story-driven prequel to James Cameron's Avatar.
---
BWW Review: Cirque du Soleil's LUZIA Brings Mexico to Bay Area

November 21, 2016

Feliz Navidad! If you're looking for a grand fiesta this holiday season, be sure to see the latest from Cirque du Soleil. Billed as a "waking dream of Mexico," "Luzia" features bright colors and acrobatic performers in front of an ever-changing Aztec sun
---
BWW Interview: Drew Hirshfield Returns to Bay Area for LION KING

November 16, 2016

Drew Hirshfield spoke with BroadwayWorld San Francisco about playing Zazu in the national tour of Disney's 'The Lion King.' Hirshfield is originally from the Bay Area and even participated as an actor in ACT's annual 'A Christmas Carol' back in 2006.
---