Click Here for More Articles on FROZEN
Photo Flash: P.S. JONES AND THE FROZEN CITY Opens Tonight at New Ohio Theatre
terraNOVA Collective, celebrating their 10th season, has completed casting for the World Premiere of P.S. Jones and The Frozen City, a comic book superhero adventure story written by
Robert Askins
and directed by José Zayas. P.S. Jones and The Frozen City runs now through December 23, 2012 in a limited engagement at the New Ohio Theatre, located at 154 Christopher Street between Greenwich and Washington Streets in New York City. Previews began December 3 for tonight's December 10 opening.
The World as we know it is long gone. Appetite and hubris have divided the world in three. Our hero, the diminutive and unassuming P.S. Jones, dreams of visiting The Frozen City, a utopian world just visible beyond the forbidden Burning Waste. Only thing worse than knowing he'll never set foot in The Frozen City is finding out that his handsome and incurably vapid brother is about be deified there on account of being so darn pretty. Soon after his brother's departure, P.S. stumbles upon something that will change his life forever. What will he do when the fate of all three worlds rests in his hand?
The cast includes Sofia Jean Gomez (Angels in America at Signature, Regrets Only at MTC, Creature with New Georges/P73), Preston Martin (Far From Heaven at Williamstown, Kasper Hauser at The Flea), Bobby Moreno (Hand to God at EST, Red Handed Otter at Playwrights Realm), Diana Oh, Joe Paulik (Timon of Athens at The Public, A Feminine Ending at Playwrights Horizons, Moonchildren at Berkshire Theatre Festival), Steven Rishard (The Bacchae at The Public) and Jenny Seastone Stern (North Atlantic with The Wooster Group).
The creative team includes Jason Simms (Scenic Design), Ryan O'Gara (Lighting Design), Carla Bellisio (Costume Design), Jane Shaw and Emma Wilk (Sound Design), Jane Shaw (Original Music), Imaginary Media (Video Design), Eric Wright and The Puppet Kitchen (Puppet Design), Matthew Stephen Huffman (Producer) and Andrew Slater (Production Stage Manager).
Robert Askins (Playwright) was born in Cypress Texas in 1980. He moved to New York in 2005. Askins' critically acclaimed Obie Award-winning play Hand to God (TimeOut NY Top 10 Play of the Year) enjoyed three sold out runs at Ensemble Studio Theatre in 2011-12. His play Matthew and the Pastor's Wife was a part of EST's 2010 Marathon and The Love Song of the Albanian Sous Chef won a 2011 Dallas Outer Circle Critics Award. In 2009 his play Princes of Waco was produced by EST/Youngblood. Askins is an alumnus of I-73, Youngblood and a member of EST. He has received two EST/Sloan grants, an Arch and Bruce Davis Award and is a 2012 recipient of the Helen Merrill Award for emerging playwrights.
José Zayas (Director) was born in Puerto Rico and graduated from Harvard and Carnegie Mellon Universities. Zayas has held residencies at numerous theaters including the Ensemble Studio Theatre and INTAR. He is a Drama League Fellow, an alumnus of Lincoln Center's Director's Lab and Soho Rep Writer/Director's Lab, and has received numerous fellowships including the Phil Killian, Kenneth Frankel, John Pasquin, a Van Lier and a Rockefeller Brothers Fund grant. He was a participant of the 2009-2011 NEA/TCG Career Development Program for Directors and is a lifetime member of EST. He is a multiple HOLA, ACE and Ovation Award winner. Zayas' directing credits include work at MTC, American Repertory Theater, Moscow Art Theatre, Repertorio Espanol, Cherry Lane, Denver Center, HERE, PS 122, 59E59, the Flea, the Ohio Theatre, The Brick, La MaMa and many others.
terraNOVA, a 2012 NYTheatre.com Person of the Year, is an ever-expanding collective of artists devoted to nurturing distinct and innovative theatrical voices. They are dedicated to cultivating environments where the art of storytelling thrives, and actively seek stages for the new theatre they develop. The collective's Producing Artistic Director is Jennifer Conley Darling.
Performances are Mondays at 8pm, Wednesdays – Fridays at 8pm, Saturdays at 3pm and 8pm, and Sundays at 3pm. There is no performance on Saturday, December 15 at 8pm. Tickets are $25 for adults and $20 for students and seniors, and can be purchased online at http://www.terranovacollective.org or by calling 1-800-838-3006. The running time is 80 minutes. For more information visit http://www.terranovacollective.org.
Photo credit: Jill Steinberg Photography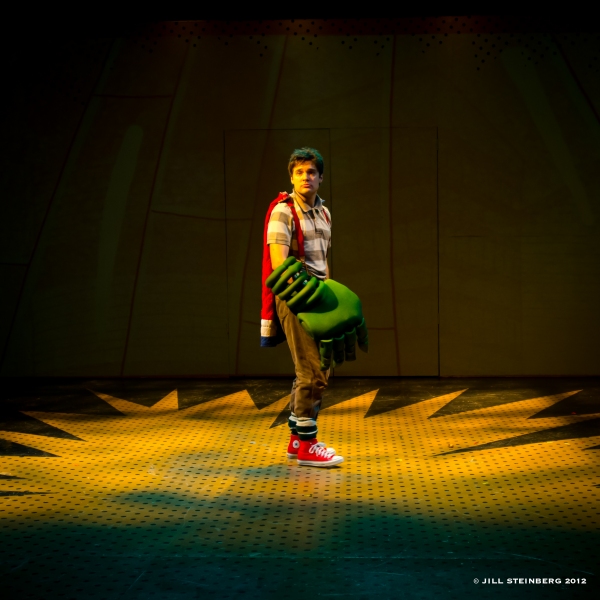 Joe Paulik (P.S. Jones)

Joe Paulik (P.S. Jones), Sofia Jean Gomez (Momma)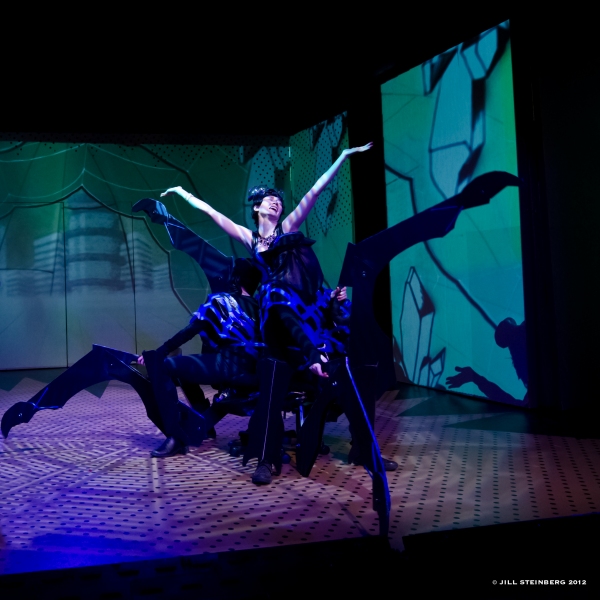 Sofia Jean Gomez (Great Glass Spider)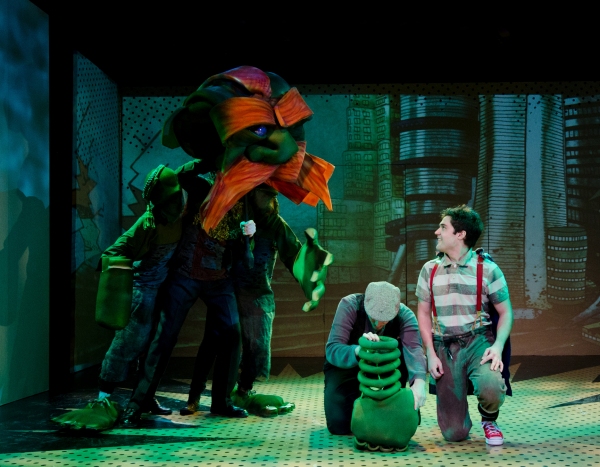 Bobby Moreno, Katey Parker & Chloe Moser (All covered up playing Lothar puppet), Eric Wright on floor with head down (Hand), and Joe Paulik (P.S. Jones)