Photo Flash: First Look at NYMF's SWISS FAMILY ROBINSON
The New York Musical Theatre Festival (NYMF) presents Swiss Family Robinson a world premiere musical comedy by John and Patrick J. Kennedy. Patrick J. Kennedy directs a cast of seventeen including Tom Bozell*, William James Daniels*, Paul DeBoy* (Mamma Mia), Alexander Ferguson, Danielle Gimbal, Patrick Oliver Jones* (The Addams Family), Heidi Kloster, Michael Lorz (Gross Indecency), Matt Mundy*, Sergio Pasquariello, James Patterson* (Mary Poppins), Jessie Shelton*, Barbara Tirrell* (Wicked), Meg Schneider, Emily Shoolin* (Spider-man: Turn Off the Dark), Sam Tedaldi*, and Elisa Van Duyne* (Finian's Rainbow, 110 in the Shade). The show opened last night, July 9, and BroadwayWorld has a first look at the cast in action below!
Swiss Family Robinson is being staged at The
Romulus Linney
Courtyard Theatre at The Pershing Square Signature Center, 480 West 42nd Street (bet. 9th & 10th Avenues) in NYC for five performances from last night, July 9 through Wednesday, July 17, 2013. The Pershing Square Signature Center is the official hub of The New York Musical Theatre Festival.
The shipwreck is only the beginning. This classic adventure comes to life in a magical new musical tale. Join the Swiss Family Robinson as they survive a stormy shipwreck only to be left to fend for themselves on an exotic tropical island. Together, they bravely face the mysteries and perils of their new home but soon discover they are not alone. French sailors are in hot pursuit, and wait, do you hear drums? Jungle drums? Filled with hilarious hijinks, the hope of rescue and the bloom of romance, this fresh new musical tells a tale of how the winds of fate can lead you to find your destiny.
Swiss Family Robinson is directed by Patrick J. Kennedy. Creative Team: Music Director/Orchestrations: Matt Aument­­­­­­­­­­­­; Technical Director: Tom Donohue; Choreographer: Walter Kennedy; Fight Choreographer: Ron Piretti; Lighting Designer: Cory Pattak; Scenic Designer: Lewis Folden; Costume Designer: Cheryl McCarron; Sound Designer: Randy Bobo; Stage Manager: Denise Wilcox; Assistant Stage Manager: Kristine Schlachter; General Manager: Suellen Vance; Photographer/Videographer: Seth Walters; Publicist: Paul Siebold/Off Off PR. Casting by Michael Cassara, CSA.
Swiss Family Robinson plays for five performances on the following schedule: Tuesday, Jul 9th, 2013 at 8:00pm; Wednesday, Jul 10th, 2013 at 1:00pm;Saturday, Jul 13th, 2013 at 1:00pm; Sunday, Jul 14th, 2013 at 1:00pm; Wednesday, Jul 17th, 2013 at 9:00pm. Tickets are $25 and can be purchased online at nymf.org or by calling 212-352-3101. For more information, please visit nymf.org. The runtime for Swiss Family Robinson is 120 minutes with one intermission. *Appearing courtesy of Actors' Equity Association.
Photo Credit: Seth Walters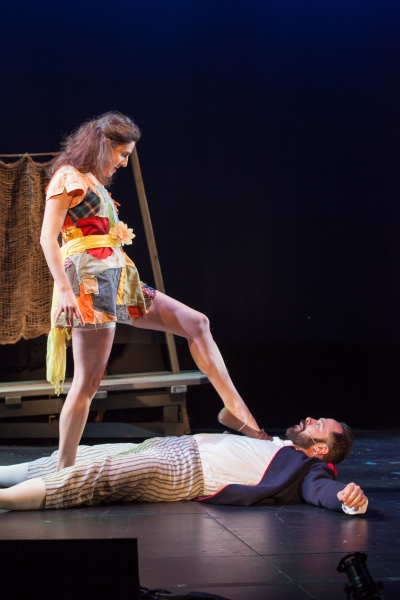 Emily Shoolin as Zizi is courting James Patterson as Monsieur Spoo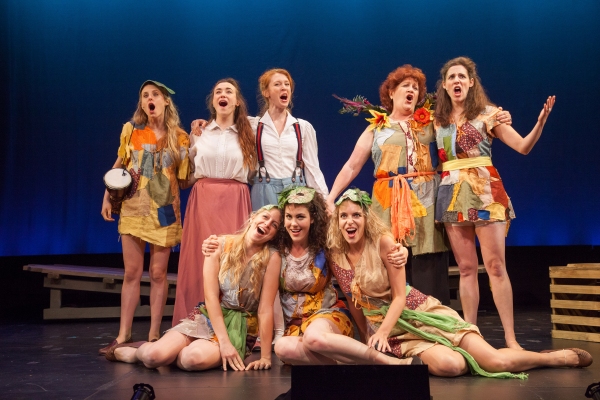 Heidi Kloster, Meg Schneider, Danielle Gimbal, Sam Tedaldi, Jessie Shelton, Elisa Van Duyne, Barbara Tirrell & Emily Shoolin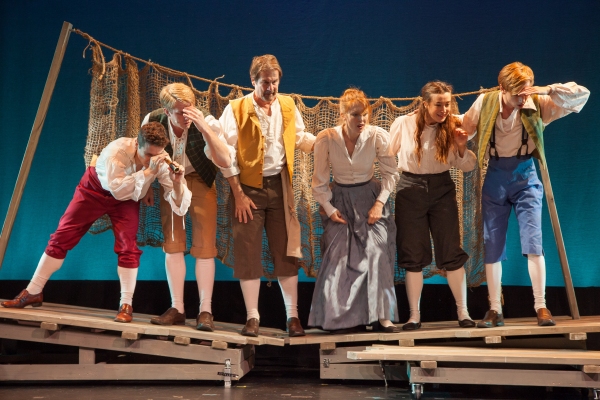 Looking Down from the Tree - Matt Mundy), Sergio Pasquariello, Paul DeBoy, Elisa Van Duyne, Jessie Shelton and Michael Lorz

Matt Mundy (Jack), Elisa Van Duyne (Elizabeth), Paul DeBoy (John), Michael Lorz (Ernst) and Sergio Pasquariello (Fritz)

Matt Mundy & Jessie Shelton with Patrick Oliver Jones, James Patterson, Sergio Pasquariello, Michael Lorz, Elisa Van Duyne & Paul DeBoy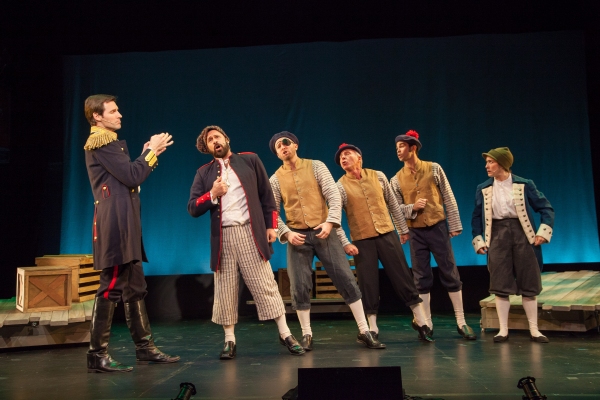 Patrick Oliver Jones (Francois DuBois) with James Patterson (Spoo), William James Daniels , Alexander Ferguson & Tom Bozell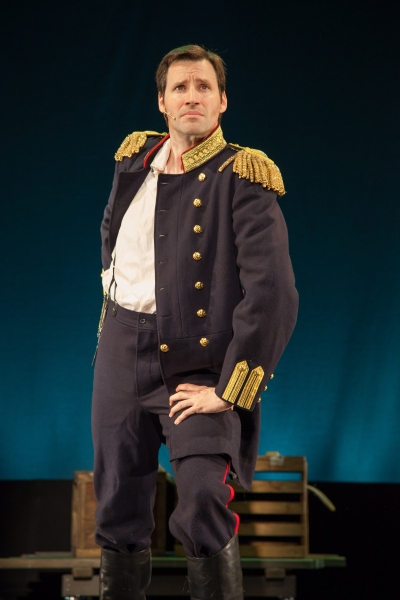 Patrick Oliver Jones is Francois DuBois

The Cast of Swiss Family Robinson Caught in a Storm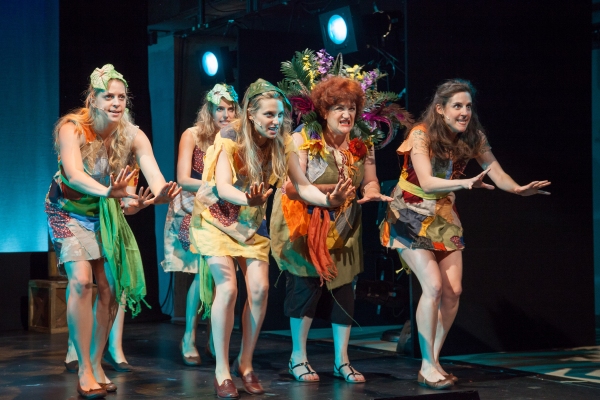 The Hufi - Heidi Kloster, Danielle Gimbal, Sam Tedaldi, Barbara Tirrell as Kiku Mono Hoa, and Emily Shoolin as Zizi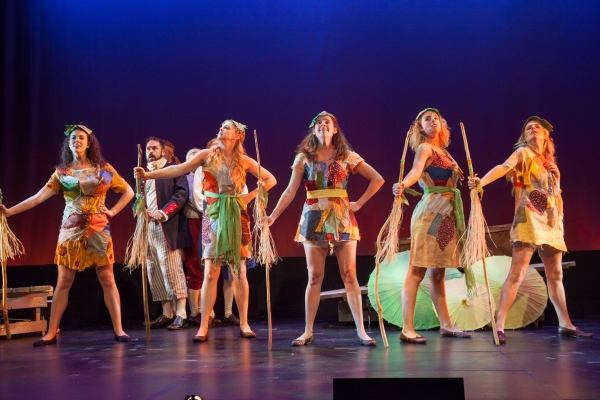 The Hufi in Swiss Family Robinson (Meg Schneider, Heidi Kloster, Emily Shoolin, Danielle Gimbal and Sam Tedaldi)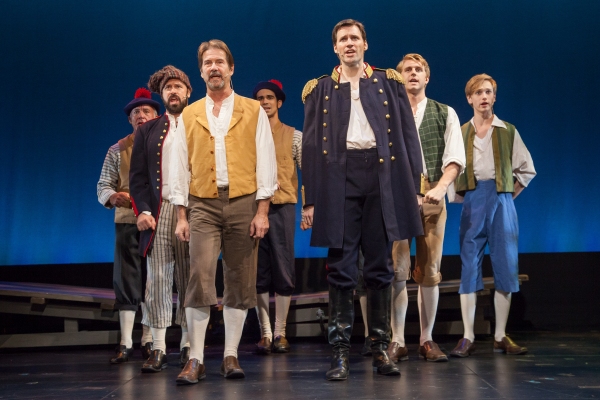 We Are Gentlemen - Tom Bozell, James Patterson, Paul DeBoy, Alexander Ferguson, Patrick Oliver Jones, Sergio Pasquariello & Michael Lorz