Photos: Edith O'Hara Celebrated at 13th Street Repertory Theater
This past weekend, playwright & producer Susan Merson presented IN HER NAME: A WEEKEND OF WOMEN'S STORIES as part of "365 WOMEN A YEAR: A Playwriting Project," a festival of new plays at the 13th Street Repertory Theater (50 West 13th Street, NYC Friday night).
The OPENING FUNDRAISING EVENT was in honor of the 100th year of Founding Artistic Director Edith O'Hara of the 13th Street Repertory. Works by female artists filled three days of great art.
Guest playwrights and directors included: Abigail Barr, Allie Costa, Carolyn Mignini, Christine Toy Johnson, Cynthia G. Robinson, D. Lee Miller, Dael Orlandersmith, Daniel Neiden, Eliza Foss, Elizabeth Hess, Elsa Rael, Glenda Frank, Jennifer O'Grady, Jenny Lyn Bader, Joan Kane, Julian Thomas, June Rachelson Ospa, Karen Rousso, Katrin Hilbe, Kendra Augustin, Kimberly Loren Eaton, Kristy Chambreli, Laura Shamas, Leah Friedman, Lizzy Bryce, Lori Kee, Lucy Gram, Lynda Crawford, Marcina Zaccaria, Mark Barkan, Mary Hodges, Mel DeLancey, Melody Brooks, Michael Angel Johnson, Natalie Osborne, Nina Zoie Lam, Rachel McPhee, Robert K. Benson, Robin Rice, Shellen Lubin, Shola Cole, Stephanie Satie, Steve Kaliski, Susan Merson, T.D. Mitchell, and Yani Perez.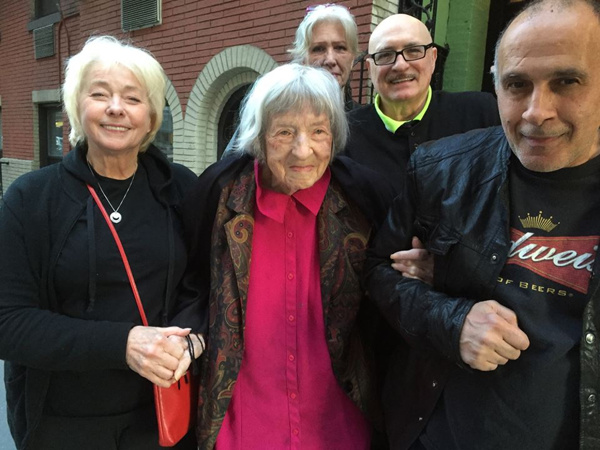 Surrounding the great lady herself, EDITH O'HARA is Jenny_O'Hara,
Arturo Toulinov
,
Joe Battista
(13th Street Artistic Director) and
Carol Schaefer
(photo by producer,
Susan Merson
)